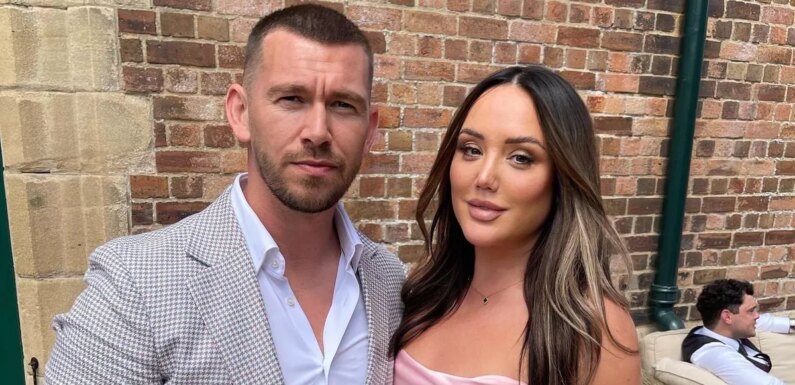 Charlotte Crosby has said she is still "on cloud nine" following boyfriend Jake Ankers' romantic proposal in Dubai, with the ex-Geordie Shore star sharing her excitement in a new Instagram post.
Charlotte, 33, revealed she and Jake have been celebrating over recent days after getting engaged on Thursday, but are now waiting to get home from their holiday to their daughter Alba Jean, one, to tell her the exciting news.
"My happily ever after we have truly been on cloud 9 the last couple of days!" the mum-of-one told her fans alongside a photograph of her and Jake sharing a kiss in a swimming pool.
Charlotte continued: "THANKYOU for all the most beautiful messages there has been SOOOOO MANY i was certain my phone was about to at one point it was going crazy
"we've had the most magical time out here! But we are soooooooo ready to get back to our little Alba! We are missing her like crazy Now! I can't wait to get home and tell her MAMA AND DADA ARE GETTING MARRIED".
Jake sweetly responded to his new fiancée's post, commenting: "I love you so much I can't wait to spend the rest of our lives together," with a ring and heart emoji.
Charlotte announced her engagement to Jake on Instagram on Thursday, as she shared a romantic photo of Jake getting down on one knee and holding out a ring.
Charlotte looked nothing short of surprised as she held both hands up to her face. The star was surrounded by rose petals and candles as the duo stood in front of a huge heart shaped arch.
Charlotte sweetly wrote in the caption: "Happiest woman in the world. Yes yes yes and yes @jake_ankers you are my best friend you are my life i CANT BELIEVE IM ENGAGED AHHHHHHHHHHHHHHh. Best night ever".
Jake's proposal comes after Charlotte predicted he would pop the question by the end of 2023. Speaking last year, she told The Sun: "I will be engaged by the end of next year. I am telling you now, I will be engaged by the end of next year. If he could Jake would propose to us now but I tell him no. I don't like to do too much at once.
"I like to have lovely long celebrations of each milestone in life and I don't think there is any need to rush. I think even the end of next year would be a bit of a rush. I am about to have a baby, so let's celebrate that, do you know what I mean."
Source: Read Full Article