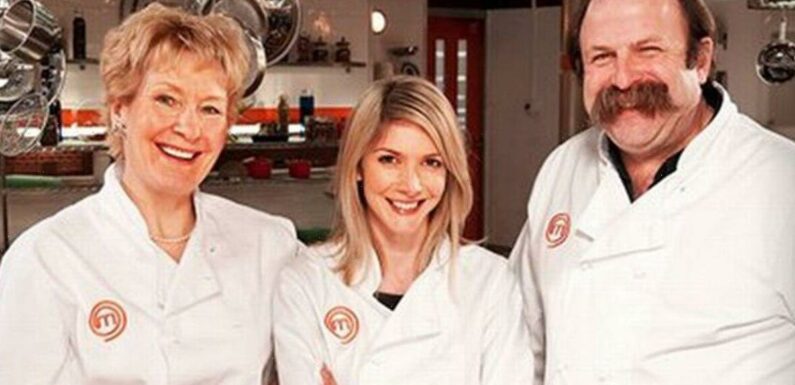 Lisa Faulkner, 51, has built herself a successful cooking career since winning Celebrity MasterChef 13 years ago, with Dick Strawbridge, 63, also starring in the show the same year. The presenter has now spoken to Express.co.uk about her close friendship with the Escape to the Chateau favourite, sharing how he supported her backstage.
He was the loveliest, kindest man!

Lisa Faulkner
Lisa famously met now husband John Torode thanks to the BBC series, but also a famous friend as well.
She reached the final alongside Dick and Christine Hamilton, where they cooked dinner for the headmaster of Harrow School, fed 800 students and catered for an army of history students recreating the Battle of Nantwich.
Express.co.uk asked Lisa if she had kept in touch with Dick over the years, with the actress admitting: "He was an absolute joy. We still do keep in touch. We in fact texted a couple of months ago because I was going to try and get out to the chateau.
"And then the time that I was going to go he was over here with his book launch!
"I would love to go to the chateau, I really would."
Lisa then shared her praises for the Escape to the Chateau star, while also admitting that it was his support behind the scenes that got her through the show.
She said: "He was the loveliest, kindest man, the most generous-hearted person and he had my back from the very beginning, amazing. Love him."
Lisa recently took to Instagram to congratulate her husband John, as he was among the high-profile names who received honours at Buckingham Palace.
He was made an MBE for his services to food and charity after a lengthy career in the industry.
John looked suave as he shook hands with Prince William, bringing his daughter from a previous relationship along with him to the event.
However, Lisa admitted in the same interview how John at first doubted if his MBE invite was correct.
She revealed: "I don't think he could believe it. He was thinking, 'I don't know, maybe I'm not getting it because I haven't seen a letter or anything'.
"And he had just been told by his agent, but then he got a letter and was thrilled."
Express.co.uk also asked Lisa if she attended the ceremony, with her admitting: "No, I didn't. He went with his daughter. They had the loveliest day and we met them for lunch afterwards. So it was just gorgeous."
She continued: "It was just such an achievement and something to be so proud of.
"And all the family have been so proud and his Aussie family, the WhatsApp groups we're going mad 'What did he say? What did Prince William say?'
"So it's just been really lovely and everyone has really celebrated."
Lisa has one daughter Billie who she adopted with her ex-husband Chris Coghill, while John has four children from two previous relationships.
The couple share a close working relationship, working together on ITV's John and Lisa's Weekend Kitchen.
Lisa is currently partnered with Ocado to share her kitchen tips, including her Fill Your Freezer campaign.
In this, she shares the importance of frozen ingredients in saving time, and money and reducing food waste.
She said about the campaign: "I have come up with five really good freezer tips to help people make use of their freezer.
"I always use frozen veg in my meals. I can't abide food waste. A few freezer hacks can make food go a long way!"
Ocado's Fill your Freezer campaign launched last month and runs until March 14, with "5 frozen items for just £10" offer on a range of frozen products, including pizza, vegetables and ice cream, to help everyone make the most out of their freezer this Spring and beyond. You'll catch Lisa sharing her favourite Ocado finds and recipes on Instagram @OcadoUK. See more of her recipes at www.ocado.com/freezerrecipes
Source: Read Full Article