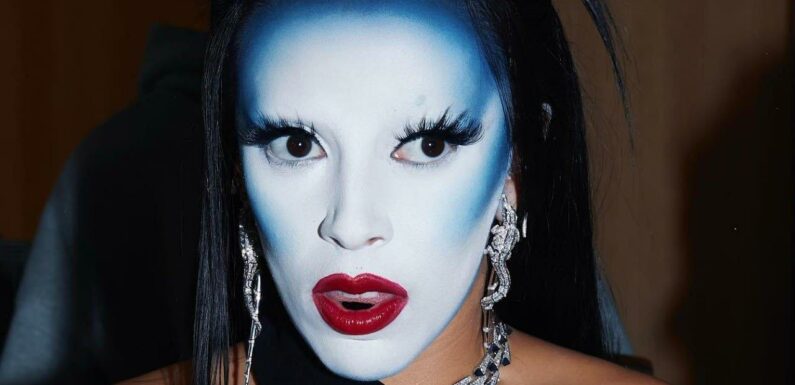 Showing off her ghostly full face makeup at Monot's fashion show, the 'Kiss Me More' songstress is called 'Avatar' and likened to Pennywise of horror movie 'It'.
AceShowbiz –Doja Cat took eccentric to a new level at Paris Fashion Week. The singer, who recently shaved her head and eyebrows, turned heads with her spooky makeup when attending Monot's spring/summer show on Saturday, October 1.
Always daring to be different, the Grammy Award-winning artist wore a ghostly full face makeup, with most of her face covered in white with some blue hues framing her face. Her bright red lips gave a striking contrast. The makeup look was created by artist Laurel Charleston.
Doja accompanied her makeup with an all-black ensemble, including a very revealing top with long skirt and platform heels. She also sported arm makeup resembling sleek gloves which made her fans do a double take.
"Hand, arm and face makeup on @DojaCat for Monot by me," Laurel, who's worked with Doja before, tweeted on Saturday. When one person commented on the painted arms, "I had to zoom in to even notice they weren't actual gloves. Killed it," the makeup artist wrote back, "That was the goal hehe." He went on noting, "To clarify, she's not wearing gloves it's all makeup."
While some people were in awe of the makeup, many were not digging it. "This is horrifyin," one person commented. "It's a no for me tho," another reacted, as a third thinks that the look is more suitable for Halloween. "I guess Halloween coming early cause this is scary looking," the third commenter remarked.
Some others compared Doja's look to "Avatar" characters and Pennywise of horror film "It". "Got that Avatar mask," someone quipped. Another opined, "It's giving 'IT' the female version." There were others who described Doja's look as "Memoirs of a geisha" and dubbed her "intergalactic alien queen."
Besides making appearance at Monot's fashion show, Doja took part at another event during PFW. She was billed as a performer, belting out her hit "Boss B***h", at Kenzo's Paris Fashion Week party on Friday night.
Source: Read Full Article