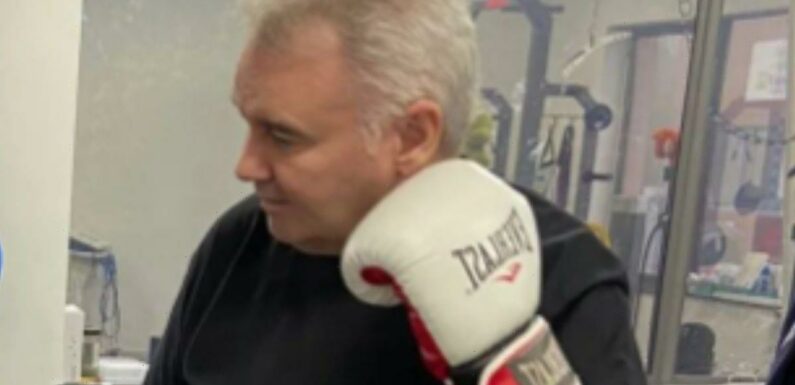 Eamonn Holmes, 63, suffered a horrifying fall last year, which left a bone protruding from his shoulder and blood pouring from his mouth – and he has been struggling to regain his mobility ever since. In a new health update, the defiant GB News star shared he is now undergoing boxing training to rebuild his balance and strength – and he's had a constant source of support in the shape of wife Ruth Langsford.
Ruth, who has been in a relationship with Eamonn for more than 25 years and married to him for well over a decade, proudly compared her beloved beau to Rocky Marciano as she watched him working out.
One of the thousands cheering him on via his Instagram account yesterday afternoon, she wrote: "Go Rocky!" after he donned his gloves and prepared for action.
The comparison is certainly a flattering one, as Rocky is the only heavyweight boxer to have gone through his career without a single defeat.
The champion stopped competing way back in 1955, but he still regularly tops online lists of the top ten boxers in the world.
READ NOW: Susanna Reid reacts after leggy TV appearance re-emerges
Eamonn will be hoping for a similar success story when it comes to his fitness.
After a fall last year, which exacerbated already existing mobility issues, he has struggled to regain his movement and has even been out on the town in a wheelchair.
However, he was optimistic when he told his 767,000 followers yesterday: "Today it was boxing to build balance and core strength. Road to recovery."
@sianp2300 echoed Ruth's encouragement, telling him: "Seen this photo and could hear the Rocky theme", before urging: "Keep up the good work!"
Eamonn's celebrity pal James Jordan, who has been through his own fitness transformation lately, with he and wife Ola losing 6.5 stone between them, also chimed in on the post with a cry of "Good for you, mate!"
Admiring his focus, others declared him "young at heart" and a "true fighter".
Taking up boxing is part of his rehabilitation after his health decline, and Eamonn seemed to have been enjoying the challenge.
He has also been doing fitness training with his eyes closed in a bid to "regain my balance" at a Neurokinex centre, which specialises in rehab for those who have suffered paralysis.
He added that his hard work was "made harder [by] balancing on one leg".
Last October, he was full of praise for the NHS after he received an operation to curb his crippling back pain.
However, he suffered a traumatic setback when, just two weeks into recovery, he fell down the stairs.
"Suddenly it was as if someone had shot my left knee from behind. It literally collapsed without any warning," he recalled.
The shaken TV star couldn't curb his fall and plummeted backwards down the staircase until he hit the stone floor, recalling that the magnitude of it left blood pouring out of his mouth.
Ruth had rushed to give reassurance, soothingly telling him: "Everything's okay, you're fine!"
However, he recalled to the Daily Mail that he told her: "Ruthie, there is a bone sticking out of my shoulder — I'm not fine!"
She called him an ambulance but he was forced to endure a four-hour wait.
Eamonn had been on a four-month break from work at the time owing to his chronic pain, but he braved a return to the GB News studio back in January.
Meanwhile, in between training sessions, the former This Morning host has been delivering a dose of his characteristically frank opinions to the public.
He recently weighed in on the debate about Prince William and Prince Harry on a recent episode of Kaye Adams' podcast, How To Be 60.
"Sort it out, boys, for goodness sake!" he groaned of the reported feud between them, telling Kaye that if he'd ever been as vocal as Harry about one of his own brothers, he'd receive a phone call warning him to "button his mouth… or else!"
Source: Read Full Article