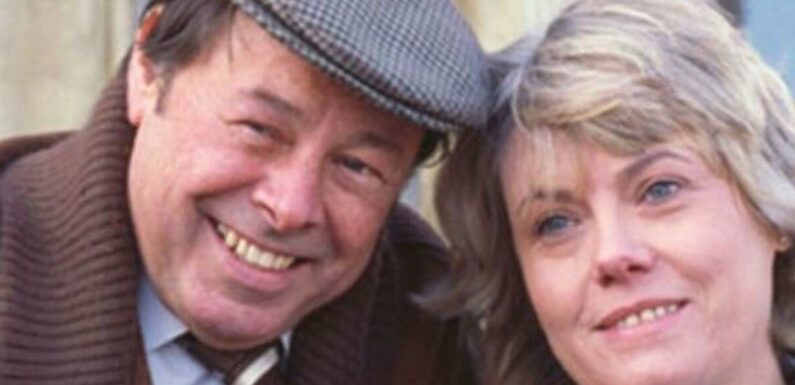 We use your sign-up to provide content in ways you've consented to and to improve our understanding of you. This may include adverts from us and 3rd parties based on our understanding. You can unsubscribe at any time. More info
The family of Bill Treacher, best known for playing EastEnders' Arthur Fowler, have announced the sad news of his death. In a statement, they said his health "had been declining for some time".
They added: "Bill was a brilliant actor and a wonderful husband and father, plus a very fine human being. He will be hugely missed."
The actor died on Saturday, his family said, adding he "was much loved by his wife, Kate, his son, Jamie and his daughter, Sophie".
An EastEnders spokesperson said: "It is with great sadness that we learnt of the passing of Bill Treacher. As one of our original cast members, Bill created a much loved character in Arthur Fowler and, alongside Wendy Richard, they created an iconic family in the Fowlers who still remain at the heart of the show.
"Bill left EastEnders in 1996 so it is a true testament to both he, and the character that he created in Arthur, that he is still thought of so fondly. Bill will always be remembered for his charm, sense of humour – with a smile that lit up the room – and more importantly as a family man who was devoted to his wife and children.
"Bill will forever be held in great affection by everyone at EastEnders and all those that loved watching him."
Bill was the first person to be cast for EastEnders back in 1985 portraying Walford's Arthur.
He played the role for 11 years, leaving Albert Square in 1996 at his own request.
In a BBC documentary in 2003, he said he felt compelled to leave with advancing age.
He explained stress of the gruelling filming schedule was affecting his health, and on doctors orders, was told to leave.
Bill said: "By the time I finished, even the sound of the theme music was making me feel ill. I felt depressed."
During his time on the soap, he was at the centre of many misfortunes including two prison stints, a struggle with unemployment and his daughter Michelle's (Susan Tully) pregnancy aged 16.
Viewers will also remember Arthur's affair with Christine Hewitt (Elizabeth Power) behind Pauline's (Wendy Richard) back which almost broke up their marriage.
More to follow…
Source: Read Full Article