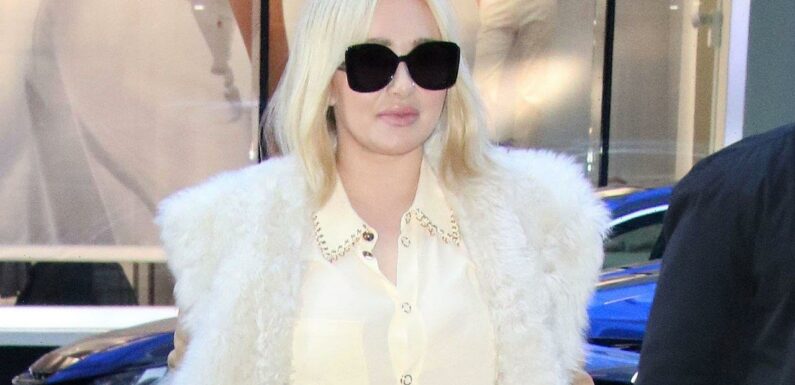 The 'Scream VI' star confides in a new issue of Women's Health that she felt her body didn't belong to her before she underwent the procedure in November 2022.
AceShowbiz –Hayden Panettiere secretly underwent a breast reduction. The 33-year-old "Scream VI" actress, who is mourning the unexpected death of her brother Jansen Panettiere, said she was left feeling like she didn't own her body when she got the procedure eight years after she had her daughter Kaya in 201 with her former boxer ex Wladimir Klitschko, 46, and added it has led to her regaining her confidence.
She told the April issue of Women's Health magazine, "My body still didn't feel like it belonged to me. I don't think there's anything wrong with somebody who wants to tweak something if it makes them feel more confident. That's all I have to say about it. My confidence is back."
Hayden is reprising her role as Kirby in the "Scream" franchise, which she rejoined after undergoing rehab in 2015 for an opioid and alcohol addiction which started to grip her aged 22. She said about her spiral in addiction, "I was being told how to be and how to live by so many people in my life. I wanted certain decisions to be my own, and nobody could stop me. What I put in my body was like an act of defiance. Some people work out. I wish that was my coping mechanism'. Alcohol might make you feel better in that moment, but it makes you feel so much worse the next day, and then you do it all over again."
She added she turned to alcohol to numb postpartum depression after the birth of her daughter, while a neck injury led her to use opioids as a crutch. Hayden said, "I should have gone on antidepressants (for postpartum depression), but you have to find the right one that works for you. They don't mix well with alcohol, and I wasn't ready to stop drinking. I was the one who put myself in the first treatment centre. I was drowning. My body was like, 'Enough'. I hit 30. My face was swollen. I had jaundice. My eyes were yellow. I had to go to a liver specialist. I was holding on to weight that wasn't normally there. My hair was thin and coming out in clumps."
On Monday, March 6, Hayden tearfully said during an appearance on "Good Morning America" her late brother is "right here with me" after he was found dead on February 19 aged 28 at his apartment in Nyack, New York, from an enlarged heart.
You can share this post!
Source: Read Full Article