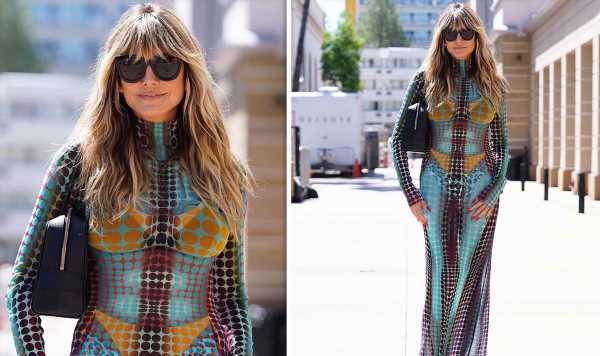 Heidi Klum: 'I don't count my calories'
Heidi Klum stunned onlookers as she strutted her way into the America's Got Talent studio to tape a new episode on Monday.
The supermodel flaunted her curves in a Jean Paul Gaultier dress in light blue, maroon and mustard yellow, which featured a bikini print over it.
The AGT judge teamed the long-sleeved maxi dress with a black shoulder bag and matching sandals.
She added a touch of old-school glamour by painting her long nails red and covering her eyes with dark sunglasses.
The German beauty wore her long, blonde hair and bangs down and looked radiant as she smiled for the cameras.
READ MORE: Leni wows in plunging red bikini during lavish holiday with estranged dad Flavio
The former Victoria's Secret model, who is known for her annual Halloween parties and her extravagant outfits requiring hours in the make-up chair, recently revealed she has already started planning this year's look.
Klum teased her next iconic Halloween outfit after pulling out all the stops last year with her disturbingly realistic worm costume.
The 50-year-old TV star revealed this year she has already had "sleepless nights" over the upcoming costume, which she branded as "extra".
She said: "It's going to be extra. It's going to be really extra. I have had sleepless nights over it, you know me. I have to admit, I love it."
Klum added while speaking with the Daily Mail on the red carpet at a taping for the show last week: "And then my gut, I feel like it's going to be good."
Don't miss…
Heidi Klum's daughter Leni teases lacy white lingerie in sheer outfit[LATEST]
America's Got Talent's Sofia Vergara and Terry Crews defend Heidi Klum's 'diet'[SUPPORT]
Heidi Klum admits having 'sleepless nights' as she prepares for Halloween party[UPDATE]
We use your sign-up to provide content in ways you've consented to and to improve our understanding of you. This may include adverts from us and 3rd parties based on our understanding. You can unsubscribe at any time. More info
Last year, Klum left fans confused as she arrived at her annual Halloween extravaganza completely unrecognizable, towering high above her husband as a larger-than-life worm.
Meanwhile, she confided the struggles she'd been having detaching herself from the "claustrophobic" outfit when it came to using the toilet.
"A lot of it has to come off," she told Page Six on the night, before adding jokingly: "When I gotta go [to the bathroom], I'll have to de-strap and just make it happen somehow!"
She added: "It's hard for me to move. I don't really have arms or legs. When I fall down, I need someone to help me get back up. I'm kind of stuck there, you know? It feels a little claustrophobic."
Source: Read Full Article