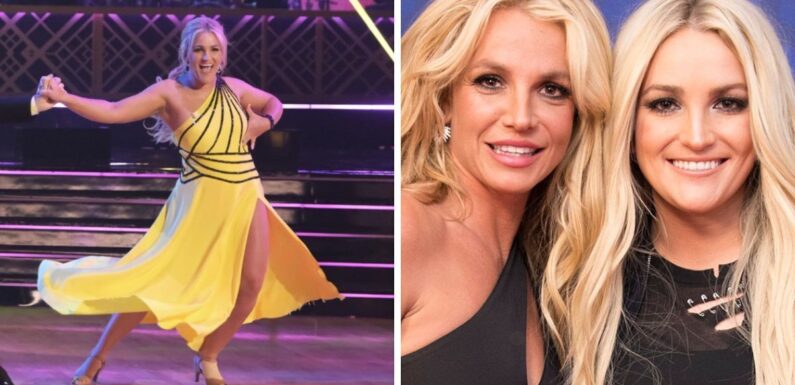 Jamie Lynn Spears had an unimpressive start to her Dancing With the Stars experience – and even apologised after her first routine.
Season 32 began Tuesday on ABC after a jump to Disney+ with a brand new cast of celebs, including the famous sister of pop megastar Britney Spears 
Fans watched as Jamie Lynn took to the ballroom for the first time along with professional dance partner Alan Bersten, but she had a bit of a nightmare.
The Zoey 101 star made a number of mistakes and was seen mouthing "I'm sorry" to Alan once their dance had come to an end.
"I'm my worst enemy. I'm just trying not to vomit," said Jamie Lynn, before she got a score of just 15 from the judges.
READ MORE: Britney Spears fans spot worrying injury and bandage after dancing with knives
Carrie Ann Inaba said her "smile lit up the room" but she needed to relax, while Bruno Tonioli admitted there were "a lot of mistakes" in the ambitious routine.
Derek Hough said: "I think you're better than you believe you are. You have a lot of potential and natural ability in there. You got it, believe it."
Many DWTS viewers confessed they wanted Britney to go on the show instead of her sister, with one tweeting: "Britney would've ate that dance floor up"
"But imagine the viewership if it was Britney on the show instead," added another.
A third said: "I'm mad Jamie Lynn didn't dance to a Britney song"
Don't miss…
Britney Spears dances in tiny pink bikini bottoms as she sends out cryptic note[SOCIAL]
Britney Spears dances with knives in concerning video but insists they're fake[VIDEO]
Britney Spears posts breathtaking pic but causes confusion with cryptic caption[PHOTOS]
We use your sign-up to provide content in ways you've consented to and to improve our understanding of you. This may include adverts from us and 3rd parties based on our understanding. You can unsubscribe at any time. More info
The sisters' relationship has been shaky, especially given Britney's ongoing public critiques of her family dynamics, but it may prove they are back on good terms.
Insiders told TMZ that Britney knew about her sister's casting before it made headlines – and she gave her sister's new venture her stamp of approval.
Jamie Lynn has also decided to donate her weekly salary from the show to SAG-AFTRA and the WGA, who are in the midst of the ongoing writer's strike.
"While everybody else in my community is on strike, I have this unique opportunity where I was offered a chance to work when my community cannot work," she explained.
"So I figured I'll do this and I will donate my weekly salary… to just give back to them at a time where they can't give back to themselves."
Jamie Lynn previously expressed her enthusiasm at being given a chance to challenge herself on the show.
"What a commitment it is. I'm ready to challenge myself," Jamie Lynn remarked on Good Morning America when asked if she was prepared for this significant opportunity.
While most contestants practice in Los Angeles, Jamie Lynn has the privilege of rehearsing near her Tennessee home.
This concession was apparently made to allow her to balance her responsibilities as a hands-on mom of two.
Source: Read Full Article