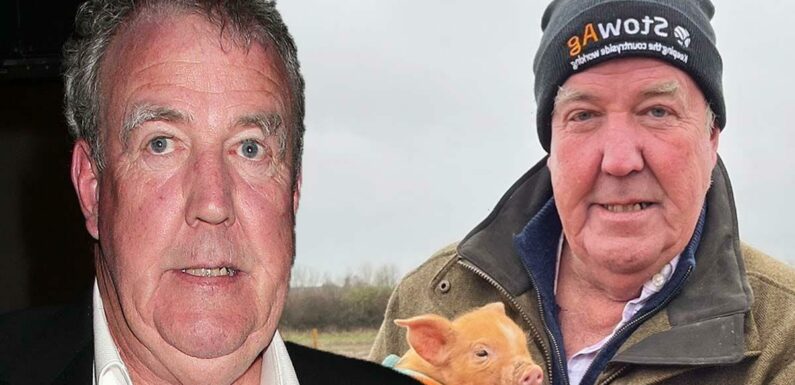 Jeremy Clarkson: The Sun issues apology over Markle column
We use your sign-up to provide content in ways you've consented to and to improve our understanding of you. This may include adverts from us and 3rd parties based on our understanding. You can unsubscribe at any time. More info
Jeremy Clarkson, 62, told his fans on social media the piglet he brought home to his farm earlier this week had died today. The Clarkson's Farm star was dubbed a "proud dad" on Wednesday after she shared a picture of his new piglet announcing her arrival.
The heartwarming snap, which showed the TV star cradling the tiny farm animal, was captioned: "A piglet. Our first." (sic)
But things took a tragic turn earlier today as Jeremy shared a picture of the piglet seemingly sleeping on a bed of hay.
He simply announced: "She's died."
Fans of the Top Gear presenter rushed to the post's comments section to send him their condolences.
Iainlaurence said: "Sorry for your loss."
Supportingspecies_01 lamented: "Sho looked so happy and full of life in your arms." (sic)
I_bee_lalo simply commented: "I'm so sorry to hear that."
The sad update comes after Jeremy returned to social media weeks after his comments about Meghan sparked uproar amongst some readers.
Jeremy recently said he is "horrified" after "causing so much hurt" in a column he wrote in The Sun about the Duchess of Sussex.
More than 20,000 complaints had been made to the press regulator after the Grand Tour star wrote in December he "hated [Meghan] on a cellular level".
The column has now been removed from the publication's website and Jeremy took to Twitter to apologise last month.
In his message to followers on December 19 he described a reference he made to a scene in Game of Thrones as "clumsy".
DON'T MISS
Julia Bradbury shares emotional update on tough breast cancer battle [LATEST]
Jeff Beck dies after meningitis battle 'Tremendous loss' [NEWS]
Amanda Holden wows with braless display in skintight crop top [PICTURES]
"I'm horrified to have caused so much hurt and I shall be more careful in future," he said.
"In a column, I wrote about Meghan, I made a clumsy reference to a scene in Game of Thrones and this has gone down badly with a great many people."
The Independent Press Standards Organisation (IPSO), told BBC News the complaints were being assessed in accordance with its standard procedure.
Nearly 21,000 complaints were made to IPSO making it the organisation's most complained about article.
Jeremy's own daughter Emily Clarkson defended the Duchess, saying: "I want to make it very clear that I stand against everything my dad wrote about Meghan Markle."
Meanwhile, Jeremy and his beloved tractor will soon be returning to viewers' screens for the second series of Clarkson's Farm.
The first launched onto our screens in 2021, following the broadcaster as he attempted to run a 1,000 acre farm in the Cotswolds alongside a host of hilarious characters – all of whom are set to return, too.
The upcoming season will bring a "deeper insight into another year on Diddly Squat Farm.
"Jeremy aims to diversify, expanding his limited agricultural knowledge under the watchful eye of his no-nonsense team", Amazon previously teased.
Source: Read Full Article