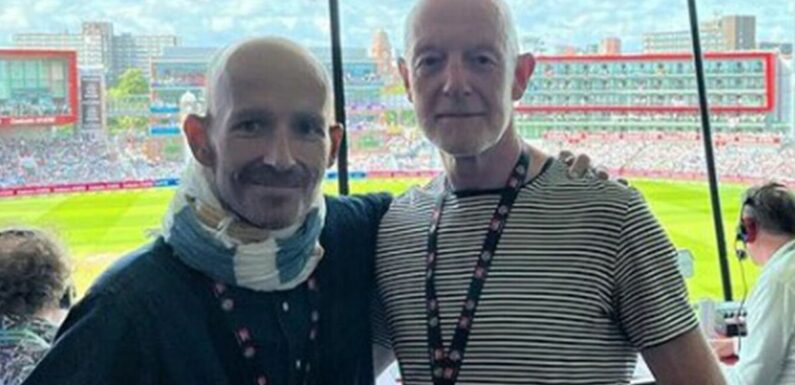 A Place In The Sun pay tribute to Jonnie Irwin
Jonnie Irwin has been supported by fans after he gave an insight his day out at The Ashes 2023 yesterday.
The former A Place In The Sun presenter took to Twitter for the first in three weeks to thank Old Trafford for their hospitality as he spoke of his "brilliant" time watching the cricket.
Jonnie, 49, also revealed that he got to meet David 'Bumble' Lloyd, who he branded "a legend".
"Now back to the toon & straight to my scratcher. #knackered #Ashes23," he concluded his post.
Many of his 25,000 followers were pleased to hear from the presenter after his mini break from the platform.
Read More… BBC Breakfast's Naga Munchetty praised as she shares update from hospital bed
Andrew Swan wrote: "Great to hear from you Jonnie and what a day to go to Old Trafford! Amazing cricket. (Jealous you met Bumble!)
"Keep strong and keep in touch with us all, miss you very much on the TV. Great broadcaster."
Christy commented: "So good to hear from you Jonnie Miss seeing you on Escape Love to you and your family. Keep well."
Geraldine Cowley added: "Really pleased that you enjoyed yourself Jonnie, you deserved it and so much more x."
TX typed: "Hi Jonnie, great to see you posting. Miss you big time on the TV Escape etc. Take care x."
Don't Miss…
Ulrika Jonsson's son 'upset and concerned' over her nude pics[LATEST]
Robbie Williams issues health update after concerning social media posts[UPDATE]
Hairy Bikers' Si King inundated with support as he shares post 'on behalf of HQ'[REACTION]
We use your sign-up to provide content in ways you've consented to and to improve our understanding of you. This may include adverts from us and 3rd parties based on our understanding. You can unsubscribe at any time. More info
Jonnie gave a further insight into his day out on his Instagram page.
The presenter shared a picture of his view from his seat as well as a video of him with the commentators.
He went on to tell his thousands of fans he'd "sleep well" after his fun-filled day.
The property expert, also a father of three, was diagnosed with terminal lung cancer back in 2020.
He didn't go public with his health news until last year after being told it had spread to his brain.
Jonnie has since said he is taking every day as it comes after doctors didn't expect him to make it to 2023.
The presenter's main priority is to spend as much time as he can with his wife Jessica and their children; Rex, four, and twins Rafa and Cormac, three.
In June, he discussed still being able to work despite his poor health, at The Tric Awards.
He told The Mirror: "As soon as I spoke out I feel I could breathe. I could talk to people about why I felt ill, and why I was losing weight.
"You can still work. Look at me now. I don't think the doctors were expecting me to see 2023.
"Here I am, and I'm available for work and especially available for parties."
Source: Read Full Article