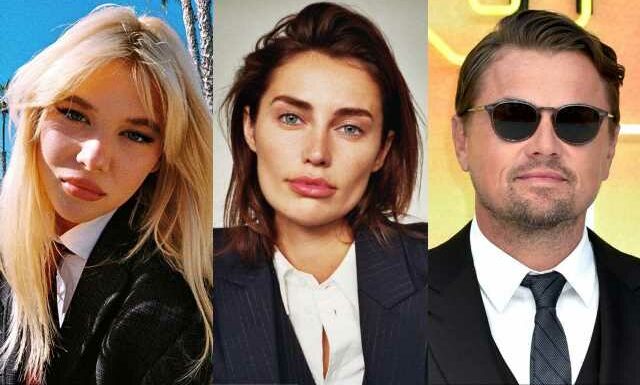 The Oscar-winning actor is joined by the 'Flip It Like Disick' alum's model ex Rebecca Donaldson and viral World Cup fan and ex-Miss Croatia Ivana Knoll at the glitzy Miami bash.
AceShowbiz –Leonardo DiCaprio wants to fully enjoy his holiday. The Oscar-winning actor hosts a lavish party in Miami, Florida after having fun with bikini-clad ladies in St. Barts. This time, the movie star was joined by a gaggle of females, including Scott Disick's model ex Rebecca Donaldson and viral World Cup fan and ex-Miss Croatia Ivana Knoll amid rumors he's dating Victoria Lamas.
On Wednesday, January 4, the 48-year-old star was spotted heading inside Papi Steak to host a party for him. He was joined by Jamie Foxx and a bunch of beauty models including Rebecca, Ivana, Polyxeni Ferfeli, who is known for dating Odell Beckham Jr., Paige Goulding, Anjolene Burch, Brooklyn Paleczny, Camille Rogers and Lilia Weddell.
For the night, Leo donned a black button-up shirt and dark denim bottoms. The "Don't Look Up" actor added a cream-colored belt, a pair of white sneakers, a black face mask and his signature black cap.
Leo's "Django Unchained" co-star Jamie, in the meantime, cut a casual figure in a patterned T-shirt and matching bottoms. The 55-year-old star beamed as he made his way inside the restaurant.
Earlier this week, Leo was seen frolicking on a super yacht with bikini-clad ladies, one of which was identified as his friend Joe Nahmad's fiancee Madison Headrick. The outing came shortly after Leo was pictured with his rumored new girlfriend Victoria during New Year's Eve getaway. Paparazzi photos saw "The Revenant" star partying on a yacht with Victoria, Drake as well as Tobey Maguire.
At one point, Leo, who was previously rumored to be dating Gigi Hadid after his split from Camila Morrone, was snapped getting very close to the 23-year-old daughter of Lorenzo Lamas as they enjoyed a light snack together. Despite sources previously claiming the two were just friends, the yacht sighting marked the fourth time the rumored couple had been spotted together since around the beginning of December.
More recently, Victoria's famous dad Lorenzo said in an interview that his daughter is "very smitten" with Leo and that she "likes him very much." The "Falcon Crest" actor and 1980s heartthrob even said, "I'm excited for her. I know that it's been a while since she's had a serious relationship. She's got a big heart and she tends to give it freely." However, before his statement was misunderstood, he clarified that "they're friends, they're not in a serious relationship."
You can share this post!
Source: Read Full Article