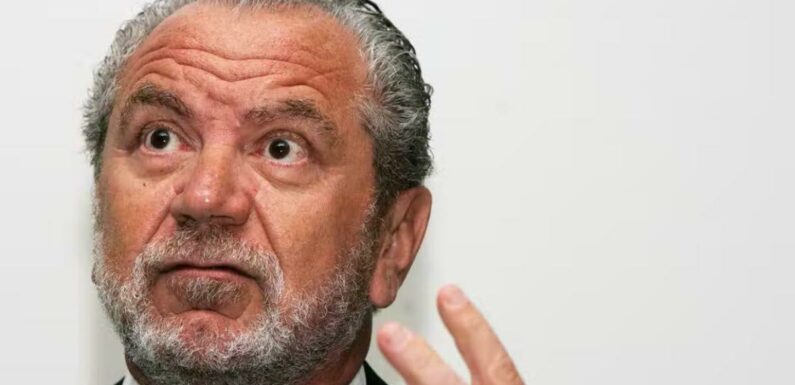 We use your sign-up to provide content in ways you've consented to and to improve our understanding of you. This may include adverts from us and 3rd parties based on our understanding. You can unsubscribe at any time. More info
Lord Alan Sugar is furious at the thought of employees "exploiting" the trend, which began out of necessity during the coronavirus pandemic, and using it to do less work than required. He angrily slammed the idea in a brand new interview published today.
"The annoying thing, as far as I'm concerned, is the exploitation of the working-from-home syndrome," he began.
"The truth of the matter is, you have to work with your people in your office. That's why you have offices, right?" The Apprentice star quizzed.
Making it clear he's not one for using video calls as a replacement for in-person contact, he continued: "You need to talk to each other, you need to know what's going on."
Finally, he told this week's Radio Times: "Of course it bl***y matters [where you work from].
READ NOW: Ulrika Jonsson battles Davina McCall over middle aged Love Island
"There's all this bulls***about working from home – what difference does it make if the job gets done?
"Well, it don't bl***y get done, it's as simple as that."
Alan is renowned for his tough talking attitude and traditional values – and he'd always be happier connecting face to face.
However, ironically, when it comes to video conferencing for remote work, he actually prides himself on creating one of the earliest versions of the technology.
The tech entrepreneur, who started out small and built big with his Amstrad brand, says it was his company who made the first ever videophone.
"[It was] called the E-mailer and everyone took the p*** out of it [but] I sold more than half a million!" he boasted.
It ran on an BT copper line, and he insists that if it was connected to wired broadband, "you'd have video conferencing right there… we were ahead of the game".
In spite of that, he feels remote technology is better used only when there is no face-to-face option.
His determination to motivate his workers has certainly been lucrative – and according to Companies House records, 2021 saw him pay himself £390 million in dividends.
The hefty sum is one of the largest pay-outs ever awarded to a British businessman.
Meanwhile, Alan was previously even more outspoken about those who work from home, telling the Standard just before Christmas that he was "sick" of the cultural practise.
"The people who benefitted the most from Covid are a bunch of lazy layabouts," he exclaimed.
"Working from home was necessary at the beginning but we are well past that now," he added.
"I was told I was out of touch. I am not out of touch, believe me.
"You won't learn anything from these jobs unless you get stuck in with your colleagues."
Alan's full interview in Radio Times – out now, while The Apprentice airs Thursdays at 9pm on BBC One.
Source: Read Full Article