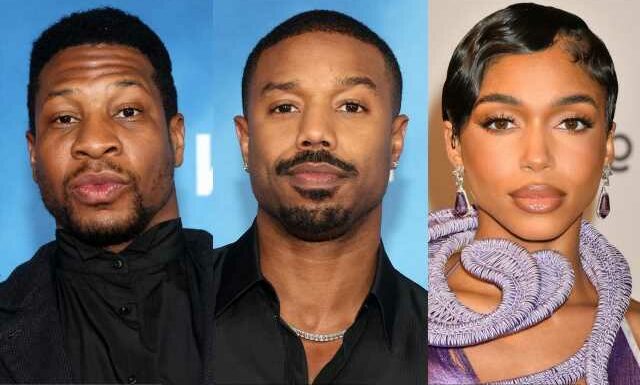 According to a friend of the model, she has gone out on 'a couple of dates' with the 'Lovecraft Country' actor, who will star opposite Lori's ex Michael in 'Creed III'.
AceShowbiz –Lori Harvey could potentially cause a real tension between Michael B. Jordan and his on-screen foe Jonathan Majors. The social media personality is rumored to be dating the "Loki" actor, who is starring opposite her ex-boyfriend in upcoming movie "Creed III".
A source tells Media Take Out that the famous daughter of legendary funnyman Steve Harvey has gone out on "a couple of dates" with the Atticus Freeman of HBO's "Lovecraft Country". The friend spills, "She went out with [Jonathan]," but notes, "I'm not sure where that relationship may end up going."
Jonathan stars as Damian "Dame" Anderson, a childhood friend of Adonis "Donnie" Creed (Michael), in the third "Creed" movie. Resurfacing after serving a long sentence in prison, he seeks to claim his place in the boxing world.
Lori and Michael split up earlier this year after dating for more than one year. Though neither of them immediately addressed the breakup, her dad Steve weighed in, saying that while Michael is a "cool guy," he's "team Lori, 1000 percent." The comedian further shared in the June 6 episode of "The Steve Harvey Morning Show", "Look, as long as everybody can walk away in peace, be friends…I ain't heard nobody say they busted no windows or nothing. As long as you don't put your hands on my daughter, I don't give a damn what you do."
Lori has since been linked to several guys. Back in September, MTO reported that the 25-year-old and John Boyega exchanged numbers at the Met Gala and they texted and FaceTimed each other over the summer, possibly after the end of her romance with Michael. They reportedly have since gone on their first date.
"It's moving very fast and Lori is really happy with the way things are moving," a source spilled, claiming that Lori may have found her soul mate. "Of all the men she's dated, he's the most serious and they get along the best," the friend noted.
Earlier this month, she was reportedly spotted hanging out with her ex Future in Miami. A friend said, "Lori and Future aren't in a relationship" just yet. The friend added, "I wouldn't call it that. But they are 'friends.' "
You can share this post!
Source: Read Full Article