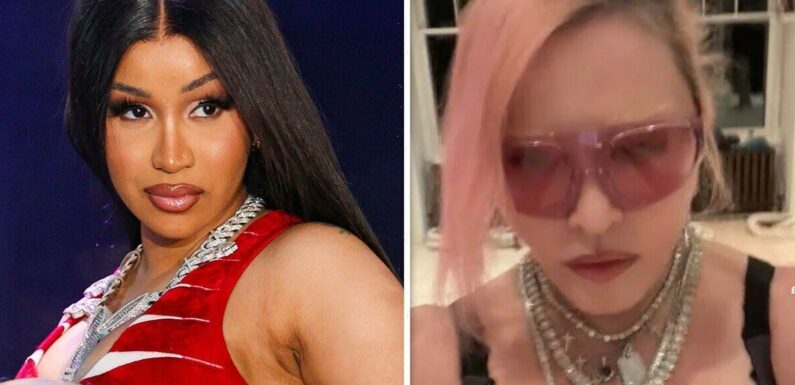 Madonna labelled a 'gruesome attention seeker' by Morgan
We use your sign-up to provide content in ways you've consented to and to improve our understanding of you. This may include adverts from us and 3rd parties based on our understanding. You can unsubscribe at any time. More info
Madonna, 64, has shaken TikTok after posting a provocative workout video while claiming she needs a new trainer. The post comes just after she and Cardi B, 30, caused a stir with a virtual feud over the weekend.
On Saturday, October 22, Madonna took to social media to celebrate the 30th anniversary of her book S.E.X.
She told her 18 million Instagram followers that she had paved the way for other women in the entertainment industry to be more open about their sexuality.
The Like A Virgin singer wrote: "In addition to photos of me naked there were photos of men kissing men, woman kissing woman and me kissing everyone.
"I also wrote about my sexual fantasies and shared my point of view about sexuality in an ironic way."
The actress recalled the backlash of her book, saying she was called "a witch, a heretic and the devil" and spent years being interviewed by "people who tried to shame me".
Madonna concluded: "Now Cardi B can sing about her WAP.
"Kim Kardashian can grace the cover of any magazine with her naked a** and Miley Cyrus can come in like a wrecking ball.
"You're welcome b*****s." followed by a clown emoji.
This seemingly hit a soft spot for Cardi, particularly with the singer's sign-off.
Cardi slammed the icon on Twitter, saying: "I literally payed this woman homage so many times cause I grew up listening to her.
"She can make her point without putting clown emojis and getting slick out the mouth.
"These icons really become disappointments once u make it in the industry that's why I keep to myself."
In the comments section, Cardi explained her reaction, adding: "Say what you want but don't insult me… nobody gonna lil girl me (specially a white woman.)"
While the online feud stirred fans into a frenzy as they raced to pick sides, TMZ reported that by Sunday the artists had talked things out and made up.
Madonna has since shared on Twitter: "I love you Cardi!! Always have and always will."
Cardi quickly retweeted the post with similar sentiments, adding: "Love you," with a heart emoji.
Hours after burying the hatchet, Madonna made a statement on social media again, this time posting a raunchy workout video to TikTok and Instagram.
Getting physical, the singer donned silver stilettos, a small grey crop top showcasing her lacey bra, and accessorising with an assortment of necklaces and stylish pink glasses.
She shared snippets of her workout routine to the sounds of Pick Up The Phone by Travis Scott and Young Thug, before transitioning to a shocking clip of her lying down with her legs spread and her hand on her crotch.
Sharing the same racy video to Instagram, the Papa Don't Preach singer opened applications for a new personal trainer.
In the caption she wrote her requirements: "Needs to be extremely experienced and knowledgable about Fitness Training and Dance Cardio at the highest level!!
"Certification required as well as an understanding of nutrition and house music!
"If you are qualified email here – send resume as well. Willing to relocate to NYC! [email protected]"
Source: Read Full Article