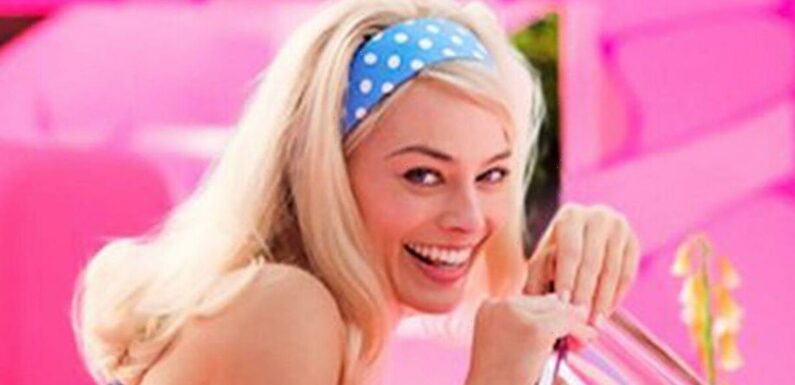 Dreamland: Margot Robbie and Finn Cole star in trailer
We use your sign-up to provide content in ways you've consented to and to improve our understanding of you. This may include adverts from us and 3rd parties based on our understanding. You can unsubscribe at any time. More info
Margot Robbie, 32, stars in the upcoming Barbie movie alongside Ryan Gosling. In June, on-set pictures from the film were released along with leaked snaps, with Margot detailing the "mortifying" moment.
I can't tell you how mortified we were!

Margot Robbie
In June, leaked photos and videos showed Robbie dressed in an all-pink attire, as well as images of the actress alongside her co-star Ryan, sporting matching neon pink 1980s-style workout gear and bright yellow roller skates.
An image of Will Ferrell, Sex Education star Connor Swindells, and actor/comedian Jamie Demetriou were also leaked, which showed them roller skating in suits.
The Hollywood actress appeared on The Tonight Show with Jimmy Fallon where he asked her about the new role and the reaction the cast had received from the pictures.
Margot admitted: "I can't tell you how mortified we were, by the way. We look like we're laughing, having fun, but we're dying on the inside.
"I was like 'this is the most humiliating moment of my life'."
Jimmy then asked Margot if she was surprised by the amount of publicity the movie received.
Margot replied: "No. I knew once (we) were doing exteriors, (we're) gonna get papped.
"We stand out a little bit in those outfits, so I knew there was going to be a little bit of attention, and probably some photos would get out there, but not like it did. It was mad."
The pair will star as Barbie and Ken in the first live-action film of the franchise, which is being directed by Greta Gerwig.
The filmmaker, who garnered Academy Award nominations for Lady Bird and Little Women, is co-writing the film with her partner, Noah Baumbach.
Margot is married to Tom Ackerly, with the pair meeting while working on the feature Suite Francaise in 2013.
Robbie and Ackerley subsequently moved in with a group of friends the following year, when they began their relationship.
The happy couple went on to hold a wedding ceremony in the actress' native Australia in 2016.
Robbie and Ackerley co-founded a production company, LuckyChap Entertainment, alongside Josey McNamara and Sophia Kerr in 2014.
The pair have collaborated on several films in which the actress has been featured over the past few years.
Several of the production company's works have been put up for various Academy Awards over the years.
Ackerley will also serve as a producer on Robbie's upcoming movie Barbie, which will be released next year.
Speaking to Porter about working with her husband, Margot revealed: "I'm a great advocate of doing business with your partner."
Robbie, who was previously uninterested in marriage, admitted that tying the knot with Ackerley was the right choice.
She stated: "Being married is actually the most fun ever, life got way more fun somehow."
Source: Read Full Article