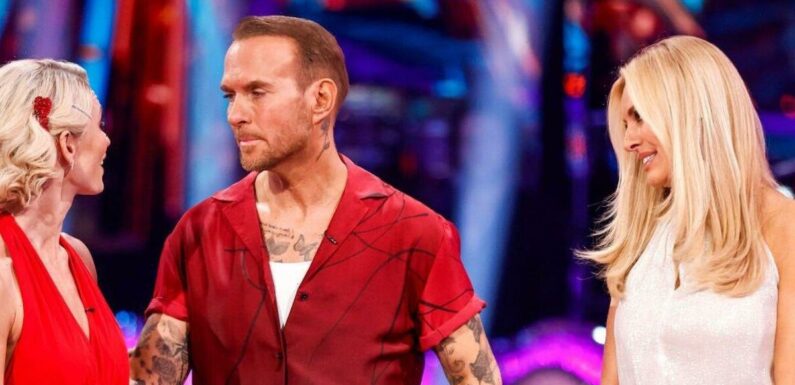 Strictly: Kym Marsh saved as Matt Goss exits show
We use your sign-up to provide content in ways you've consented to and to improve our understanding of you. This may include adverts from us and 3rd parties based on our understanding. You can unsubscribe at any time. More info
Matt Goss, 54, was voted off Strictly Come Dancing in Week Four, after facing a dance-off against Kym Marsh and her partner Graziano Di Prima. The Bros singer has opened up to Express.co.uk about the pressures of being put in the dance-off and the pain he felt doing it with somebody he "really liked".
It goes against every bone in your body!

Matt Goss
When Express.co.uk asked Matt how the dance-off worked compared to how we watch it at home, he revealed: "You have to wait and all your adrenaline leaves your body and you have to go and do a dance-off with somebody that you really like.
"It goes against every bone in your body to compete with somebody you like and try to get the approval of the judges.
"So I am happy I got to put my best foot forward and get what I want out of the experience."
This comes after Matt previously spoke to Express.co.uk about the judges harsh criticisms, despite his improvement week by week on the BBC show.
He admitted: "I think if I'm improving maybe the scores should reflect that.
"But I don't want to be that guy who moans about my scores. "My life is an immediate fluidity to me the day after so I don't really know if I'm honest. I haven't given my scores much thought."
Despite getting emotional about being the third celebrity to leave the competition, on reflection, he has since noted that he's happy he left when he did.
He said in the same interview: "But I did what I wanted to do. I wanted to come out of Strictly and be in Strictly and do myself, my mum and my family proud.
"You cannot change the outcome of things and I'm happy that it felt right to leave in the fourth week.
"I got everything I needed out of it. I do feel that I was about to come out of my shell but it's a very, very strange new environment I am learning in.
"It was a lot for me. I think we should all be allowed to unravel ourselves at our own pace."
Matt also revealed in a recent interview that he was happy he left the show when he did prior to Halloween week, due to his "confidence" issues.
He told the Mirror: "I really think getting out just before Halloween was probably good.
"I'm a confident man, but aesthetically and just me, I'm not as confident as people think."
Matt explained that having Poland Syndrome makes him "feel like a weirdo" and so dressing up in costume for the Halloween show would have been difficult.
Poland Syndrome is a disorder that affects people's muscles and usually impacts one side of the body and in Matt's case he has a part of his major chest muscle missing.
Matt recently moved back to the UK after living in the US for 25 years, as his return sadly took place without his mother and sister around to support him.
Matt recorded his Christmas single The Beautiful Unknown with RPO at Fairfield Halls in Croydon last month For more information please visit his website
You can also watch the Strictly results show from 7.15pm on BBC One this evening
Source: Read Full Article