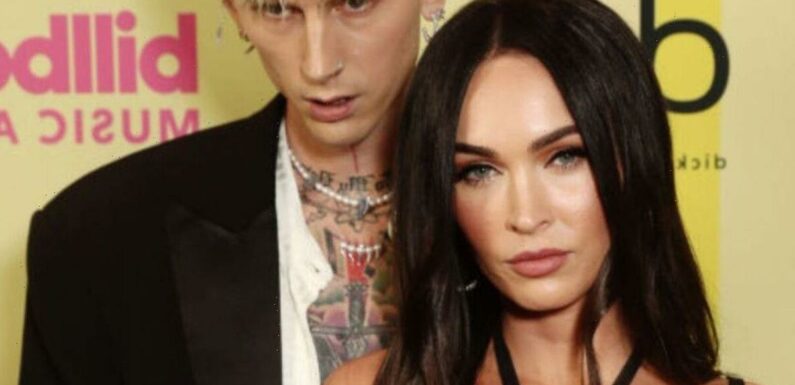 Transformers: Revenge of the Fallen trailer starring Megan Fox
We use your sign-up to provide content in ways you've consented to and to improve our understanding of you. This may include adverts from us and 3rd parties based on our understanding. You can unsubscribe at any time. More info
Megan Fox's candid admissions might fit in with the Halloween spirit, but her occultist rituals with fiancee Machine Gun Kelly aren't just for the spooky season. The 36-year-old Transformers actress has said she sees her husband-to-be as a child that she "made" and now influences through her thoughts.
"My thoughts and intentions grew him into the person that he is," Megan insisted in a very personal interview which has alarmed some fans.
"I'm also four years older than him, so I think I made him," she mused.
"Who knows what he would've looked like or been like if it wasn't for me."
Megan believes that she has been "manifesting" him all of her life and they were introduced by spirit guides, as they were destined to be together.
READ NOW: Strictly's Kym Marsh had furiously declared 'I quit' over accusation
Meanwhile, she has also opened up on nights where they ritualistically drink each other's blood and her boyfriend asks her to "take his soul".
The astrology and tarot card enthusiast, who has made no secret of her interest in occult practises, added that they sample merely "a few drops" of blood each time.
"It's just a few drops, but yes, we do consume each other's blood on occasion for ritual purposes only," she continued.
She added during an interview with Glamour magazine: "He's willing to just cut his chest open with broken glass and be like, 'Take my soul'… a version of that has happened many times."
The pair first got together during the pandemic, and they got engaged on a trip to Puerto Rico back in January.
The actress was raised in a Pentecostal church environment, and she insists she has had spiritual experiences including restraining her urge to speak in tongues.
She once told Esquire: "I don't know what that church would do if I started screaming out in tongues in the back!"
Machine Gun Kelly, who is a singer, rapper, songwriter and actor, regularly appears on the red carpet with his glamorous girlfriend in a range of sensational outfits.
For one appearance, Kelly donned giant fake nails and clutched her, leading his implausibly long talons to dangle just above her crotch.
No stranger to makeup, nail varnish and sequined trouser suits, he often joins in with dress-up sessions with Megan.
However, behind the scenes, the pair have both battled dark mental health issues, with Megan previously claiming she suffers "body dysmorphia" and "deep insecurities".
Meanwhile her partner, whose real name is Colson Baker, admitted he became so terrified while his girlfriend was out of the country that he slept with a shotgun beside his bed.
Speaking on his documentary Life In Pink, he revealed: "Megan went to Bulgaria to shoot a movie and I started getting this really wild paranoia… that someone was gonna come and kill me.
"I would always sleep with a shotgun next to my bed, and like, one of the days, I just f*****g snapped."
Panicking that she wasn't "there for him", he put the shotgun in his mouth, only for Megan to remain "dead silent" during the terrifying moment.
He remains very reliant on his movie star partner, saying: "Megan became like the sun to me — like the one that I revolve around and gives me life and like helps me grow.
"It's just like every fairytale that they never told you in school… the passion between us is otherworldly. I know I've known her in so many other lifetimes."
Source: Read Full Article