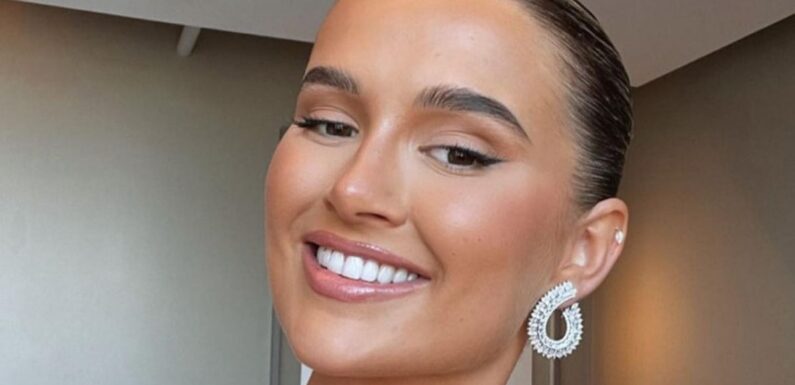 Molly-Mae Hague has shown off her stunning diamond engagement ring from her fiancé, Tommy Fury.
Four years after they met in the Love Island villa, professional boxer Tommy, 24 popped the question to social media star, Molly-Mae, also 24, during a romantic clifftop proposal in Ibiza.
While they remain in their 'engagement bubble', Molly-Mae has provided fans with a closer look at her stunning engagement ring as she beamed as a new fiancée while on the beach.
In the Instagram post shared on Tuesday, Molly-Mae gushed: "Just call me… Molly Fury", along with a ring emoji.
The mum-of-one looked over the moon as she sat on a luxurious sun lounger while on the beach in Ibiza, she donned a white shirt with her blonde hair tied back in a neat bun.
Her left hand, with perfectly manicured nails in a neutral pink colour, was placed on her cheek which showed off the dazzling ring, estimated to be worth up to £1 million.
In the same post, Molly-Mae shared a throwback video from their time in the Love Island villa in 2019 where she had jokingly said to Tommy "Just call me, Molly Fury" and now four years later, here they are!
The couple, who are proud parents to their daughter, Bambi, revealed the happy news on Sunday and shared a gorgeous black-and-white video of the proposal with the caption "Forever. 23/07/23".
In the clip, fans also briefly caught a glimpse of Molly's enormous diamond ring as she hugged Tommy and placed her left hand on his back.
The elegant ring is a "five-carat oval diamond" according to a jeweller expert, who also estimated it to be worth up to £1 million.
Laura Taylor, jeweller specialising in engagement and wedding rings at Lorel Diamonds, said that Tommy's choice of engagement ring is "perfect" for Molly, as it's a timeless style that compliments her existing jewellery collection and ties in seamlessly with her fashion-forward wardrobe.
Describing the ring, she said: "The main focus of the ring is a stunning five-carat oval diamond which looks to be near colourless with VVS1 clarity.
"These details show just how much care and attention to detail Tommy put into picking the perfect diamond to showcase his love for Molly."
The expert added: "In terms of the value of the ring, I would estimate that it is worth upwards of £600,000, potentially reaching a value of £1 million if Tommy had a role in designing the ring himself.
"There has been a lot of pressure on Tommy to propose over the years, however the wait was worth it as the couple got to share the unforgettable moment with their daughter, Bambi, showing the value they place on family and love."
Meanwhile, Jessica Flinn-Allen, CEO of wedding and engagement ring specialists Jessica Flinn said that the cut of the diamond "creates an elegant shape, appearing larger than other cuts of similar carat weight".
She added: "The diamond-set shoulders extend the ring's brilliance, leading the eye to the central gem. Platinum's use, a durable material, makes it the ideal choice for such a substantial ring, finalising this luxurious piece."
Source: Read Full Article