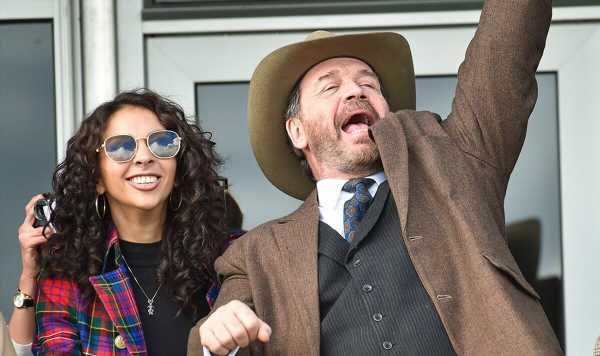 Nick Knowles and girlfriend Katie Dadzie at the Cheltenham Festival
Nick Knowles looked smart in his pinstriped suit with tweed jacket while Katie Dadzie donned tartan shorts and knee-high boots.
We use your sign-up to provide content in ways you've consented to and to improve our understanding of you. This may include adverts from us and 3rd parties based on our understanding. You can unsubscribe at any time. More info
Nick Knowles, 60, punched the air in celebration as he won at the fourth and final day of the Cheltenham Festival on Friday.
Nick looked smart in a pinstriped suit over a white shirt which he paired with a brown tweed jacket and matching fedora.
The DIY SOS presenter attended the races with his girlfriend Katie Dadzie, 32, who looked glamorous in red and blue tartan.
The business owner wore a colourful coat with matching shorts and black knee-high boots with Gucci tights.
The couple were pictured laughing with Kirsty Gallacher, 47, before Nick excitedly celebrated his horse placing first in the race.
Nick Knowles and Katie Dadzie attended the final day of the Cheltenham festival
Nick Knowles completed his races look with a fedora hat and brown shoes.
Nick Knowles' girlfriend Katie Dadzie put on a leggy display
Business owner Katie Dadzie, 32, looked gorgeous in her red and blue tartan coat with matching shorts. She completed the look with knee-high black boots, Gucci tights and a black jumper.
Nick Knowles and girlfriend Katie laughed with Kirsty Gallacher
The couple enjoyed a lively chat with presenter Kirsty Gallacher who looked chic in a beige cape with a matching fedora.
Kirsty Gallacher looked gorgeous in her tan ensemble
Kirsty Gallacher wore her dark aviator sunglasses while chatting to Nick Knowles and Katie Dadzie at the fourth day of the Cheltenham Festival.
Nick Knowles punched the air as he celebrated his win
Nick Knowles could not contain his excitement and let out a huge cheer when his horse placed first in the race.
Idris Elba also attended the Cheltenham Festival
Idris Elba was pictured behind Nick and Katie looking suave in dark sunglasses and a grey flatcap.
Source: Read Full Article