Demi Moore is getting back in the game.
The Ghost star joined Instagram in October, and she's already mastered the celebrity selfie…
https://www.instagram.com/p/BxMBlX3g8nj/
The plug…
https://www.instagram.com/p/BxxXBICApZ0/
And the throwback photo…
https://www.instagram.com/p/Bx0JYJxnwU6/
Now she's dipping into one more of the social media app's staples: the workout video.
For Demi, this is a really big deal. It's her first time working out in over FOUR YEARS!
She reveals in the video:
"I haven't exercised in over four years. So this is going to be my next jam. Yep. Do do do. Here I go. Wish me luck. Happy Monday."
Then she corrects herself in the caption:
"Ahhh I meant Tue???‍♀️ My maiden voyage with @getthemirror
15 min at level 1 that's doable after not working out for over 4 years right? I am stalling!
Happy Tuesday that feels like Monday?"
Watch as she psychs herself up to get back on the horse:
https://www.instagram.com/p/ByA7qZkHGoA/
For those wondering what that hologram tech is all about, that's The Mirror, a gadget which shows a translucent video image of a trainer, so you can watch them AND yourself at the same time to mak sure you're doing everything just right.
The $1500 system offers sessions of yoga, pilates, barre, boxing, stretching, and more.
Looks like Demi is doing some kind of mix of stretching and dance? Whatever it is, her chief fitness goal is a tight butt.
As Demi captions the video of the ENTIRE quarter hour workout, sped up (below):
"15 min flew by! ?
Mirror mirror on the wall….
a tight?please!
@getthemirror @juliesan21 @lennz13
#lovinglife #backinaction #tightenup #gijane
#demimoore #insideout #insideoutmemoir"
https://www.instagram.com/p/ByBAkkeHA82/
So strange to watch Demi just getting started.
At one time the mother of three was once known for her ripped bod, having gotten incredibly buff for the 1997 film G.I. Jane in which she played a glass ceiling-breaking female Navy SEAL recruit.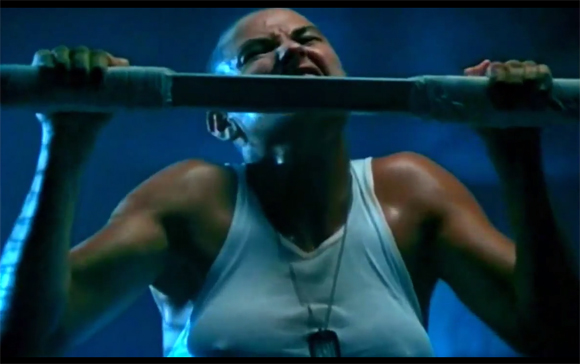 It was a look she kept for several years, as she showed off in multiple bikini scenes in Charlie's Angels: Full Throttle.
Talk about fitness goals! Damn!
Butt hey, it's never too late to go back, right!
Speaking of going back, Demi is set to release her memoir, Inside Out, this September.
Getting her side of the Bruce Willis marriage, the Ashton Kutcher drama, what it's like becoming the highest paid actress in the world… Sounds like a page turner!
Maybe she's just getting her cardio in for that inevitable book tour?
Source: Read Full Article