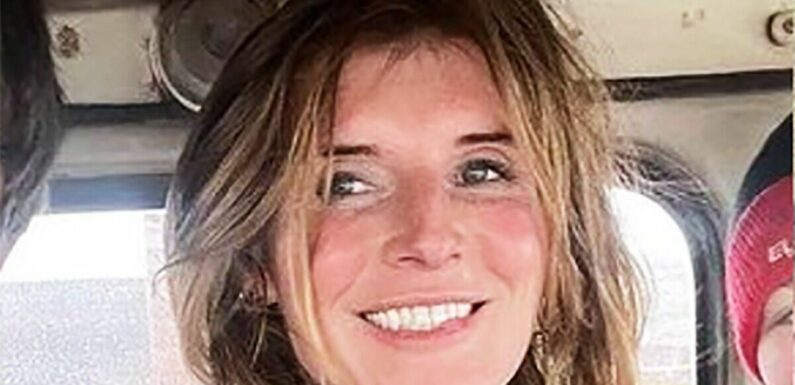 Amanda Owen says 'We all have to get on, there is a lot to do'
We use your sign-up to provide content in ways you've consented to and to improve our understanding of you. This may include adverts from us and 3rd parties based on our understanding. You can unsubscribe at any time. More info
Amanda Owen, 48, and ex Clive, 68, were back together to celebrate Mother's Day on Sunday. The Our Yorkshire Farm stars posed with all nine of their children at Ravenseat Farm for a rare full family photograph.
In one photograph shared to social media, Amanda smiled proudly with her brood and two of their friends.
Clive then swapped places with the shepherdess and stood in the middle of the Owen clan.
Their children are: Raven, 21, Reuben, 19, Miles, 16, Edith, 14, Violet, 12, Sidney, 11, Annas, nine, Clementine (Clemmy), seven, and Nancy, six.
Clive also has two older children with his first wife Greta, whom he was separated from in the mid-1990s.
They share a daughter named Rosie, 35, and a son who is believed to be around 37.
In the caption of her Twitter post, Amanda gushed: "All of the crew plus an extra few #MothersDay."
Dozens of her fans took to the comments to share their delight at seeing the family back together.
Marjorie wrote: "Lovely photos…great to see all the family together again."
Samantha echoed: "What a beautiful picture and so lovely to see Clive. Hope you've had a wonderful day today."
And Russell replied: "So nice to see the whole family and particularly Clive with a broad smile."
Amanda and Clive announced their "difficult" split in June 2022 after 22 years of marriage.
The former couple still co-parent their children and Clive now lives on a neighbouring farm.
Don't miss…
Eamonn Holmes says mum 'didn't want him' at her funeral[INSIGHT]
Alex Jones admits 'scaring' husband over baby decision [LATEST]
Oti Mabuse's mum brands ITV's DNA Journey findings 'nonsense' [NEWS]
Speaking to Lorraine Kelly last month, Amanda said: "We all have to get on.
"There's a lot to deal with as we have the land to manage, the animals to manage, childcare and everything else."
In a separate interview, Amanda went into more detail about their split and explained that they had succumbed to "pressures".
She told Radio Times in January: "Look, there are two simple facts: if he thought I was brilliant, and I thought he was brilliant, then we wouldn't have separated.
"It's a fact, isn't it? But you know what, that's not unique, it's just how things are, pressures, all the rest of it.
"But we have nine kids, with associated friends, girlfriends, and we just have to get on with it."
Source: Read Full Article