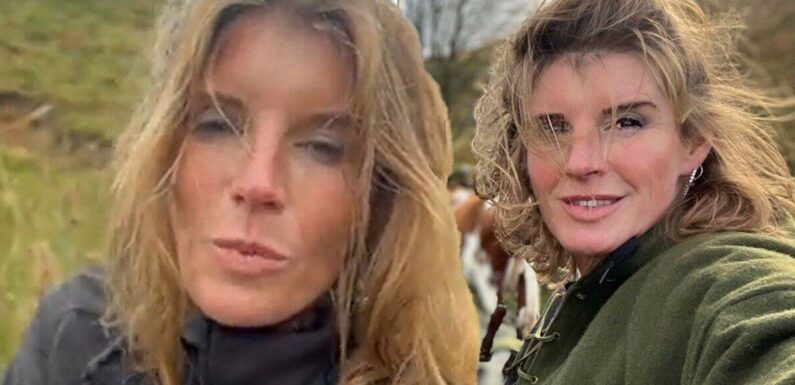 Amanda Owen addresses 'weird situation' after breakup
We use your sign-up to provide content in ways you've consented to and to improve our understanding of you. This may include adverts from us and 3rd parties based on our understanding. You can unsubscribe at any time. More info
Taking to her Twitter account, which boasts 205,100 followers, Amanda Owen, 48, shared various images of the mice and shrews that she is having to "deal with" on her working farm at this time of year. The Yorkshire Shepherdess, which she is known as on social media, has grasped the attention of fans with her regular updates from her farm, located in Swaledale, North Yorkshire. And her latest post is no exception as she prepares for the colder season.
Sharing an image of her stocked pantry, along with a shrew and a mouse, Amanda wrote the caption: "With winter approaching it's time to stock up the dairy and at this time of year there's an invasion of mice and shrews to deal with."
The shepherd-come-television presenter went on to explain more about the unfortunate fate of some of the creatures at this time of year.
She added: "Some are owl snacks, others get a second chance & are freed in a barn. #yorkshire #winter." (sic)
Gaining more than 500 likes on the tweet, Amanda's comments were flooded with fans who appreciated her fully stocked pantry cupboard.
User panda6980 wrote: "Cor pantry looking gud. Well stocked." (sic)
And another, Janet Evans added: "What I would give for a pantry like that they don't make them like that any more.
"Luv To The Owens family xx." (sic)
A third picked up on the giant sack of tea bags that could be spotted in the corner of the picture.
Mark wrote: "Great to see you have a good supply of #YorkshireTea."
In a follow up tweet, Amanda posted a similar picture of her pantry, with the inclusion of one of her boys standing on the counter hunting for snacks. She jovially captioned the images: "There are larger pests than mice to contend with!"
With a family of 11, including Amanda, her ex-husband Clive and the couple's nine children, it is no wonder why the pantry is so well stocked.
Amid managing the demands of the working farm, Amanda has revealed that life has recently been "tough".
Having been married for 22 years, the breakdown of her marriage to Clive occurred after the Owen clan let cameras into their world for the Channel 5 programme, Our Yorkshire Farm.
Appearing on ITV's Lorraine, Amanda explained that despite their split, the pair remain focused on keeping the farm running and their children happy, which is why they decided to continue working and co-parent together.
Speaking about how family life has continued, Amanda told host Christine Lampard at the time: "That is reality. When you do reality it has to be just that. That means it covers the ups and downs and that can be on any level.
"Life carries on on the farm. Obviously there is a whole raft of things to do – nine children, a whole heap of animals. We are just working away, same as before.
"Because at the end of the day our priority remains, of course, to keep everything going."
Ravenseat Farm is a 2,000 acre hill farm, and the family take care of about 1,000 sheep, however they have not been seen on screens since November 2021, as Amanda planned to take a break from filming Our Yorkshire Farm.
Despite a number of setbacks on the farm, and the remote farmhouse that the couple planned to move their brood into, Amanda continues to share sweet insights into the family's home life.
Taking to social media she shared a picture of her youngest daughter Nancy, holding a large light bulb as she sat amongst the hay.
She captioned the sweet image: "Bringing brightness into a dark place," followed by a light bulb emoji.
Amanda's sweet snaps with her daughter were posted as she admitted that her family were subjected to a real "undertaking" at the farm, as she documented their hard day of manual labour.
Source: Read Full Article