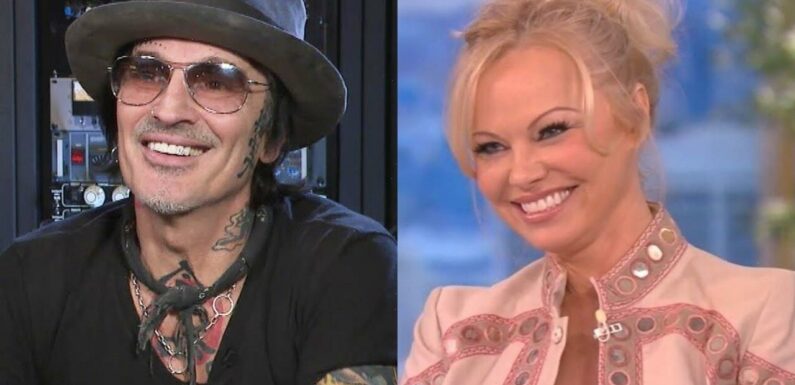 The former 'Baywatch' bombshell sees herself and then-husband, Motley Crue drummer, in their infamous explicit video as 'two crazy naked people in love.'
AceShowbiz –Pamela Anderson insists her sex tape with Tommy Lee showed "sweet newlyweds" in love. Stunned and devastated when a video leaked in 1995 of her romping with Motley Crue drummer Tommy, 60, when she was pregnant with their son Dylan, the 55-year-old "Baywatch" actress has now revealed how they turned down $5 million for the footage after it was stolen.
"We just filmed each other, always, and lived a sexy, passionate life – sweet newlyweds. Just two crazy naked people in love," she says in her recently-released Netflix documentary "Pamela, A Love Story" about the tape.
Pamela, who married Tommy in 1995 before they divorced three years later, added despite people making millions from the footage for years, she wanted to let it go and turned down an offer to profit from it.
She said, "I was pregnant with Dylan. We didn't want to put any more stress on the baby. And Tommy. I just said, 'F them. Karma. Whatever.' I just left it, and we really tried to just leave it in the past. That's it. We didn't think about giving it to a press tour talking about money we didn't get. That would be dirty money. Didn't want it. And, yeah, we ended up OK."
Five-time divorcee Pamela, who had sons Brandon, 26, and Dylan, 25, with Tommy, has described the documentary as her chance to take back "the narrative" over the tape after it featured in Hulu's 2022 drama about her life, "Pam & Tommy".
She has said about the show dramatizing the sex tape incident, "It was already hurtful enough the first time. It's like one of those things where you're going, 'Really? People are still capitalising off that thing?' "
Pamela also tells in her Netflix show how her choice of men has been her "downfall" in life. She added, "I'm not the damsel in distress. I put myself in crazy situations and survived them. Men are my downfall. And I've tried all kinds. The common denominator is me."
You can share this post!
Source: Read Full Article