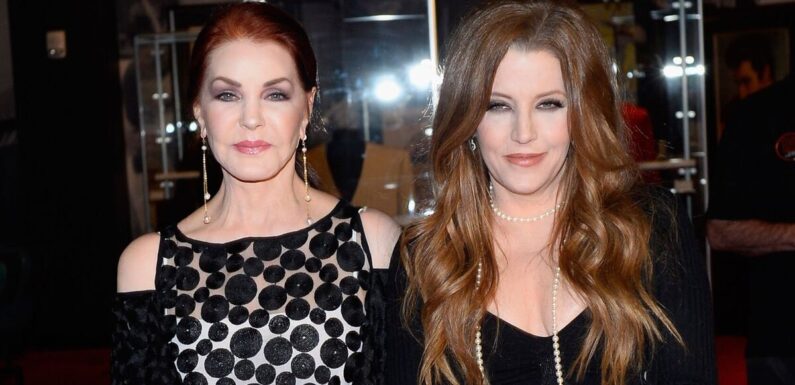 Priscilla Presley has opened up about her daughter Lisa Marie Presley's final days before her "unbearable" death.
The Los Angeles County Medical Examiner's Office confirmed earlier this year that Lisa Marie died of a bowel obstruction at the age of 54.
It's reported that she died in Southern California and was laid to rest at Graceland – the iconic mansion that was once owned by her father Elvis Presley.
In a new interview, Lisa Marie's mother, Priscilla, 78, has detailed how her only daughter fell ill on the evening they both attended the 2023 Golden Globes ceremony.
At the event in question, Austin Butler had won the Best Actor award for his portrayal of Elvis in Baz Luhrmann's biographical drama.
Read more Priscilla Presley breaks down over Lisa-Marie's 'unbearable' death to Piers
Speaking to Piers Morgan in a new interview, she said: "She didn't look well that night and I was concerned. She asked Jerry Schilling, one of my best friends, if he could hold her.
"Her heels were high, but she had worn them before, and I thought 'is she OK?' She didn't really look that OK, she looked very frail."
Priscilla went on to say that the pair had been "excited" about the 32-year-old's win and believed that the film had been received "so well".
"We were proud of them, then we started to go, and she said 'Mom, do you want to go to Chateau Marmont and have a drink?'"
Once the pair arrived at the iconic hotel on Sunset Boulevard, they both reportedly tripped up the staircase. Later, Lisa Marie complained about her stomach.
Priscilla recalled: "She said, 'Mom, I have to go, my stomach really hurts.' I go 'Of course, are you OK?' She goes 'Yes, yes, I just really have to go'. And I go 'OK, we will get the cars now'.
Don't miss…
Robbie Williams says he's got 'scores to settle' ahead of explosive new doc[EXCLUSIVE]
Céline Dion looks 'incredible' in first public appearance in years[PICTURES]
Patrick Stewart 'mourns non-existent' relationship with his son and daughter[INSIGHT]
Advert-free experience without interruptions.
Rocket-fast speedy loading pages.
Exclusive & Unlimited access to all our content.
"Then I hugged her, and she went her way, and I went mine, and that hug was the last hug I gave her."
Days after attending the Golden Globes, the Tennessee native was rushed to hospital and her first husband, Danny Keough, reportedly called Priscilla to attend.
"It was unbearable," recounted the actress. "I lost my mother, I lost my grandson, and I lost my daughter. It's still shocking that we don't have her."
The new interview with Piers comes ahead of Priscilla's own life being immortalised in film by director Sophia Coppola.
The biographical drama film, Priscilla, is based on the star's book 1985 book Elvis and Me, and stars Cailee Spaeny, Jacob Elordi, Raine Monroe Boland and Emily Mitchell.
The latter two actors portray the late Lisa Marie at three and five years old.
The forthcoming film had its debut at the 80th Venice Film Festival and is set to be released in UK cinemas on January 5, 2024.
Source: Read Full Article