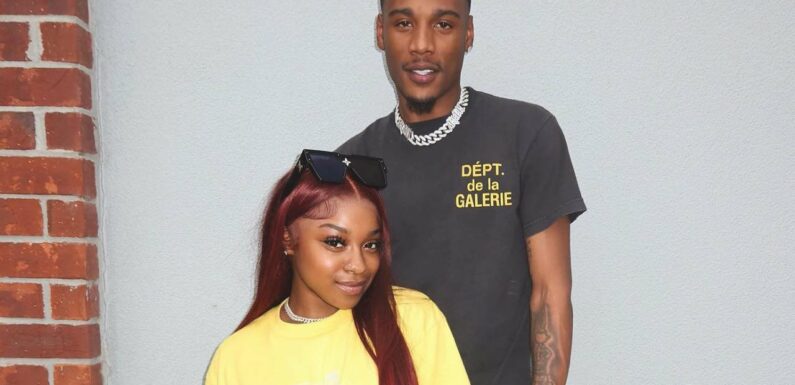 Fans believe that the social media personality and the YouTube star have called it quits as they are unfollowing each other on Instagram, with also Reginae sharing a cryptic post about losing her 'trust.'
AceShowbiz –Reginae Carter and Armon Warren seemingly couldn't stand the rough patch they recently went through. The young couple has sparked split rumors after dating for only nine months following defamation allegations against Rickey Smiley.
Reginae and Armon got fans concerned about their relationship after they were unfollowing each other on Instagram. The daughter of Lil Wayne has also posted a cryptic message about losing her trust.
"Don't ever fall out of love with yourself!" she tweeted on Sunday, April 9. "Folks come in all different shapes colors and sizes. I don't know who to trust at this point. You can't show someone all that love and backtrack."
Armon also came with his own messages via his Twitter account. "God knows all . God sees all," he posted over the weekend. In a separate post, he penned, "I wanna apologize to my supporters. I stand firm on being a stand up man. My name has never been brought up with something of that nature and never will be. I owed this to my supporters."
A social media user has since urged Reginae to reconsider her decision. Urging her to get back with Armon, the person wrote, "Go get your man armon is good man nobody perfect but I know for damn sure he love the hell out of you vice versa don't give up on y'all beautiful love story don't let the devil win yall doing exactly what people want it y'all fight for y'all love."
The breakup rumors arose after Reginae and Armon accused Rickey of defaming them when reporting about her injured hand while bringing up allegations that Armon abused his girlfriend. Reginae, for some reason, thought that Rickey suggested her relationship with Armon was plagued with domestic violence. "Seek help Da,m!!! One thing I don't play about is defaming someone's character. Esp people who I love," she tweeted.
After Rickey denied the couple's allegations that he slandered them, Reginae quickly extended an apology. "I apologize for yesterday. I spoke on something I didn't know much about. And that brought up age where it wasn't even needed," she wrote on the blue-bird app on Saturday. "I'm in a place where I don't want unnecessary drama and I don't want to offend anyone! Have a great Saturday."
Armon then followed suit, writing, "I understand Rickey's part and I understand that sometimes things is said on a platform where you hire employees to bring the news. I apologize personally to @RickeySmiley I've seen what you said and as a man I understand."
He further stressed though, "I will always be the first to defend myself when Abuse Or Anything of that nature Be mention With My name. All Love."
You can share this post!
Source: Read Full Article