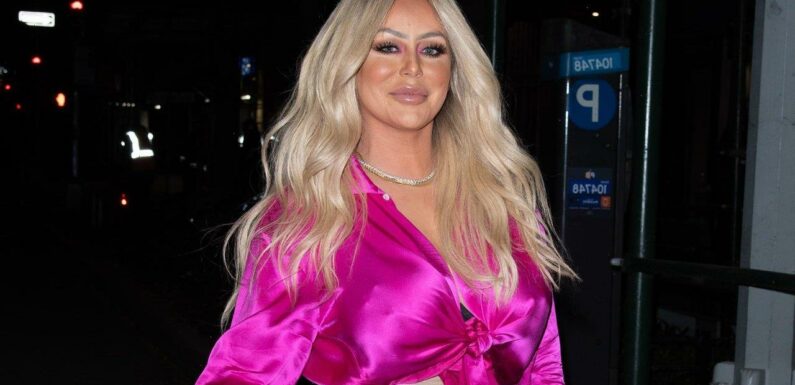 The 38-year-old 'The Celebrity Apprentice' alum sparks pregnancy rumors as she is pictured cradling her stomach while attending the SPiN Awards Gala in Los Angeles.
AceShowbiz -Former Danity Kane singer Aubrey O'Day may have a bun in the oven. The 38-year-old star sparked pregnancy rumors as she was seen cradling her stomach while attending the SPiN Awards Gala in Los Angeles on Tuesday, January 17.
For the event, Aubrey dressed in a figure-hugging white dress. She completed the look with PVC pumps adorned in rhinestones and a matching necklace. As for her hair, she styled her blond locks in voluminous waves while sporting her signature makeup look, smoky eyes and nude lips.
However, it was her pose that got people talking. While posing for cameras, the "Show Stopper" hitmaker put one of her hands on her tummy. She further fueled the pregnancy speculations as she told reporters on the red carpet, "I've been having mom fever."
The Sun claimed that Aubrey was in "good spirits" that night, adding that she talked about having "someone special" in her life. In "When I got home from Bali, which wasn't too long ago, I was open to dating again," the star shared. "After my relationship with [DJ Pauly D], I hadn't had sex or been intimate with anyone for about three years, so this was the first person that I felt comfortable being vulnerable with."
A source additionally confirmed to the news outlet that Aubrey is pregnant. "She's early on in her pregnancy, and is so excited," the source added.
The report arrived after she expressed her desire to have a baby in 2021. "I want to have fun getting pregnant, have a baby, and live peacefully in Bali," she tweeted in January 2021.
Back in March 2018, Aubrey and her then-boyfriend Donald Trump Jr. were also allegedly "trying" for a baby. The son of former POTUS Donald Trump had an affair in 2011 with the former "The Celebrity Apprentice" contestant while his wife at the time, Vanessa Trump, was pregnant with their third child Tristan.
"Don told Aubrey he wanted to have a baby with her," a source said of the father of five at the time. She even called him her "soulmate."
You can share this post!
Source: Read Full Article