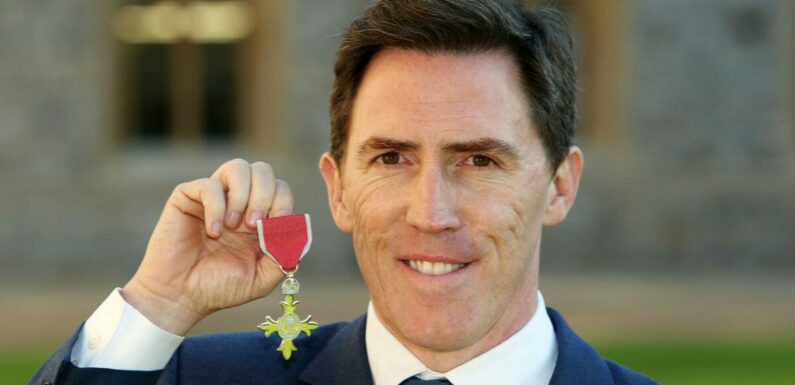 We use your sign-up to provide content in ways you've consented to and to improve our understanding of you. This may include adverts from us and 3rd parties based on our understanding. You can unsubscribe at any time. More info
Gavin & Stacey actor Rob Brydon, 57, was appointed Member of the Order of the British Empire (MBE) in the 2013 Birthday Honours for services to comedy and broadcasting, and for charitable services. Looking back on the special day, which he had attended with his mum and dad, Rob confessed he was not "not sure" how to feel.
Last month, Rob told podcast host Sophie Corbett: "It was at Windsor Castle a big deal, you know, for mum and dad.
"I'm not sure how I feel about the honours system… 'Hang on a minute, Rob, you accepted it'. 'Yes, I did because for my parents it was just astonishing'.
"And I'm an ambassador for the Prince's Trust and I believe in that and I've seen what it does, I've seen the difference.
"There's a whole other discussion about the monarchy but here's where we are," he said on the Rockwater In Conversation With podcast.
In a previous interview, the Would I Lie To You? presenter opened up about why he has turned down roles in the past after he received a warning about its possible detriment to his family life.
Rob has three children from his first marriage to Martina Fitchie, and two children from his current marriage to Clare Holland.
Speaking to Saga Magazine in February 2022, Rob explained: "I've always wanted to do something… proper.
"I would have signed up for a big West End musical, but I was warned about the impact that has on your family.
"My two youngest, Tom and George, are 13 and 10, so it's an important time for me to be with them."
Similarly, Rob also detailed the reasons why he has not tried to make it in Hollywood.
He continued: "When anyone asks me about going to Hollywood, I give them the same answer.
"If it means being away from Clare and the kids for six months, I'm not interested.
"Maybe when they've finished school but, at the moment, family comes first."
Rob and Clare married in 2006, with the pair meeting when she was working on The South Bank Show.
Their son Tom was born in 2008, and George in 2011.
Rob has three children Katie, Amy and Harry from his marriage to Martina.
The marriage lasted from 1992, with the pair's divorce finalised in 2000.
In his early life, the actor struck up a close friendship with Ruth Jones while they were at school.
They both joined the drama group at Porthcawl Comprehensive School in South Wales and years later worked together on the hit show Gavin & Stacey.
Source: Read Full Article