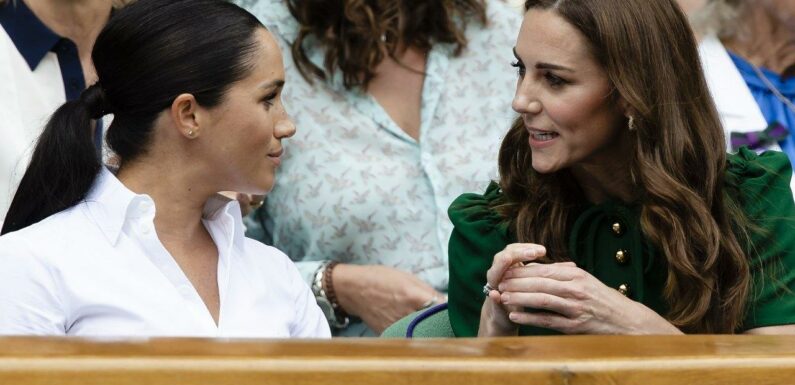 Prince Harry claims in his memoir 'Spare' that the Princess of Wales made his wife cry after she demanded that Meghan 'remade' all dresses because it's too big on her daughter Charlotte.
AceShowbiz -Ajay Mirpuri, the tailor who worked with Meghan Markle for her royal wedding to Prince Harry, has broken his silence amid claims that Meghan and Kate Middleton had disagreement over a bridesmaid dress. In an interview, Ajay revealed whether he witnessed the drama between the Duchess.
"If anything happened in the background, it didn't happen in front of me," the luxury tailor said during an interview with Daily Mail which was published on Tuesday, January 10. "But yes, weddings are stressful at the best of times – and especially one at this high level; you've got to respect that."
In response to claims that Kate was upset that the bridesmaid dress for her daughter Princess Charlotte was too big on her, Ajay went on to say, "They were faced with a problem like anyone gets at a wedding, with last-minute hitches. I can understand why anybody would be upset if the dresses weren't fitting – it's nerve-wracking."
"I feel for them all because you wouldn't want the children to go out on a big stage in an ill-fitting dress – and that's what they were," he said of the short-sleeve white dresses with full skirts. "All six bridesmaids' dresses had to be fixed, and we did it. I'm a royalist and I wanted to do whatever I could with my small business and serve the royal family."
During his interview, Ajay also mentioned Prince Harry's bombshell memoir "Spare". "Had this book not come out, no one would have known it was us," the tailor said. "If it saved the day, it saved the day … I won't say it upsets me, but in that whole big event, this is what's spoken about the most – it should be the fact that they looked fabulous."
In the tome, Harry detailed what went down between Meghan and his sister-in-law in the days leading to their royal wedding in May 2018. The Duke of Sussex revealed the fiery text messages between the Princess of Wales and his wife. "Charlotte's dress is too big, too long, too baggy," Harry recalled what Kate told Meghan about her daughter's dress. "She cried when she tried it on at home."
Meghan allegedly then replied, "Right, and I told you the tailor has been standing by since 8am. Here. At KP. Can you take Charlotte to have it altered, as the other mums are doing?" Instead of agreeing to alterations, Harry claimed that Kate asked all the dresses to be "remade" and even discussed the issue with her own wedding designer, who agreed with her.
"Meg asked if Kate was aware of what was going on right now. With her father," Harry added, referring to the drama surrounding the former "Suits" actress' father Thomas. "Kate said she was well aware, but the dresses. And the wedding is in four days!"
Harry also wrote that the wife of Prince William was having "problems with the way Meg was planning her wedding. Something about a party for the page boys? It went back and forth." Meghan allegedly responded, "I'm not sure what else to say. If the dress doesn't fit then please take Charlotte to see Ajay. He's been waiting all day," to which Kate reportedly replied, "Fine." Harry then shares that he found Meghan sobbing "on the floor" of their home. In response to the revelations, Kate allegedly is "outraged and hurt."
You can share this post!
Source: Read Full Article