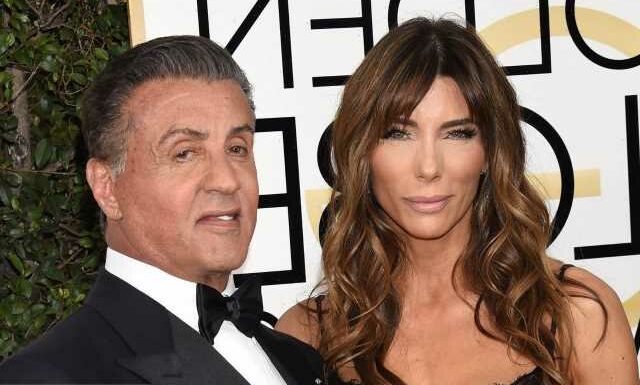 In new court documents, the 'Expendables' star and his now-estranged wife are unveiled to have had no prenuptial agreement when they tied the knot in May 1997.
AceShowbiz –Sylvester Stallone is moving ahead with his divorce from his estranged wife Jennifer Flavin. "The Expendables" star and his ex are currently working on a divorce settlement in private after he cryptically posted a sweet photo of the couple on social media.
TMZ reported on Thursday, September 22 that the "Rocky Balboa" actor and Jennifer are putting a hold on court proceedings to hammer out a deal in private. Surprisingly, there was no prenup in place when they tied the knot in May 1997.
While Jennifer has plenty of money of her own from her modeling career and her Serious Skincare cosmetics line, Sly may still have to fork over a large portion of his $400 million fortune due to the lack of an existing agreement about divvying it up.
Court documents out of Palm Beach County, Florida also showed that the order of abatement from the former couple was granted. "The Parties agree that is in the best interests of each of them individually, and more importantly collectively as a family, to resolve all issues attendant to the dissolution of their marriage in a dignified, amicable, and private manner out-of-court," read the order of abatement.
Jennifer filed a petition "for dissolution of marriage and other relief" from Sylvester in a Palm Beach courthouse on August 19. In her filing, the 54-year-old former model claimed their union is "irretrievably broken." She also alleged that Sly "has engaged in the intentional dissipation, depletion and/or waste of marital assets which has had an adverse economic impact on the marital estate."
Responding to Jennifer's filing, Sly stated that he "has not engaged in any conduct which constitutes intentional dissipation, depletion and/or waste of marital assets." In his response, he also accepted several of Jennifer's other requests, including her desire to restore her maiden name and equitable distribution of their joint assets and liabilities, and agreed that their union is "irretrievably broken."
Though the divorce seems to be moving forward, Sylvester did leave fans speculating about reconciliation with Jennifer earlier this week. Taking to his Instagram page on September 19, the 76-year-old actor shared a series of sweet family pictures. In the first slide, he could be seen walking through a garden while holding hands with Jennifer.
The following image was a family photo featuring the exes and their three daughters, Sophia, 26, Sistine, 24, and Scarlet, 20. The image seemingly was taken when the girls were much younger. In a note accompanying the pictures, Sly simply wrote, "Wonderful…"
Source: Read Full Article