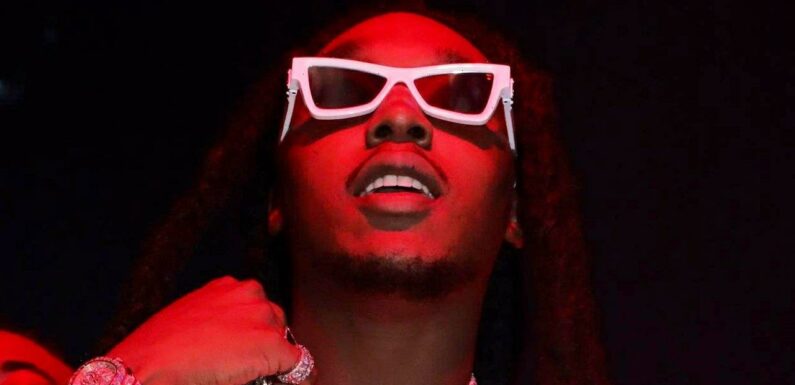 Takeoff's mother and father are not on good terms after he left her to raise the 'Bad and Boujee' rhymer since he was a kid, but Takeoff's father's relatives have been claiming about his involvement in the late rapper's life.
AceShowbiz –Takeoff's death may trigger a contention over his estate. According to a new report, a family drama is brewing regarding who's supposed to inherit the Migos star's millions of assets and more that he will continue to make after his death as he died without a will.
A source familiar with the situation tells Media Take Out that Takeoff did not have a will when he died in a shooting on November 5. Under Georgia state law, his entire estate will go to his closest living relatives. Since he did not have any children, that persons would be his parents.
The problem is Takeoff's mother and father are reportedly not on good terms. According to people close to him, the 28-year-old was raised by his mother and they have no idea what involvement Takeoff's father had in rearing the Migos star.
However, since Takeoff's death, many of Takeoff's father's relatives have taken to social media, claiming about his involvement in the late rapper's life. His father Kenneth posted on Facebook after his sudden passing, "Kirsnick Khari Tiquon Ball my first love out of my five kids this is so so hard please keep Titania Davenport (Treet) and me (Kenneth M Ball) and the entire family on both sides in your prayers doing our difficult time. No one know the pain I'm feeling right now BUT with GOD I will find peace."
Meanwhile, social media users slammed someone who claimed to be Takeoff's sister for only speaking about him on the day of his funeral. "Absolutely, so selfish of putting his business out there after he is gone. In his whole career this man made headlines, he was always minding his business. And she wants to put his private life out there. This got me livid," one fan tweeted.
Another fumed, "If you are really his sister please don't bring this to social media. He was never in the headlines for anything else but his music and you should respect him enough to keep it that way…"
Takeoff's sister then responded to the critics, "My tweet is a reference to the blogs that literally say his dad left when he was in kindergarten and the comments that say things along the lines of 'I bet his dad wished we would've stuck around.' "
Words are Takeoff's father's side may be planning on fighting for a portion of the late rapper's estate.
Source: Read Full Article