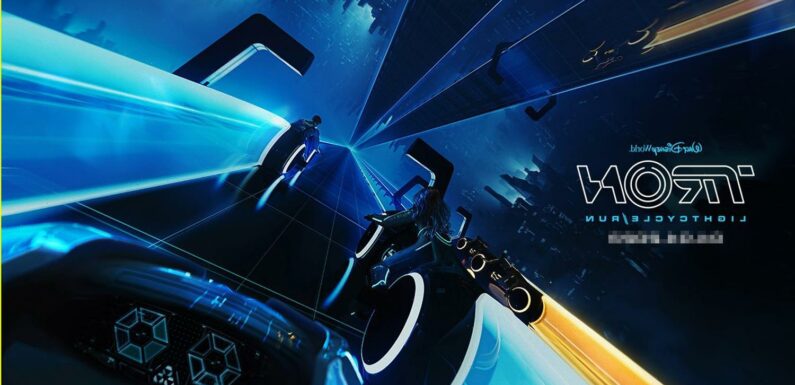 The wait is finally almost over – the highly anticipated TRON Lightcycle / Run ride has received an opening date at Walt Disney World!
The ride first debuted at Shanghai Disneyland as TRON Lightcycle Power Run, and is set to make it's second park debut this spring at Magic Kingdom in Florida.
Find out more inside…
The story for the upcoming attraction will pick up right after the events of TRON: Legacy, where "Kevin's son, Sam Flynn, has opened a second gateway into a digital realm called the Grid." The first portal was of course opened at Shanghai Disneyland.
According to Disney Parks Blog, "When you enter the queue at Magic Kingdom, you'll feel as if you're digitized and transported to the Grid for a special Lightcycle race. It's your Team Blue against the Grid's menacing Programs, Team Orange. Your goal is to be the first to race through eight Energy Gates and secure victory. The attraction will be one of the fastest coasters at any Disney theme park in the world."
TRON Lightcycle / Run will open on April 4th at Walt Disney World's Magic Kingdom park.
You can check out a preview of the TRON ride at Shanghai in the video here…
Walt Disney World has also just announced dates for the return of two nighttime spectaculars – "Happily Ever After" and "EPCOT Forever."
"Happily Ever After" will mark it's return on April 3rd with new projections on Main Street, USA, in Magic Kingdom park, while "EPCOT Forever" will also return that same day at EPCOT's World Showcase Lagoon.
"EPCOT Forever" will be back for a limited time, as a new nighttime spectacular is in the works to debut at the Lagoon later this year.
If you missed it, Splash Mountain is closing down later this month to start it's transformation to Tiana's Bayou Adventure. Find out the last day to ride Splash Mountain!
Source:
Read Full Article