At the 2018 Met Gala, some celebs soared, while others fell from grace by fashion standards. This year's "Heavenly Bodies" actually also received the official stamp of approval from the Vatican, which is a big deal considering every which way the stars and designers can run with this theme.
Lots of best and worst dressed Met Gala 2018 lists have already hit the web, but of all of them, the ones from news magazines such as The Sun and the Daily Mail are best avoided.
The fact of the matter is that they all clearly failed to get the memo that the point of the Met Gala, also more extensively called the Costume Institute Gala, is to raise money for the Metropolitan Museum of Art's Costume Institute of New York City, also serving as a launching point for its annual fashion exhibit. To give you an idea, just over $12 million was raised in 2017 and $13.5 million the year before.
The whole point is to dress as uniquely and as close to the yearly changing theme as possible. It's certainly not the time of the year to wear a simple ballgown! With this being said, let's dive into the Met Gala 2018 best and worst looks.
20

Best: Emilia Clarke
Wearing a Dolce & Gabbana strapless gown, Emilia Clarke proved that she is undeniably a queen both on and off-screen. Her look at the Met Gala 2018 has firmly solidified her position as a queen, bumping down many others who tried to wear elaborate hairpieces or simpler crowns.
When Liza Koshy from Vogue asked her about the inspiration behind the look, the Mother of Dragons replied: "There is a statue of the Virgin Mary in Italy and I'm it. For one night only."
Of course, she was also asked about the final seasons of Game of Thrones, to which she replied: "I'm in it". So is it fair to say that nothing happens to her character? This is exactly the kind of statement that most tabloids usually spin into much more than it really is.
Unlike Selena, who we'll cover later, her flushed look is also an intentional part of the look. As Harper's Bazaar reported, celebrity makeup artist Jillian Dempsey stated that they were going for a "flushed, ethereal look," which they definitely succeeded! "I focused on generously applying blush to both her cheeks and eyes for an especially gilded angelic look," she also added.
19

Dud: Scarlett Johansson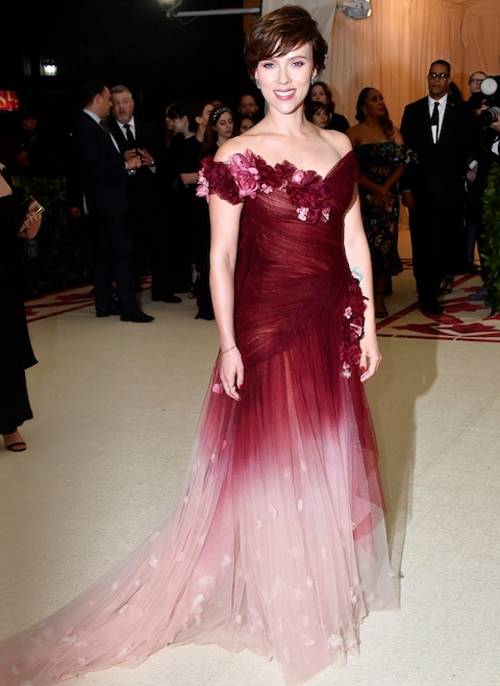 The question on everyone's minds right now: what was Scarlett Johansson thinking when she figured it would be a good idea to wear this dress? Sure, it's very fitting to her name with its scarlet color, but that's part of the problem.
Placing Scarlett Johansson on any worst dressed list is excruciatingly hard, but she deserves it. #SorryNotSorry. It's particularly hard given that Infinity War has secured the #1 spot in terms of being the fastest film to get to $1 billion.
In the case of the dress of her choice, it's less about the style of the dress and more about the implications behind it. Simply put, it's a Marchesa, a design house that celebrities have been avoiding like the plague ever since the Harvey Weinstein drama because his ex-wife Georgina Chapman is both the co-founder and designer behind the brand. As People pointed out, by opting a Marchesa dress, Scarlett is effectively the first major celebrity to wear the designer to a big event.
As with most celebs, she probably did it on purpose to ensure that she would be the talk of Tinseltown. It worked, but just now in her favor. There is no denying that she looks beautiful – then again, she could pull off wearing a potato sack -, but the implications behind this dress are just too big to ignore.
18

Best: Rihanna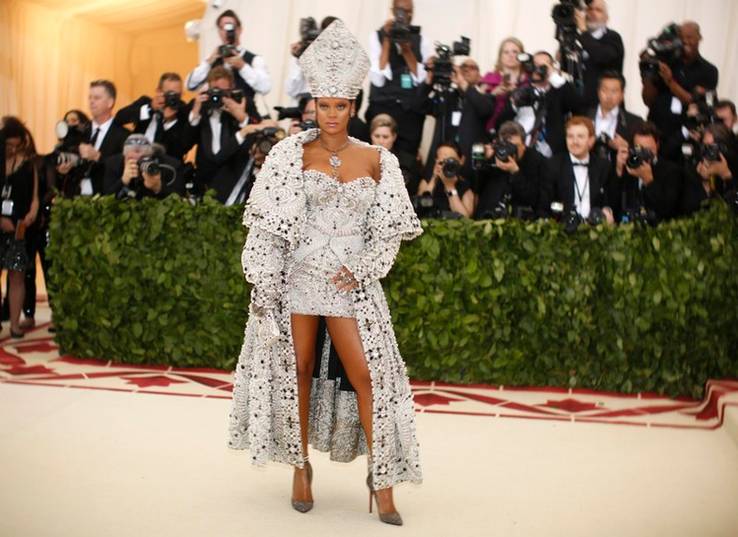 Can't you just imagine the Pope tweeting: "My culture is not your prom dress?"
All jokes aside, Rihana absolutely SLAYED it at the 2018 Met Gala, as she always does. As Time has pointed out, she is the queen of the annual Met Gala. Not only did she dominate the 2017 Met Gala with her straight off the runway Comme des Garçons look, but so has she once again secure top spot with her Pope dress. Some excited fans even tweeted: "Suddenly I'm catholic".
Elle Magazine summarized the look the best: "Wearing what we can only imagine was hand crafted by carpenter Jesus Christ himself, the Badgal came in a full Bishop's mitre and cloak from the house of Maison Margiela."
About 99% of the public is in agreement that Rihanna stole the show and we definitely agree as well. According to Business Insider, Rihanna's "ensemble took a jaw-dropping 250 hours to sew and 500 hours to hand-embroider". An insider from the fashion house revealed: "The outfit is a three-piece coordinated look, comprised of a sculptural jacket and a skirt worn over a bustier dress. Each piece has been realized in an elaborate seafoam jacquard and is entirely embellished with a series of pearls and 'bijoux' following the original and intricate motif of the fabric sewn in silver thread."
17

Dud: Kim Kardashian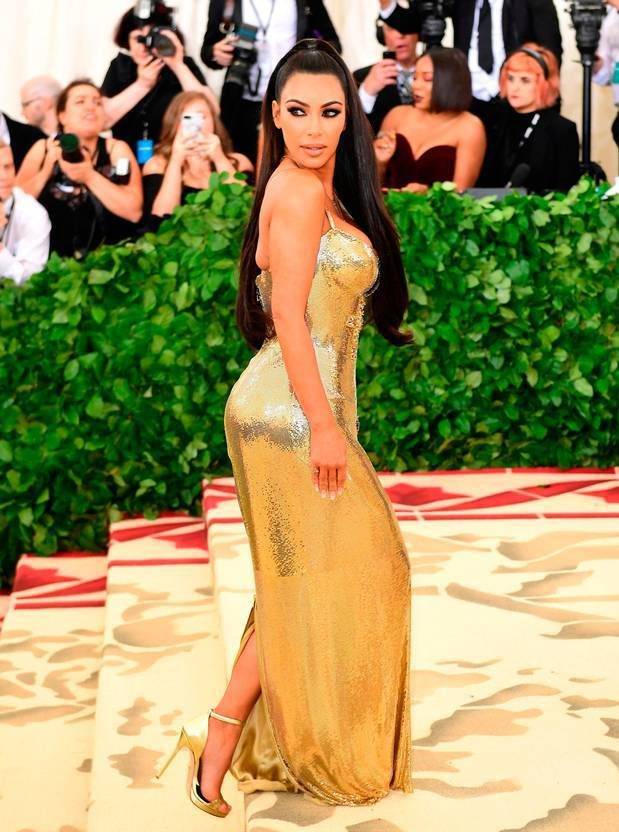 Hey look, it's Kim Kardashian in her same ol' favorite style. Nothing like lacking absolutely any creativity and falling back on the same kinds of looks as she always goes for in an apparent bid to secure top spot. This kind of shiny look actually worked for her back at the 2016 Met Gala when she wore a custom Balmain dress (not to mention the $4.5 million worth of Lorraine Scwartz), but her 2018 look just merely falls flat.
The Versace dress is stunning on its own, but the public has seen enough of her on Instagram to not need to see her in a form-fitting dress each and every time. All things considered, she should probably take a page out of Rihanna's book, who year after year, has proven that it's not about showing off your body and more about accomplishing the assignment set out by the Metropolitan Museum of Art.
Kanye West was noticeably absent from her side with US Weekly reported just a couple of days before that a source had revealed: "One minute he says that he will go. Another, he insists that the album needs more work. Kim just wants to go to the gala and have a great time."
16

Best: Kate Bosworth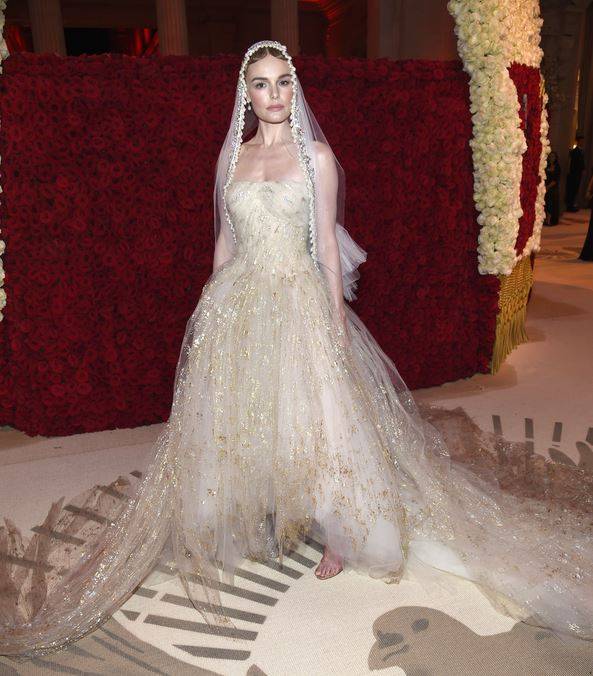 Kate Bosworth is quite literally a "Heavenly Body" in this Oscar de la Renta bridal-looking dress. Not too surprisingly, Harper's Bazaar was quick to make the connection that her own 2013 wedding dress was designed by the same house. Was the homage to her bridal dress a request on her part, or did Oscar de la Renta get re-inspired by their original creation for her wedding? Only time will tell, but she undeniably looked stunning.
According to her make-up artist Beau Nelson who spoked to E! News, the look was inspired by "Byzantine-era paintings from the Eastern Roman Empire."
"I would describe this look as monochromatic. The color palette consisted of nude rose, rosy taupes and soft beige pinks," he also added.
Although Kate Bosworth has been married to Michael Polish since 2013, fans were particularly excited to see her posing for a picture with ex Alexander Skarsgard at Versace's after-party. According to E! News, their break-up was very mutual at the time, but we can't help but get a slight tingle of excitement in our bellies over her mingling with the gorgeous ex-Viking. What happens at the Met Gala, stays at the Met Gala, right?
15

Dud: Amal Clooney
Maybe Amal should stick to her day job as an international human rights lawyer. Lumping her into the worst dressed category is particularly hard. There are other celebs whose plain-dressed looks would deserve a spot on this list more, but it's the fact that Amal clearly tried with her Richard Quinn rose-covered pant with overskirt look, but flopped, that gives her one of the top spots. Although the Met Gala is all about trying to wear some of the most unique and on-point to the theme designs, she definitely just tried way too hard. There's also the fact that Amal was actually one of three co-hosts for the show… oups.
Although Entertainment Tonight reported that George "gushed" over his wife's look, he really didn't "gush" at all, taking advantage of the opportunity to instead turn the conversation on him. "It would look terrible on me," he joked, adding, "You know the thing is, I was going to wear this earlier and I just looked like the Jiffy Pop pop guy." So what exactly is that saying about the look on her?
We love you George, but come on! All things considered, he could have opted for a much more interesting look himself, as Jared Letro and a few other male celebs did (more on Leto soon).
14

Best: Zoe Kravitz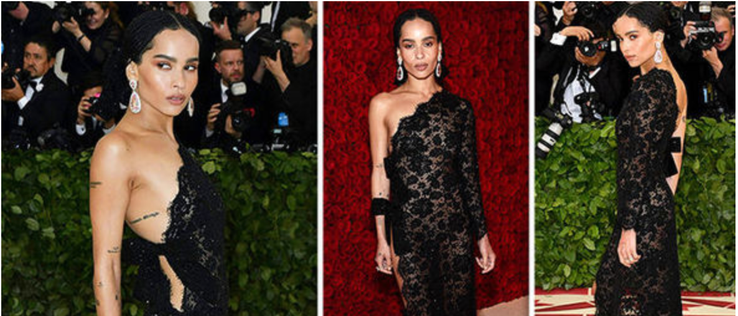 Believe it or not, there are some particularly hateful Twitter users who weren't able to appreciate the beauty behind Zoe Kravitz' look. Even the Daily Mail tried to convince its readers that the "the 29-year-old plumped for an incredibly risque dress that was slit up to the waist, where it was held together with a simple knot of fabric, making it abundantly clear that she had chosen to forgo lingerie for the evening.
As all the other celebs that they placed on their worst dressed list though, it's clear that the staff at the Daily Mail need a little educational lesson in fashion. In fact, a writer at Lainey Gossip summarized Zoe Kravitz' St-Laurent beaded lace gown in the best way possible, masterfully proving that the actress actually stayed true to the theme:
"So instead she's going way, way understated and dressed on the theme of pure Eve-temptation… just those two little bows keeping her Saint Laurent dress on. So much better than if it was sewn with peek-a-boo windows… because isn't the so-close-but-so-far, almost tangible but not, the whole point of the Catholic imagination?"
That explanation is right on the money! Even her make-up was flawless, which according to the Hollywood Reporter, her makeup artist Nina Park tried to keep simple: "The dress was such a focus itself, and there was a lot going on, so we wanted to make [the look] very skin focused and clean, subdued with monochromatic colors to bring out her features."
Featured Today
10 Carrie Underwood Outfits That Are Amazing (10 That Are Duds)

15 Female Celebs With Unfortunate Tattoos (And 10 With Classy Body Ink)

24 Rachel Green Outfits We Wish Jennifer Aniston Would Bring Back

13

Dud: Kylie Jenner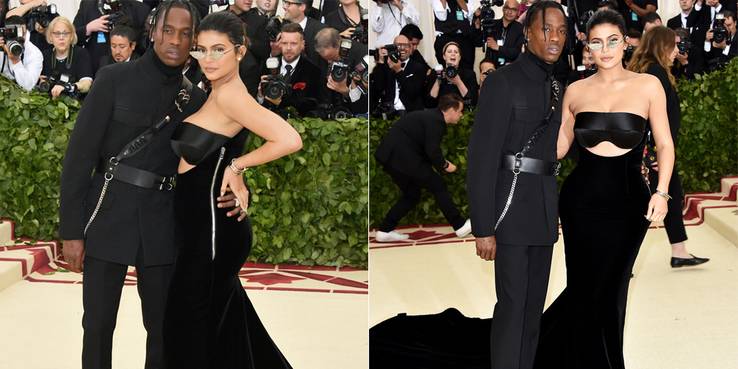 All wrapped up in her new baby Stormi, it looks like Kylie didn't quite get the memo about this year's MET Gala. When standing sideways, her Alexander Wang dress actually makes it look like she is still pregnant. There's nothing wrong with taking a little longer to shed the baby weight, but given how proud she has been to show-off her slimmed down physique three months post-partum, we doubt that she was aiming for this kind of look on the red carpet.
Then again, she did proudly explain, "Parents night out" in her interview with Vogue's Liza Koshy. When asked about her boring dress, she revealed: "We wanted to go with something more simple, edgy, young, so that's exactly what we did."
That's great and all, except for the little tiny fact that while the Met Gala is about being edgy, it's definitely the wrong occasion to be going "simple".
She was obviously too focused on her goal for the night, which she revealed to be "another epic bathroom selfie." Just like Kim Kardashian, just because it worked once, doesn't mean it will keep working again and again! Although it wasn't "epic", she did end up taking a selfie with Kim K and Ariana Grande.
12

Best: Lana Del Ray & Jared Leto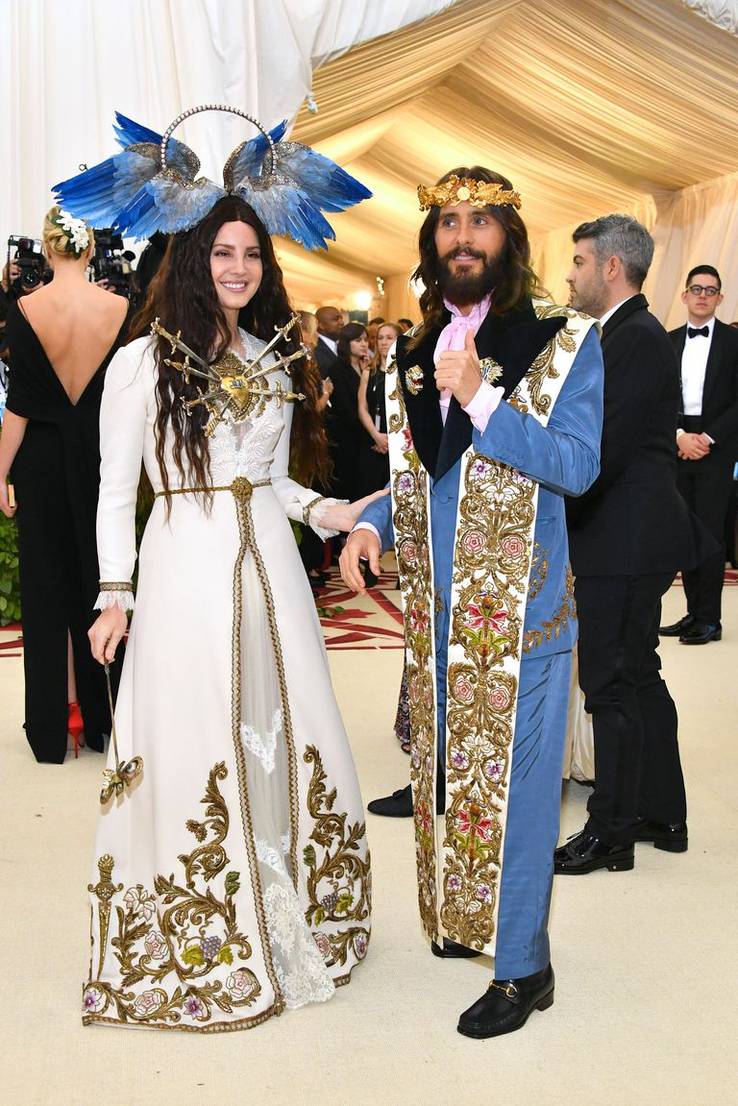 Unlike the Kardshian-Jenner clan, here's one couple who definitely got the memo on what the Met Gala is all about.
The self-proclaimed Gucci gang was actually accompanied by the Gucci creative designer who explained to Vogue's Liza Koshy: "[The theme] means a lot. I mean I love the kind of things. I'm a big collector of a lot of old pieces like this, so it was so fun."
When asked about what an upcoming headline about the Gucci gang should say, Leto answered: "We came, we saw and we had a […] blast."
While Lana Del Ray was dressed in a white dressed with literal daggers stabbing her gold heart, Jared Leto was dressed like Jesus. The ensemble was particularly fitting for Leto, who kind of looks like Jesus Christ already! As Vogue said it the best: "the three looked as if they had walked straight out of a Renaissance-era painting hanging in the Uffizi gallery. Leave it to Lana to take the Catholic imagery theme to a heart-and-daggers extreme."
Glamour also pointed out that the look drew much praise from users on Twitter, with one fact writing: "Finally a guy who sticks to the theme!! Jesus has arrived."
11

Dud: Selena Gomez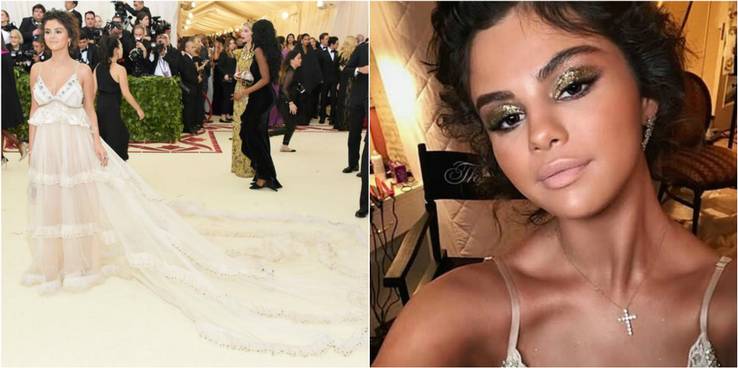 Selena Gomez's look at the Met Gala has actually had fans absolutely divided. With no middle ground, people either absolutely love it, while others can't look past the obvious fake tan long enough to try and admire the Coach 1941 dress. But there really isn't all that much to admire. While the train is amazing, the whole chest and waist area looks absolutely unflattering and does nothing for her usually stunning physique. And then there is the tan.
Cosmopolitan uncovered one particularly shade-filled (no pun intended) tweet from a fan: "Not trying to shed any hate @selenagomez but your tan reminds me of the episode of Friends where Ross got a tan and accidentally got the front part of his body. Lol except yours is only the top half. I am stressed for you girl. We're all Ross at one point, so you're good ???"
It's surprising that no one has given her the same kind of backlash that Gigi Hadid recently received for her Vogue Italia cover. She explained nonetheless to Vogue's spokeswoman Liza Koshy that: "the theme [she] wanted to capture was Queen Esther in the Bible."
"I admire her strength and I think that's what I wanted it to feel like," she continued.
As the Daily Mail reported, she also had one of her favorite quotes from the bible etched onto her purse: "A woman who fears the lord is a woman who shall be praised" from Proverbs 31:30.
10

Best: Blake Lively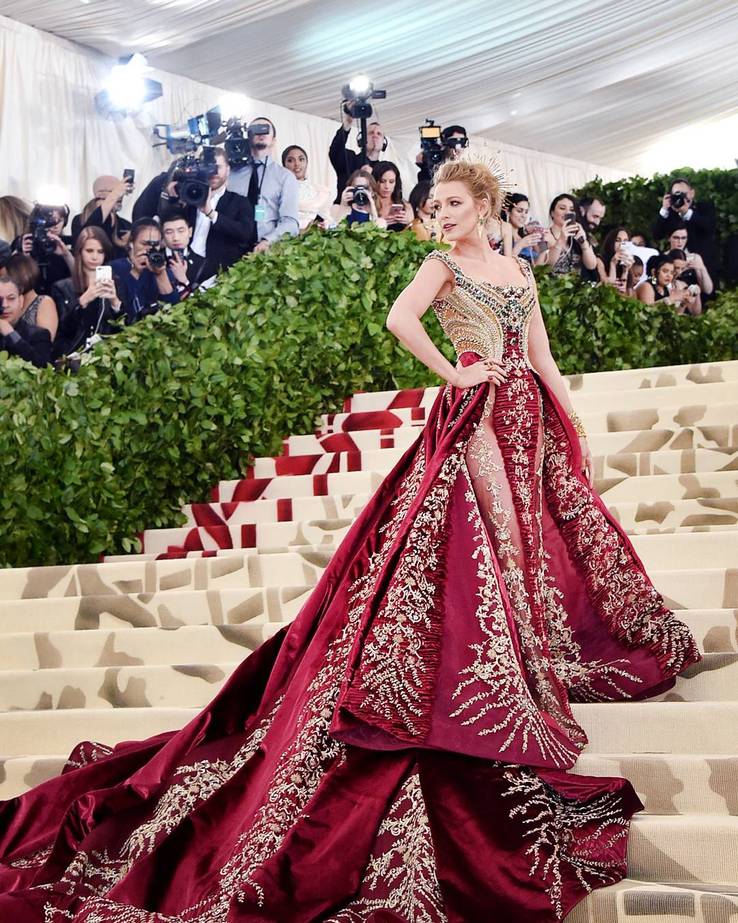 The woman who never has a bad red carpet day was among one of the few celebs who truly shut it down at the 2018 Met Gala!
Blake is definitely no stranger to going over the top on the red carpet, but for this year's Versace gown, she quite literally had to roll up to the event in a party bus. Vogue revealed the craftsmanship behind her dress, explaining that it was: "Spliced with sheer panels on both sides and covered in so many beads that it took 600 hours to embroider the bodice alone."
Not only does her dress look phenomenal, but so does the well-deserved crown on her head. According to Access Online, Blake Lively confessed: "This year's may be my favorite dress ever." We definitely agree! Blake Lively always looks gorgeous in everything that she wears, but it's this dress in particularly that has truly allowed her to shine like the star that she is.
Very surprisingly, the usually supportive Ryan Reynolds has remained absolutely tight-lipped about Blake's look on the red carpet. Not only did he not join her, but he hasn't said anything on either one of his social media accounts about how stunning she looked.
9

Dud: Shailene Woodley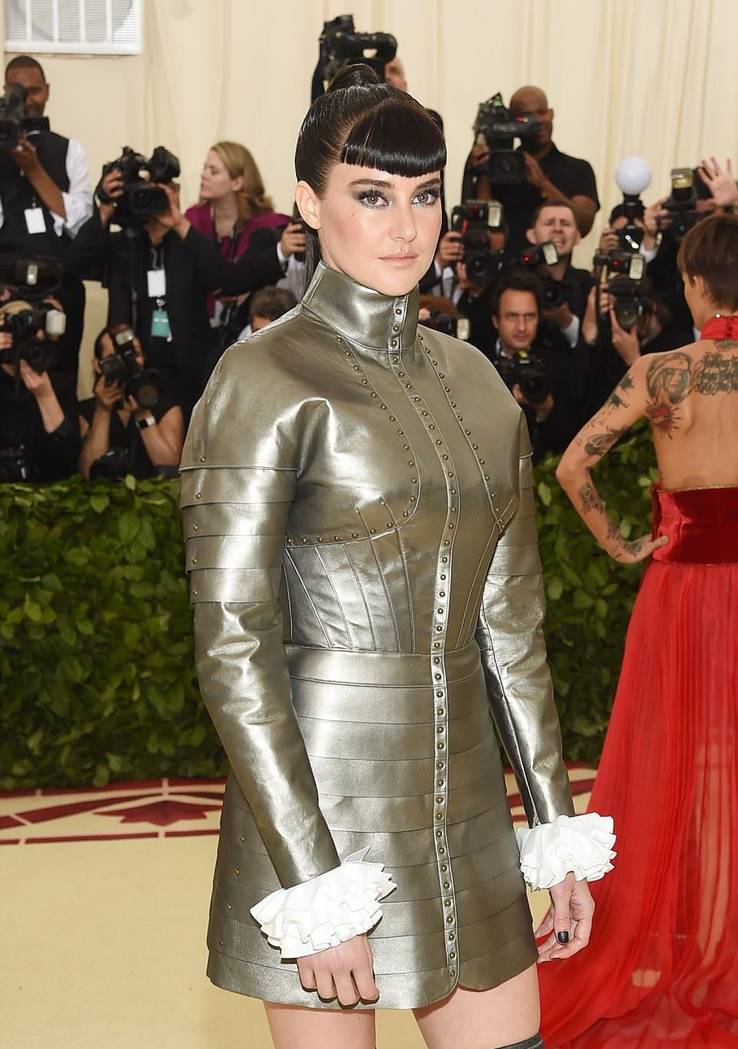 On the one hand, Shailene Woodley gets major points for at the very least being unique, but on the other, it just fails to impress. Admittedly, her look actually has fans divided over social media networks, but there's no denying that she could have done better.
Entertainment Weekly's description of her look actually proves just how undeserving her look is of being in any best dressed list. They summarized her silver Ralph Lauren dress as having "a high neckline and ruffled sleeves and black thigh-boots."
That's it. No more to it. Whereas all the other stars had tabloids gushing over their choices, pointing out connections to the Bible and historical figured, hers was just description and nothing else. If anything, Shailene's dress looks quite futuristic, which would have been best suited for the Met Gala's 2016 "Manus x Machina: Fashion in an Age of Technology theme."
The fact that she didn't want to opt for anything more creative is definitely disappointing, but there's always next year! The only good thing about this year is that she attended the event with her The Fault In Our Stars and Divergent co-star Ansel Elgort, at least giving fans something to talk about in that regard, but even he was dressed in a boring tuxedo.
8

Best: Katy Perry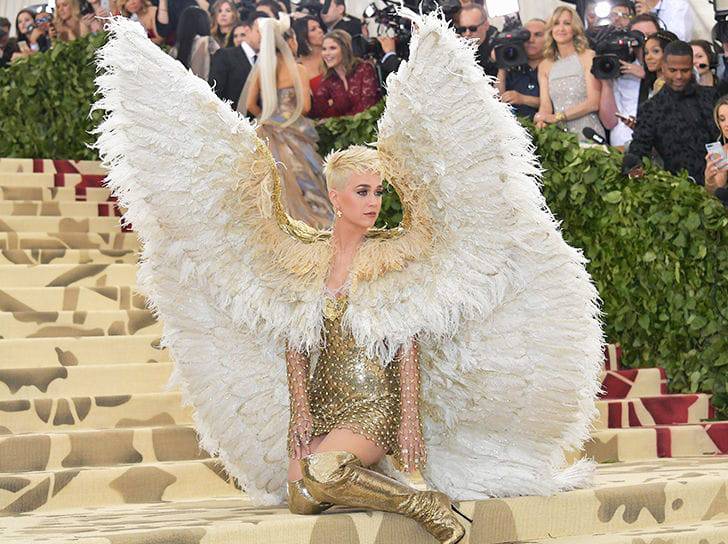 Can you believe that Katy Perry nearly missed the Met Gala after the car that she was arriving in stalled? We wouldn't put it past her to have been nothing more than a publicity stunt though, especially since the driver was able to get it running again mere moments later, as shown in a video posted by TMZ.
Although some were less than impressed with Katy's angelic Versace look, the fact remains that unlike many other celebs, she at least followed this year's theme quite literally, with her larger than life wings, thigh-high gold boots and overall golden look.
In fact, the pixie haircut that she traded her longer locks for last year couldn't have been more fitting as well, as it truly fits with her overall look.
As Time pointed out, fans were particularly shook with regards to her ensemble, with one fan simply tweeting: "I don't know where my soul is, I don't know where my home is."
Clearly channeling an archangel, there's no denying that this is one of Katy Perry's best Met Gala looks, even better than last year when she was described as having channeled Lady Gaga.
7

Dud: Kendall Jenner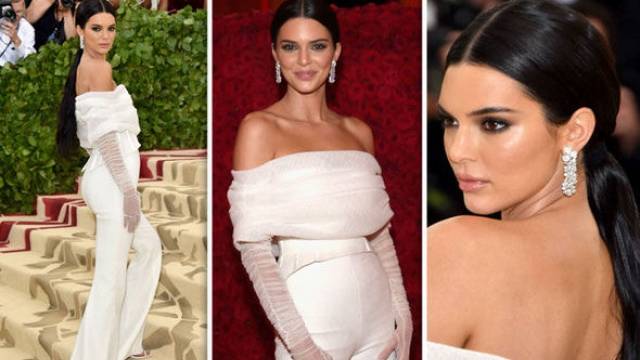 Did Kendall even try? As Buzzfeed pointed out, fans were not happy with the Kar-Jenners less than impressive fashion choices. In particular, one disgruntled Twitter user wrote: "Kendall is wearing a damn white jumpsuit…. honestly why even show up? Just stay home then!?".
Oh the shade, but rightfully deserved. Yes the theme was Heavenly Bodies, but Kendall could have 100% done better than this boring look. Another unhappy fan tweeted: "sorry to keep talking about the met gala but I'm just SO embarrassed looking at Kendall and Kylie. It's lowkey disrespectful to come not even partially in theme. They both should've stayed home."
We couldn't agree with both of these comments as Kendall's Off-White pants and top combo failed to impress.
She also received massive backlash for posting a behind-the-scenes video of herself getting ready in which she knocks Topshop down. Talking about how she wore Topshop the very first time that she attended the Met Gala in 2014, the Daily Mail reported that she said: "I went with Topshop. It was cute. It was five years ago." Her tone of voice was also apparently verging on embarrassed.
Even worse is that she was also caught shoving a security guard out of the way, though as People pointed out, she may have been merely "managing her space and making sure the guard didn't collide with her." Either way, it didn't look good.
6

Best: Cara Delavigne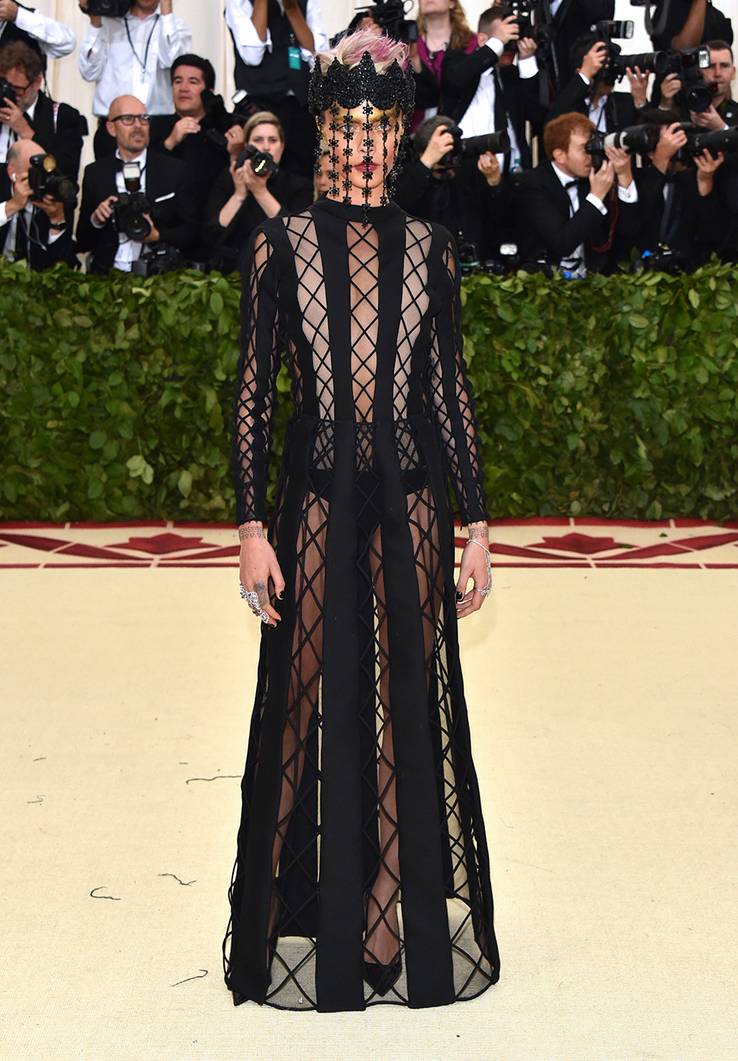 On the flip side, Kendall's BFF Cara Delevingne's Dior cage gown knocked it out of the park with its wow factor.
She was a definite stand-out at this year's event, especially since no one has ever worn a headpiece quite like that. Just as she ruled the 2017 Met Gala with her Chanel silver pantsuit and slicked silver hair, so did she at this year's one. Then again, there is something to be said about how she has quite literally never had a fashion misstep on the red carpet. As she is still young, there are many more events for her to fail in, but something tells us that she won't be making mistakes any time soon, especially since to this day, her fashion record remains unblemished.
If you look closely, her pixie hair was also purposefully dyed with a touch of purple, which is a symbolic color in Catholicism.
Her hair stylist Mara Roszak pointed out to the Hollywood Reporter: "I see the hair playing as strong of a role as the makeup and clothing. We are creating a character together, telling a cohesive story. As a stylist I always love the process of telling a new story, pushing the envelope. Trying new looks always, while keeping the woman in mind."
5

Dud: Miley Cyrus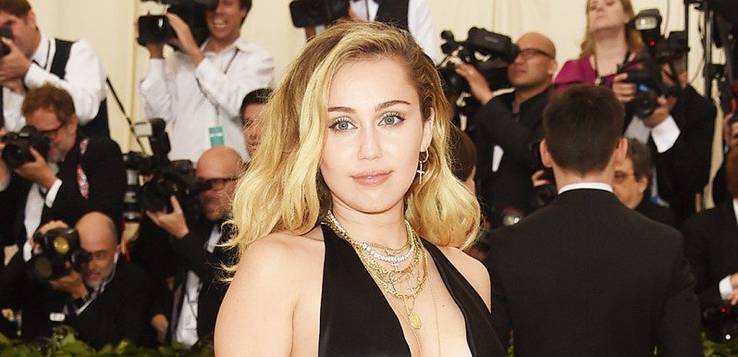 We hate to hate on Miley now that she has made a solid comeback and has truly turned her life around for the better, but there's no denying that she totally missed the mark at this year's Met Gala. Is that why Liam Hemsworth was nowhere to be seen?
Now that she has formally withdrawn her apology for the controversial Vanity Fair photo that she took when she was just 16 years old, Miley decided that she also wouldn't mind baring it all at this year's Met Gala event. She definitely turned heads with her bare look, but given her previous stage antics, we think that she could have gone wilder with her look.
Speaking to Vogue's Liza Koshy, she said: "I think this moment can be about some many different things and for me, I want to bring a message, which is veganism. And that there doesn't have to be [animal mistreatment] in fabulous fashion."
Despite her message, she opted for lackluster Stella McCartney halter dress. Apart from showing off her gorgeous physique and tats, the dress pretty much did nothing else to win her points with regards to the "Heavenly Bodies" theme. It's quite a shame because she could have certainly made a bigger statement with her fashion choice.
4

Best: Madonna
Hate all you want, but Madonna's look was undeniably on-point not only with this year's theme, but also with her own fashion sense and personality.
After Vogue's Liza Koshy called her the "Angel of the Evening", she confessed that dressing that way wasn't anything out of the ordinary for her: "This is not the first time. I mean, when I first started, I was covered in rosaries, so nothing's changed really. Religious themes have always been apart of my work and always inspired me. Everything that I do, my music, my creativity, the way I dress."
"Tonight, I feel so close to God," she concluded.
She also absolutely shocked the public with a surprise performance, which Vogue called, "nothing short of divine." Of course filled with religious symbolism, she performed Like A Prayer and even premiered a new song from her upcoming album "Beautiful Game". All things considered, this was probably the event for Madonna to slay in and she definitely did in her Jean Paul Gauthier dress that is now the talk of the town.
It will be interesting to know if The Pope will be tweeting anything about Madonna's look this time. As Vogue also pointed out, she has been condemned previously for kissing a scantily clad statue in her "Like a Prayer" video.
3

Dud: Paris Jackson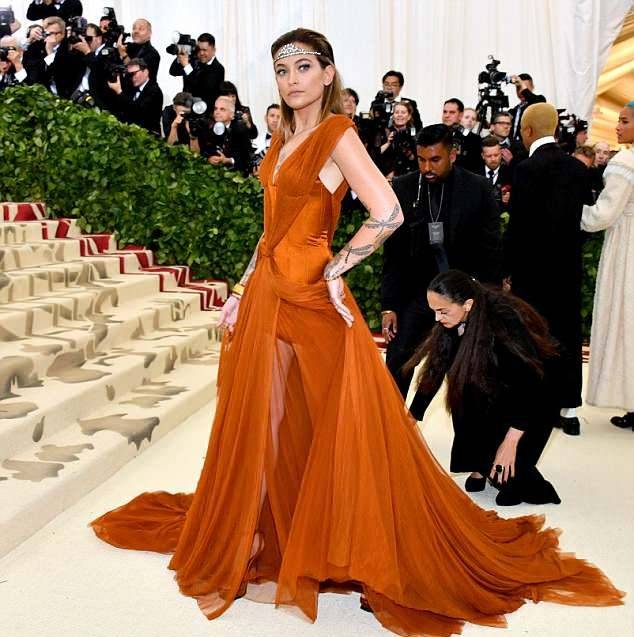 She may be dressed like a princess, but it doesn't make this dress any more appropriate for the Heavenly Bodies theme. Unfortunately, both Paris Jackson and Miley Cyrus opted to wear Stella McCartney and both failed in their choices. Then again, Paris Jackson hasn't had all that many red carpet hits, so perhaps it's not all that surprising for Michael Jackson's daughter.
The Daily Mail creatively said of her dress: "Jackson's dress seemed as if it was attempting to intertwine the worker with the divine and make it provocative." That's probably the nicest spin that anyone will ever put on this disaster of a fashion choice.
As with all the worst dressed Met Gala stars, she could have undoubtedly done better. It's a definite shame when stars pay as much as they do to attend the star-studded event. As Elle reported, not only do tickets cost $30,000 apiece, but stars need to spend another $275,000 to reserve a table.
Truth be told, they don't all buy tickets as some are invited either by the fashion house that they decide to represent or they go as a +1. It's actually also not uncommon for the fashion designer him or herself to show up alongside the star, as we saw with Jared Leto and the Gucci creative director.
2

Best: Ariana Grande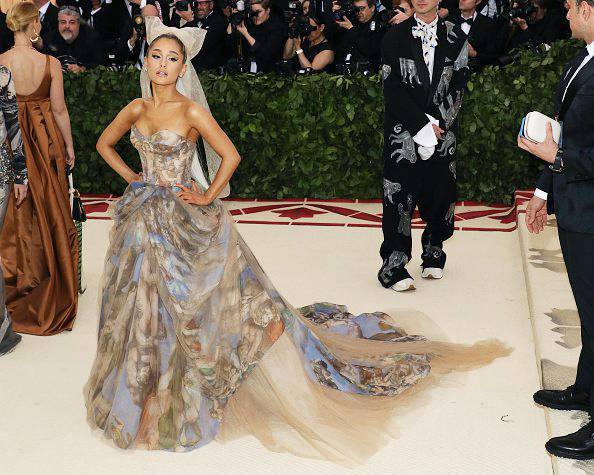 Just as she can belt out impressive vocals, so can she stun with an impressive fashion-forward (and on-point with the theme by the way) dress. Out of everyone, Ariana Grande's Sistine Chapel dress was among the most unique and stunning.
Talking to E! Live, she broke down the look by gleefully exclaiming: "So I'm wearing Vera Wang. I'm very happy to be here tonight. This is the Sistine Chapel back wall by Michelangelo. It's 'The Last Judgment', the painting I'm wearing."
When asked "What can we expect with the new music?," she simply answered: "The unexpected."
Surprisingly, it was actually her very first Met Gala. Not only did she massively succeed with her very first look, but she obviously had a hard time containing her excitement at attending the crazy event. According to Glamour, her stylist explained: "It was just all about romance with her. There is a bit of drama there, there is a silhouette that we are used to seeing her in but, of course, more elevated and more appropriate for the event. It is very recognizably Ariana Grande, for sure."
Very true indeed, especially since she also rocked her signature pony-tale, albeit with a cute bow accessory.
1

Dud: Frances McDormand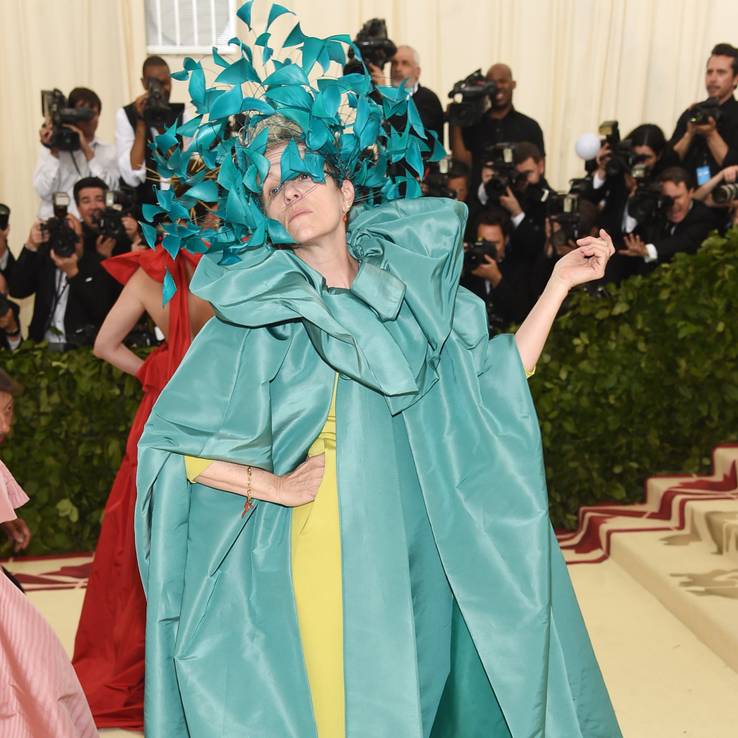 There are many who might be tempted to place Frances on a best dressed list with this ensemble, but as much as the Met Gala is about extravagance, this look just doesn't quite get to where it needs to be. Plus, there is something to be said about how she just didn't take the whole thing seriously.
According to Nicki Swift: "Something tells us that McDormand didn't exactly take the Met Gala seriously, as she had fun with photographers, posing with her hip out and a hand held casually off to her side. Still, the Oscar-winning actress' look — and its apparent dismissal of the event's theme — cemented her place as one of the night's worst dressed stars on the red carpet."
Having fun at the event doesn't sound so bad, especially since she even photobombed John Boye's selfie, but being dismissive of the whole thing definitely isn't great, especially when you consider how for many, it's considered the event of the year, with many already starting to plan for next year's Met Gala the day after.
According to People, she stole the show with her Pierpaolo Piccioli "turquoise Valentio cape and chartreuse dress", not to mention her Philip Treacy headpiece, but we just don't see what connection it had to the theme.
References: YouTube , People, Elle , EOnline , Lainey Gossip, Hollywood Reporter, Vogue, Access Online, EW, Time, Hollywood Reporter, Nicki Swift
Source: Read Full Article