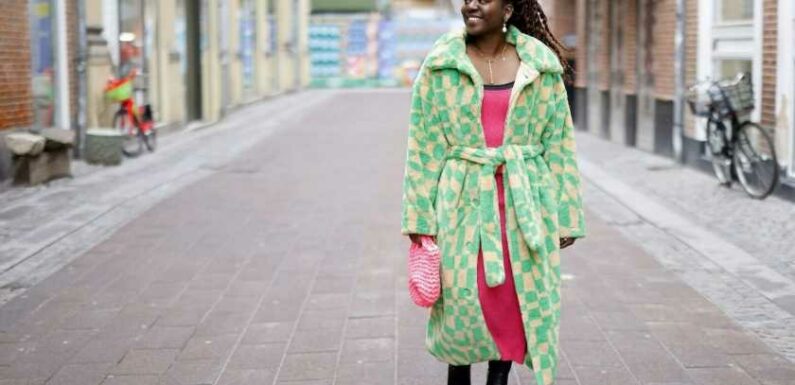 All products on this page have been selected by the editorial team, however Stylist may make commission on some products purchased through affiliate links in this article
Still haven't chosen a winter coat? We've got you covered. With teddy coats as cosy as these, you'll feel like you're wearing your dressing gown outside.
As frosty temperatures creep in, mastering the art of WFB (that's working from bed) becomes ever more appealing. This is a slippery slope towards midday naps, however, and we all know that involves waking up several hours later with no idea what time it is. 
Instead, we suggest investing in some cosy loungewear and turtleneck jumpers to make working in winter more bearable. But what if you have to actually leave the house? Fear not, for we have the answer to outdoor outfits that won't leave you freezing.
Whether you're a devoted duvet fan, prefer a long leather trench or are partial to a blazer, one coat in particular offers the ultimate in cosy comfort: the teddy coat.
You may also like
9 leather blazers that will have you counting down the days until colder climes
Teddy coats New York fashion week street style (Photo by Edward Berthelot/Getty Images)
Already loved by the masses, recent fashion weeks have also embraced the super-soft coat style. And, we've come a long way from just sticking to beige. Bright pinks, blues, greens and orange tones are in no short supply, injecting fun back into this winter weather fashion staple. 
This also means they can be paired back with a simple jean, T-shirt and loafer. Or you can dive headfirst into dopamine dressing by pairing it with a joyful jumper, statement boots and a midaxi skirt.
You may also like
Denim fans, these are the 5 jeans trends to know for autumn/winter 2022
Milan fashion week street style (Photo by Valentina Frugiuele/Getty Images)
But, what makes these coats so appealing? It starts with the name. Of course, it isn't called the teddy for no reason – it resembles a fluffy bear. The soft material is usually faux shearling and is shaggier than a smooth faux fur coat. It's also iconic – so much so that Max Mara named its staple style the Teddy Bear Icon back in 2013, and it's been popular every autumn/winter since.
 So, trawling our favourite fashion haunts to bring you a selection of the finest trusty teddy coats – Max Mara included – these are the 11 we recommend you take a peek at. Just remember to thank us when you're wrapped up warm on the way to work.
New Look Curve teddy borg coat in camel

Best teddy coats: New Look Curve teddy borg coat in camel

This must be the most classic-looking teddy coat in this round-up. With its beige tone, fluffy finish and press stud fastenings, if you're after a true teddy, this is the one.

Shop New Look Curve teddy borg coat in camel at Asos, £40

BUY NOW

Cos faux shearling coat

Best teddy coats: Cos faux shearling coat

Made from 100% recycled polyester, this is a more planet-friendly pick. The cream colour reminds us of our favourite childhood bear, bringing a nostalgic feel while being bang on trend.

Shop Cos faux shearling coat, £225

BUY NOW

United Colours of Benetton long coat in synthetic fur

Best teddy coats: United Colours of Benetton long coat in synthetic fur

The first thing to note about this coat is its bold blue colour. The second is its voluminous fluff. Yes, it may look a little like the Cookie Monster, but that's why we love it.

Shop United Colours of Benetton long coat in synthetic fur, £199

BUY NOW

Max Mara teddy bear icon coat

Best teddy coats: Max Mara teddy bear icon coat

A cosy coat edit wouldn't be complete without Max Mara. The Teddy Bear Icon style reached cult status after launching in 2013. Since then, it has lived up to its icon status and been something of an ongoing It style.

Shop MaxMara teddy bear icon coat at Liberty, £2,300 


BUY NOW
Stand Studio check-pattern single-breasted teddy coat

Best teddy coats: Stand Studio check-pattern single-breasted teddy coat

Combining a classic check with a cosy teddy, this Stand Studio coat ticks a lot of boxes. With an oversized fit, there's plenty of room to layer underneath, and pairing it with an all-white look will really make it pop.

Shop Stand Studio check-pattern single-breasted teddy coat at Farfetch, £537

BUY NOW

Anthropologie faux teddy coat

Best teddy coats: Anthropologie faux teddy coat

In a light lilac tone, this teddy coat creates a contrast from the usual black and brown colours, yet isn't quite as bold as some of the statement-making styles. Two front buttons help keep it closed at the front, and the length falls just below the knee for near full-body warming.

Shop Anthropologie faux teddy coat, £198

BUY NOW

Essentiel Antwerp graphic-pattern double-breasted teddy coat

Best teddy coats: Essentiel Antwerp graphic-pattern double-breasted teddy coat

A patterned coat is always a crowd-pleaser, and this Essentiel Antwerp find is no exception. Clashing a vibrant red stripe against a nice neutral tone, it's bright and bold while still staying traditional in style.

Shop Essentiel Antwerp graphic-pattern double-breasted teddy coat at Farfetch, £450

BUY NOW

John Lewis faux fur longline teddy coat

Best teddy coats: John Lewis faux fur longline teddy coat

You can never go wrong with a basic black coat, and this John Lewis pick proves exactly that. For seriously chill days, wrap a scarf around the collar for extra warmth and cosy comfort.

Shop John Lewis faux fur longline teddy coat, £119

BUY NOW

Ted Baker Jjoelle fabric blocked oversized Crombie coat

Best teddy coats: Ted Baker Jjoelle fabric blocked oversized Crombie coat

Pretty in pink, this is one of our favourite finds. The bold colour adds a layer of flirty fun, while the cut of the coat is incredibly formal, making it a go-to for any occasion.

Shop Ted Baker Jjoelle fabric blocked oversized Crombie coat, £395

BUY NOW
Stand Studio Camille faux-shearling coat

Best teddy coats: Stand Studio Camille faux-shearling coat

White coat wearers deserve a medal if they can keep them clean. So, if you trust yourself, then this chic coat should definitely become part of your winter wardrobe.

Shop Stand Studio Camille faux-shearling coat, £376

BUY NOW

Warehouse oversized single breasted teddy coat

Best teddy coats: Warehouse oversized single breasted teddy coat

Green coats are more of a rarity, but this Warehouse wonder should hopefully change that. With wide labels, one snap-closure fastening and a straight up-and-down cut, its causal style lets the tone do the talking.

Shop Warehouse oversized single-breasted teddy coat, £103.20

BUY NOW
Images: Getty; courtesy of brands
Source: Read Full Article