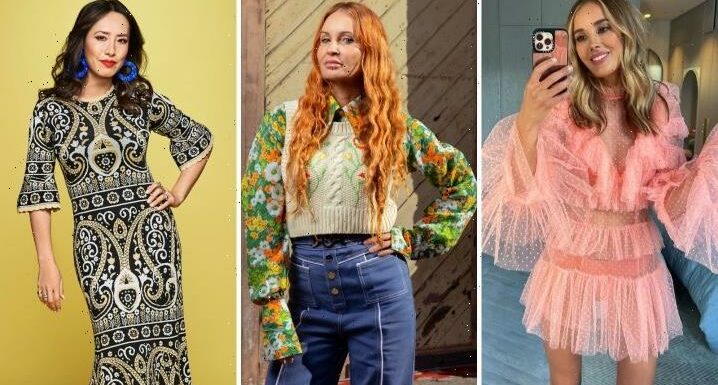 Celebrities including Bec Judd, MasterChef's Melissa Leong, stylist Lana Wilkinson and a host of Australian fashion brands have paid tribute to designer Alice McCall, who announced she was closing her eponymous business after 20 years.
"Thank you, Alice," Judd commented on Instagram, under a post announcing the brand's closure.
Bec Judd (left) and Melissa Leong (right) have been among the celebrities to pay tribute to Alice McCall (centre), who announced over the weekend she is closing down her label.Credit:Instagram/Dominic Lorrimer/Supplied
"Thank you for bringing such beauty and whimsy into the world," Leong wrote.
Wilkinson thanked McCall for "all the moments you gave me personally", as well as for helping her celebrity styling clients. "Best of luck with the next chapter, what a legacy you have built," she wrote.
McCall's brand, which was a regular highlight on the Australian Fashion Week schedule and had fans including Kate Moss and Kristen Stewart, became synonymous with celebration outfits in bold hues, '60s and '70s-inspired crochets or with just enough '80s excess.
Alice McCall's shows were a fashion week highlight over 20 years.Credit:Getty
But the pandemic was tough on many Australian fashion labels, specifically ones whose model relied so heavily on event dressing. In 2020, McCall placed the business, which at the time had 15 standalone stores, in voluntary administration, telling this masthead in 2021 that she was confident of finding a way forward with a pared-back company that would focus on e-commerce.
Yet, less than two years later, on Friday, McCall shared the news that she would wind up her brand after 20 years, appointing Worrells as liquidators.
"It is time to close the doors, making space for a new chapter in my life," McCall wrote to her followers. "To me the brand embodied a lightness of spirit, the clothes were something you celebrated life in. You had fun, you felt empowered, and you built memories, wearing your Alice pieces."
McCall has been contacted for comment. In 2021, she said she took full responsibility for the company's financial struggles, citing over-expansion and crippling rental agreements as contributing factors. At the time, she had reduced the number of stores to three, but said she was also focused on re-educating her customers about the brand's identity.
At the time of the voluntary administration, McCall, who self-funded the business, said she was open to taking on a business partner, but it is unclear if that ever eventuated.
Over the weekend, the Alice McCall website held a liquidation sale of all remaining stock. Judging by the sole cream mini dress remaining on Sunday afternoon, it seems many loyal customers just aren't ready to let go.
Make the most of your health, relationships, fitness and nutrition with our Live Well newsletter. Get it in your inbox every Monday.
Most Viewed in Lifestyle
From our partners
Source: Read Full Article