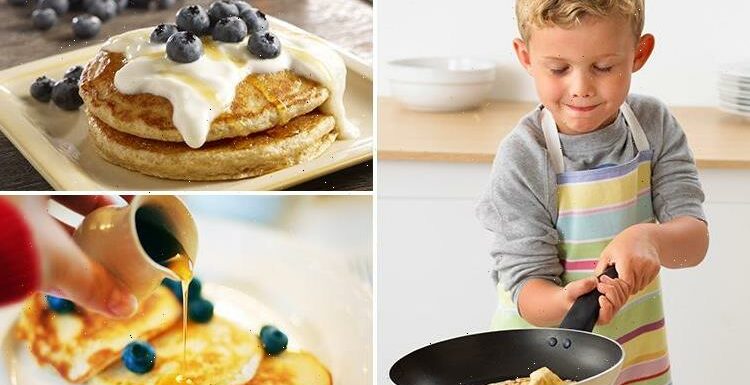 THE most carbolicious-so delicious day – Pancake Day – is just around the corner and we couldn't be more excited.
But can you enjoy pancakes if you don't eat eggs? Are you able to whip up a batch with self-raising flour?Is it okay to freeze them for later use? Here's what you need to know about making your pancakes perfect for everyone.
Can you make pancakes with self-raising flour?
Self-raising flour contains salt and leaving (baking powder) so if you use a recipe that calls for all-purpose flour, you can use self-raising but you won't need to add any salt or baking powder into the dry ingredients.
Self-raising pancakes tend to make a thicker batter so if you enjoy the American-style pancakes, it may be a better option!
Can you make pancakes without eggs?
Yes, just add the usual dry ingredients and substitute the eggs and milk for soy milk – or another dairy-free alternative – and vegetable oil.
Other good substitutes for eggs are bananas or applesauce. Either a ¼ cup of mashed banana or a ¼ cup of applesauce for one egg.
Can you freeze pancakes?
Pancakes are a great make-ahead food and they taste great when re-heated.
This is what you need to do:
Cook your pancakes and allow them to cool.
Place them in a freezer bag and keep separated between parchment paper.
To defrost, just simply pop in the microwave for around 20 seconds
What is the best way to make pancakes?
Whether you're a fan of the traditional lemon and sugar, or prefer a more exotic topping, it's important to get the basics right when it comes to the batter.
Head Chef Steve Smith, from Michelin-starred restaurant Bohemia in Jersey, has shared his methods for achieving a golden colour on the outside while keeping it light and fluffy on the inside.
He revealed that they key to making the ultimate batter is ensuring all the ingredients are at room temperature before they're added.
Interestingly, he also recommends mixing the dry ingredients – flour and salt – in a separate bowl to the wet ones (milk and eggs).
Make a well in the dry ingredients and pour in the wet mixture, then stir until everything is combined – but don't overwork the batter by trying to smooth out all the lumps.
OK, so far it's all sounding pretty simple – and not wildly different to most people's way of making pancakes.
But the most common mistake is the next stage – not letting the batter rest for long enough.
Steve recommended giving it at least five minutes before ladling it into the pan.
This will give the gluten, which you have created from stirring up the batter, time to relax and for the lumps in the batter to smooth out naturally.
It will also give the pancakes a nice, thick consistency, meaning they'll turn out fluffier.
And you can use the rest time to prepare your tasty toppings!
Steve suggested spicing up your pancake mix by including spices, citrus zest, herbs, ginger, cinnamon, vanilla extract, chocolate chips, raisins, cheese and sweetcorn.
And you don't necessarily have to make them in the traditional round shape.
Why not get creative and pour the batter into a squeezey bottle, so you can draw your own designs directly onto the pan?
If you're making a big batch, keep them warm by arranging them in a single layer on an oiled cooking rack and pop them in a preheated oven at 80C for a no longer than 15 minutes.
Source: Read Full Article