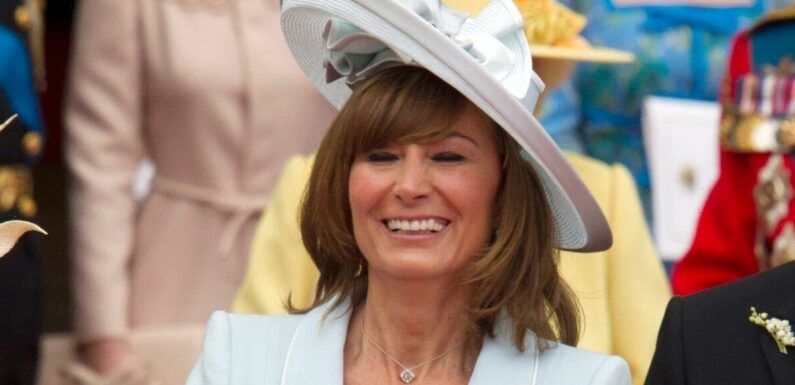 We use your sign-up to provide content in ways you've consented to and to improve our understanding of you. This may include adverts from us and 3rd parties based on our understanding. You can unsubscribe at any time. More info
Kate Middleton and Prince William have been married for nearly 12 years. The Princess of Wales stunned in an Alexander McQueen wedding dress on the big day. But what did the mother of the bride wear?
Carole Middleton wore a sky blue Catherine Walker coatdress for her daughter's nuptials to Prince William.
This designer was famously beloved by the late Princess Diana.
Carole arrived at Westminster Abbey sporting a pearly blue wool crepe coat dress with matching satin piping and braiding at the waist and cuff.
She wore this over a sky-blue silk shantung day dress.
Carole also wore a hat by Berkshire-based milliner Jane Corbett.
This may have been a nod to her home county where she lives with her husband Michael.
She was accompanied down the aisle by her son, James.
Catherine Walker is responsible for many of Princess Diana's iconic looks.
The late Princess was even buried in a black dress designed by Ms Walker.
In a statement, the design house said: "We are delighted and honoured to have been asked to design a day outfit for Mrs. Carole Middleton on the happy occasion of her daughter's wedding."
However, this was not the mother of the bride's first choice for her outfit.
Carole reportedly refused to wear her specially-designed Lindka Cierach outfit at the last minute.
She also reportedly refused to wear her £400 hat by milliner Jess Collett just weeks before the wedding.
Carole accused Ms Cierach, the London-based couturier best known for making Sarah Ferguson's wedding dress, of being "unaccommodating" and dramatically withdrew her business just weeks before the wedding.
A fashion source said Ms Cierach was "completely bemused after all the hard work she had put into creating the outfit".
The couturier was commissioned soon after the announcement of the royal engagement and asked to produce an elegant couture creation that would ensure Carole would stand out from the crowd.
Meanwhile, Kate's sister Pippa wore an ivory V-neck long dress and looked elegant as she walked into the Abbey holding the hands of the young flower girls.
With her hair pinned back, she looked stunning as she walked down the red carpet inside the Abbey.
All eyes were on Kate, however, as she arrived at the Abbey with her father Michael wearing a pretty lace ivory dress by Sarah Burton from Alexander McQueen complete with veil and tiara.
With her hair down, Kate epitomised vintage style in the dress, which had a long train, and carried a Lily of the Valley bouquet. Ensuring her sister's train didn't get too dirty, Pippa held Kate up the stairs into the Abbey for the ceremony itself.
Source: Read Full Article