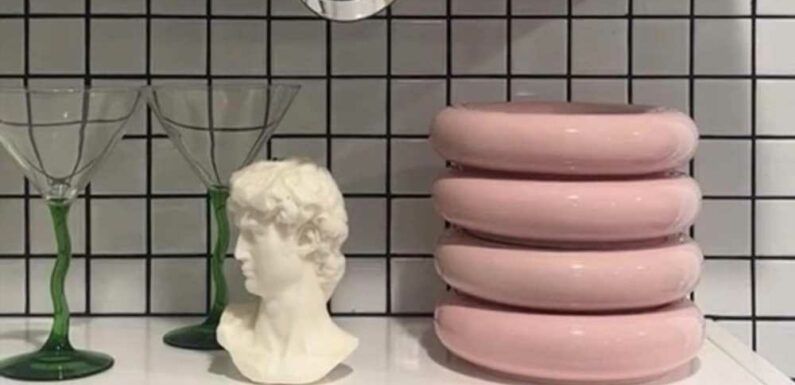 INFLUENCER Erica Stolman Dowdy has confessed she loves eating out of aesthetic cat bowls from Amazon, despite how weird it might be. 
The TikTok star, who boasts over 176.3k followers on the popular social media platform, explained that while they might be advertised for feline friends, the bowls are actually "human grade ceramic" and look gorgeous in the kitchen. 
Posting a short video on her channel, the brunette beauty could be seen placing the Amazon box down on a clear coffee top before going through the unboxing process. 
Taking two small boxes out, she revealed that the products are from a company called Cat Guru and are called Torus Bowls. 
Selling mainly in the US, they retail for $15.99 and are described as the "perfect design" that allows cats to "get food easily" and "prevent whisker fatigue". 
"Unboxing the most aesthetic amazon find of all time," she wrote over the video as she took the packages out. 
Read more on homeware finds
Primark fans rave about its new homeware saying it looks so expensive
I did a £250 Primark haul and got the best homeware buy to organise wardrobes
She went on to explain: "They are labeled "cat bowls" but I immediately saw the chubby plates of my dreams". [sic]
Revealing that she got four of the homeware finds, Erica placed the chunky low-dip bowls on a stack in her kitchen – showing off their aesthetically pleasing nature. 
She then placed a bunch of strawberries into one to demonstrate how she intends to use them going forward. 
"Could not gatekeep this find!!! Cat bowls that are actually the most aesthetic item I've ever found on amazon…" she wrote in the caption. 
Most read in Fabulous
Mum warns about Air Up bottles as she posts disgusting snap of her daughter's lid
I had a mummy makeover but my tummy scar's huge… I can't even wear a bikini
I hated my tatty council house garden so gave it a glow up…it looks insane
I paid off £17k of debt in 18 months thanks to an easy trick, anyone can do it
Some followers were left baffled by the revelation as one person wrote: "Wait are they for cats??? The link says cat bowls," one person said.
Erica replied: "Yes lol!!! But human grade ceramic". 
But others were all for her find as one person gushed: "literally so cute!!!" 
Another shared: "Omg obsessed," as another complimented Erica by telling her: "I like your style," with four fire emojis. 
Other called it a "good knock off" for another brand that actually sells chunky plates for humans rather than cats. 
"Gustaf westman duuupe!" one person said, to which Erica replied: "can't wait for tose to be back in stock". 
While another chimed: "isn't that a gustaf westman copy?"
The Gustaf Westman website does sell a similar design, simply dubbed 'chunky plate', which retails at €55 – but these are currently sold out. 
People who previously bought the Cat Guru product left reviews raving about how great they are. But none appear to have used them for humans. 
Read More on The Sun
Our trip turned into living hell after catching silent killer bug from a hot tub
iPhone owners can get 'Google upgrade' with ingenious perk for first time ever
"This is a really nice bowl. No real complaints but I wish the left and right sides were a bit shorter," one person wrote on Amazon. 
While another said: "These bowls are bigger than I thought because of the thickness of the rounded edges. I'd call them clunky, when compared to the shallow "regular" cat bowls I've been using anyway. That being said, they are surprisingly wonderful to use, store, and clean…"
Source: Read Full Article