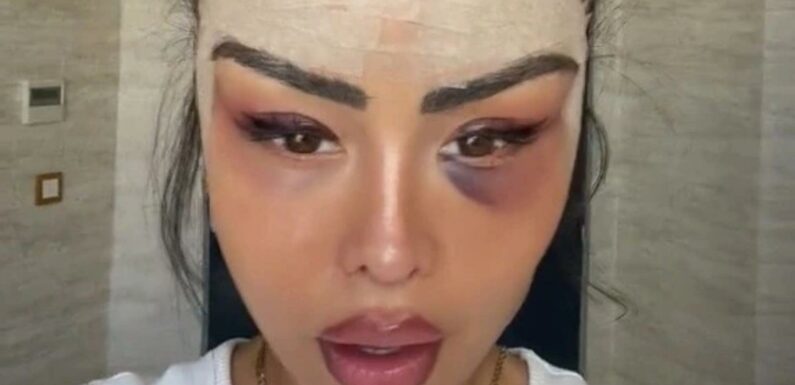 A WOMAN has revealed that she flew to Turkey for fox eye surgery and is obsessed with her new look – but not everyone else agrees. 
Chloe Saxon took to TikTok to show off the results of her cosmetic surgery procedure.
Fox eye surgery, also known as cat-eye surgery, or a canthoplasty, is a type of plastic surgery that lifts and repositions the corner of the eye. 
It can correct drooping lower eyelids or reshape eyes that are more round than almond-shaped.
The op is raved about by many celebs, including Danielle Lloyd.
Sharing her surgery with her social media followers, the beauty fan said: "I had fox eye surgery done four weeks ago in Turkey."
Read more surgery stories
I got my fox eye threads removed – it looks like I've got golf balls on my face
I paid £8.2k for a mummy makeover…it was painful & I've still got loose skin
At the start of the clip, we saw Chloe soon after the surgery – her face was in bandages and her eyelids were very bruised.
Under her eyes were also bruised, with one eye particularly swollen and purple.
Seconds later, Chloe showed off her new look, once the bruising has gone down and her eyes had healed.
Chloe beamed with confidence and was clearly loving her new eyes as she posed and smiled for the camera.
Most read in Fabulous
Harry and Meghan evicted from Frogmore Cottage by King Charles after Spare memoir
My mum bought a £100 'purebred' French bulldog – but I was baffled when I saw it
Woman does same food shop in M&S and Lidl to see which was cheapest & is stunned
Paris Fury shares son's £50 birthday present haul from bargain store
Chloe's video has clearly left many open-mouthed, as it quickly went viral and has since racked up a whopping 1.2million views.
It has 106.1k likes, 954 comments and 1,098 shares.
While some social media users loved Chloe's new look, others weren't convinced.
Many thought that the surgery actually made Chloe look older and others thought it was money wasted on a trend that would soon be outdated. 
One person said: "Look older for sure." 
Another added: "What're you gonna do when the trend is over." 
A third commented: "So sad."
Whilst someone else noted: "It's interesting a lot of things people used to get made fun of for is now what people are getting surgery to look like." 
Meanwhile another posted: "Beauty standards are whack – you were beautiful before too girl." 
However, there were some TikTok users that complimented Chloe on her new look.
One woman posted: "Wooow… super beautiful."
Read More on The Sun
My gran died in a mouldy dump and I was given just £520 compensation
I'm a heart doc – here's 10 signs you must not ignore & 1 that strikes first thing
Another shared: "I was worried at first but it looks amazing."
Whilst a third noted: "You are so gorgeous."

Source: Read Full Article