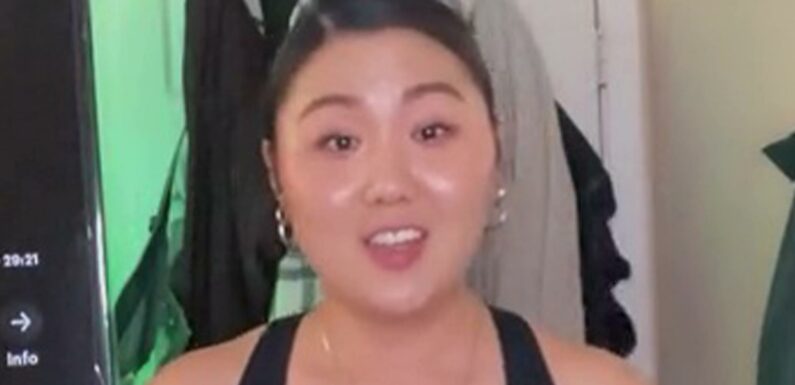 THIS style aficionado has explained that the perfect Skims dupe romper might be somewhere you wouldn't expect.
According to a recent video from amateur fashion influencer Min, who goes by the username minjastyle on TikTok, you need to "run" to Target for your ideal Skims dupe.
"I just got this freaking romper from Target, their Colsie line, and I need to show you," Min said at the start of the clip.
She pleaded to viewers that they need to run over to the store to get it as well.
"It's amazing," Min exclaimed.
After backing away from the camera, Min revealed the full Skims dupe romper in all black.
The piece appeared to have three buttons down the middle and straps that come in and down the middle of the back.
Min noted that the Colsie romper was $25, with two other colors for shoppers' preference.
"There was a light blue one and a cream one," she said.
She added that she'd probably go back for the cream one due to the excellent shading.
Most read in Fashion
Pregnant Jessie J breaks down in tears & says 'I can't explain how sick I feel'
Major 90s pop band reforming for blockbuster reunion and huge tour
Exact date you should check for free money payment worth up to £600
Ex-Bake Off host Sue Perkins reveals shock diagnosis
"It just snatches me," Min detailed.
"I feel so snatched."
She continued that her Colsie romper is in size XL due to her height being between 5'7" and 5'8."
Min also explained that she was super scared that the material for the romper would ride up because of a pair of biker shorts she also has from the line that does that.
"$25, totally worth it, run don't walk," she exclaimed.
OTHER SKIMS DUPE FINDS
Aside from Target, many people are starting to find Skims dupes from other places that they say fit them well.
As The U.S. Sun previously reported, one woman recently found a Skims dupe on Amazon that fits her body better than other options.
Another fashion guru got a Skims dupe dress on Amazon for half the price of an identical item from Kim Kardashian's line.
It seems that shoppers are starting to look to other places for Skims dupes due to issues with the original brand.
Some have found major issues with their Skims that make them NSFW.
Others have found items like the Skims micro-thong extremely uncomfortable.
However, many still feel that some Skims items are 'magic.'
For related content, check out The U.S. Sun's exclusive coverage of why some Skims customers are livid over the 'cheap quality clothes' and 'no refunds.'
Source: Read Full Article