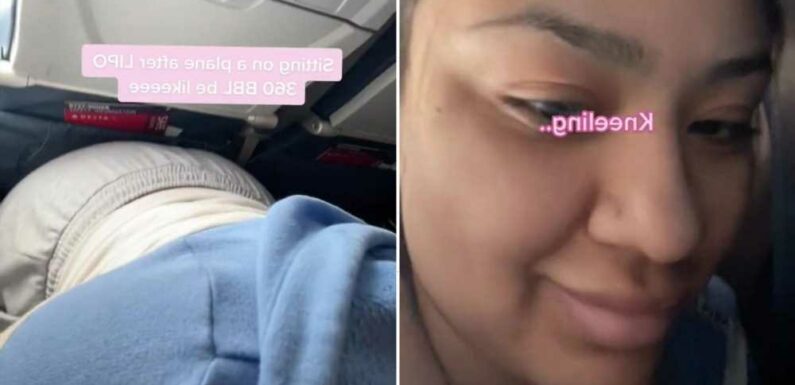 SHE flew to Miami to get a BBL and lipo to revamp her figure.
But what she hadn't anticipated was just how difficult her five-and-a-half hour flight home would be after the surgery.
She took to TikTok to share a video of herself in the airport, over the top of which she wrote: "When people are looking and taking pictures because I'm boarding with a fresh BBL but I'm an entertainer and my purpose in life is to entertain my people.
"They would be bored and miserable if it wasn't for me walking around with a new bewty."
"I embarrass myself online, same shit but I can see people's reactions in person and they won't say anything mean to my face cause they scared," she captioned the video.
"On the internet everyone is quick to be a hater cause they're behind a screen."
Read more Surgery stories
I have natural curves – I'm asked if I've had a BBL but it's just good genes
I'm plus size & it looks like I got a BBL at the front but I love my shape
Among the comments was someone who asked: "How did sitting on the plane work?"
"Sitting on a plane after Lipo and 360 BBL be likeeeee…" she began.
She then showed the various positions she had to adopt during the flight, including "kneeling", "standing in front of seat with one leg on seat" or "both legs on seat facing everyone".
"This was awkward af," she noted.
Most read in Fabulous
Dad-of-22 Noel Radford breaks down in tears at emotional discoveries about past
Interior designer on the awful trends you need to ditch INCLUDING panelling
I used to have big boobs – I got a breast reduction & now I'm being trolled
I'm trolled for nabbing loads of a 50p B&M bargain… I don't get the problem
When things got even more awkward, she decided to hide out in the bathroom "for two hours" – using the opportunity to film some content for her social media pages.
"Sitting after a BBL on a plane is wild," she captioned the video.
"Yes I went to a recovery house but y'all have to understand I can't stay at a recovery house for 8 weeks I gotta go back to work."
"This finna be me thank God my flight only 2 hours," one person commented on the video.
"What about when they say seatbelts on? I would've at least flown first class," another asked.
With the woman replying: "I was gonna switch to first class but the flights they had weren't non stop."
"Omg ur so strong . I get the whole row cause I'm scared of this," someone else wrote.
"I tried changing flights/ seats last minute but everything was booked unfortunately it was so complicated," she responded.
"Definitely book more than one seat."

Source: Read Full Article