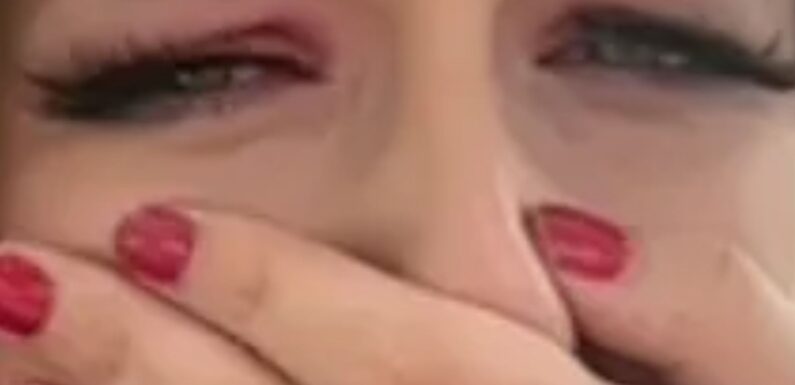 A BEAUTY fan has shared how a hairdresser destroyed her locks after she paid the salon £200 to be as blonde as possible.
Visiting the hairdressers can either leave you oozing with confidence or totally frustrated and on the verge of tears – sadly for Rosie Desborough, it was the latter.
Taking to TikTok, the young stunner, from Farnham, explained how her dream of achieving the blondest of hair soon turned into a nightmare.
According to Rosie, she had showed the hair whizz a snap of the look she was after – ''creamy blonde, blended root, pretty easy to do''.
However, despite forking out an eye-watering £200 for the makeover, the end result couldn't have been any further from her expectations.
Sharing a photo of herself crying in the car, the beauty fan said that the salon had put a brown hair dye throughout her once blonde locks.
read more on beauty
Beauty fan shares two anti-ageing tips that make her glow, including a 57p drink
Shein makeup dupes tested – can you tell the difference for £100 less?
''Completely not what I wanted from the picture,'' she went on in the now-viral video.
''I wanted to be as blonde as possible, just touch the root, leave the beach blonde that I already had in my hair.''
Upon returning to the salon the next day, the pros gave her a shampoo in hopes the haircare product would take the colour out of the hair strands.
Appalled by the fail, Rosie also demanded a refund – however, the hair experts refused to issue a full compensation.
Most read in Fabulous
NOT CLASSY
Mum spends benefits on designer school shoes for kid only for them to be banned
HEIR WE GO!
Harry cheers on Invictus Games athletes in Germany – but still without Meghan
TELLS ALL
I'm 39 and my wife, 83, treated me like a sex slave – I'm not a 'money grabber'
MYSTIC MEG
Your work chart is ready to take on a new role
She added: ''They never once said they would offer to fix it, that's what annoyed me. Or apologise…
''Horrible people, I don't know how they can do this to people.
FABULOUS FIVER: SPEND £5 AND GET A £25 WELCOME BONUS
''I just feel awful and I don't feel like I've done anything wrong. It's just really upsetting.''
Since being shared on Rosie's TikTok page, the clip has taken the platform by storm, winning her over 360k views.
As thousands had given the video a like, hundreds raced to comments in sheer horror.
Even professionals in the industry were totally baffled, with one writing: ''I was a stylist, I don't even know HOW this happened??
''like how do u accidentally pull a root color all the way through???''
Someone else chimed in: ''So sorry this happened to u, it takes a lot to be bleach blonde and for them to ruin the progress is so upsetting [sic].''
''Surely they just needed to do a stretched root and then tone the blonde? I'm so confused on why they darkened your whole hair,'' a third agreed.
Another savvy viewer advised: ''go through your bank and get a back payment. this happened to me and I got my money back.''
''I would actually be crying for weeks,'' a social media user exclaimed.
Read More on The Sun
I'm a teacher & had a wardrobe malfunction, I was only told at the end of my day
I paid £200 to be 'as blonde as possible' – the result couldn't look more off
Luckily, after going viral, Rosie revealed that the nightmare story had a happy ending – not only did she get her money back, her brunette locks have also since been fixed.
All chuffed with the makeover, the stunner posted with her new hair and said: ''I got my HAIR BACK […]. I have my smile back.''

Source: Read Full Article