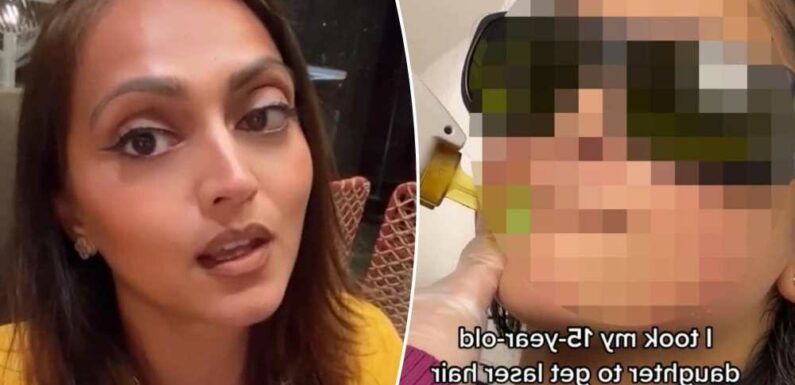 A WOMAN has divided social media users after she admitted that she took her 15-year-old daughter for laser hair removal.
Barbie Patel, who posts on TikTok under the username @barbiepatelofficial, is a make-up artist that explained that she took her daughter to get her facial hair lasered. 
While many trolls thought that the 15-year-old was far too young to have the procedure done, Barbie claimed that her daughter would thank her in the future. 
Beauty fan Barbie posted her clip to the social media app with the caption 'Thanks New Skin NYC for the great experience!'.
She said: "I took my 15-year-old daughter to get laser hair removal for the first time."
In the clip, we saw Barbie's young daughter getting her face lasered.
Read more Fabulous stories
I had laser hair removal on my legs & got burnt so badly I have permanent scars
I pierced my baby boy's ears – trolls say it's cruel, but I don't care
The procedure started off by first shaving the skin, before using a laser tool to zap the hair follicles. 
She then finished by applying a soothing aloe vera gel to her skin.
Barbie confirmed: "You can do it at a younger age, the only thing is because the hormones are still changing. 
"You may have to do it again as they get older.
Most read in Fabulous
I'm a gypsy girl and these are the biggest misconceptions about my community
I was Prince Harry's Army instructor – 'suicide' training story is fantasy
Harry & Meghan 'won't join Charles & Camilla at palace for Coronation moment'
Plans for Charles' Coronation revealed including three-day bash & concert
"There's no side effects, you just have to maintain it every couple of months until the hair does not come back."
Barbie shared her clip just a week ago, but it has quickly racked up a whopping 526.9k views.
It has 23.3k likes, 142 comments and 274 shares.
TikTok users were divided at the mum's decision to let her young daughter have the treatment. 
One person said: "I didn't know 15 year old can have it done😳"
Another added: "Too young why." 
A third commented: "That kid will be traumatised forever."
Someone else claimed: "She's too young with braces the lazer must have caused sensitivity 😳😳😳😳"
However, many other women praised the mother for taking her daughter to have her hair removed.
One woman noted: "Mom of the year award 🥇😭"
A second agreed: "Wow your an awesome mum 👏🏼 ❤️"
Read More on The Sun
Major update to Netflix with new rule change to impact viewers
Doctors told me my baby would weigh 9lbs at birth, but they were way off
Whilst a third posted: "I wish my mama did this for me! Well done you mama."
Meanwhile, someone else claimed: "Shes gonna thank you when she's older 😩" to which Barbie replied "She definitely will! What a process lol."
Source: Read Full Article