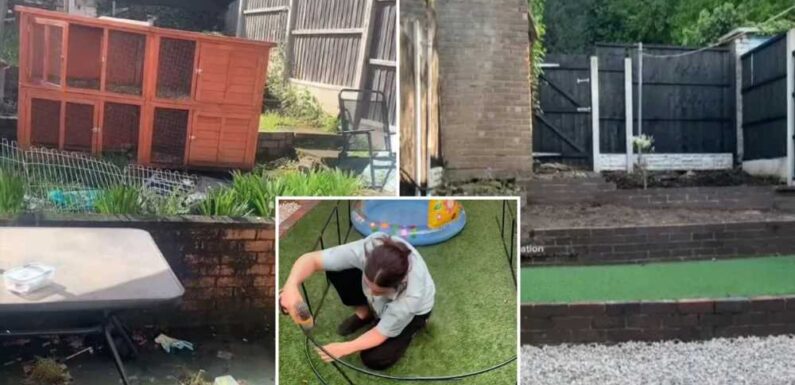 A DIY fan has revealed how she transformed her garden on a budget using bargain buys from B&M and Home Bargains. 
The DIY fan has been sharing updates of her garden transformation on TikTok. 
Rae said the sun was blazing when she first went into her garden so she took time to enjoy and wait for the weather to cool down. 
She said: "When I got home from work today it was really sunny outside so I got out the baby's swimming pool and we just spent some time out in the garden.
"When it cooled down, I got on with some jobs around the garden."
To spruce up her garden Rae hung up a planter in the shape of a hexagon. 
READ MORE ON DIY
I've transformed my garden into using bargain buys from Lidl and the Range
I'm a DIY fan the trick to make low ceilings look higher & all you need is paint
She said: "The first thing I did was put up this hexagon planter that I got from B&M last year and this artificial plant I got from Home Bargains."
The Tromso Hexagon Shelf Set 2pk is selling for £6 online but B&M also do one in gold. 
The Home Bargains artificial hanging plant is selling for £6.99
Next Rae watered a dry patch in her garden.
Most read in Fabulous
Stacey Solomon shares her swimwear range with 'full noon coverage'
Paramedic issues stark warning on sweet treat kids love but is so dangerous
Pregnant Paris Fury shows epic birthday celebrations for Tyson at £1.7m pad
My three-year-old son died after my husband left him in a hot car
Rae said: "Came up on the top level and gave it all the water and this morning I did give it a rake over."
She also added a plant pot which she hand drilled holes into. 
FABULOUS FIVER: SPEND £5 AND GET A £25 WELCOME BONUS
She said: "I didn't have a drill to make holes in the bottom of the plant pot so I used an electric screwdriver and a screw."
"It wasn't the easiest way to do it but it made the holes."
Rae then made her own archway. 
She said: "Then I decided to put together my archway. This was probably one of the most stressful parts of doing this garden."
The DIY fan explained this did take a bit of time. She said  "I did take it apart about three times.
"Finally, it was done so I took it up on the top level and pushed the legs of it down into the soil to keep it more secure."
Rae says she now plants to decorate her archway with fake flowers.
She said: "To go around the arch I've ordered a string of artificial sunflowers with some lights going around them."
One user said: "I hope you're proud of yourself girl, you deserve to be."
Read More on The Sun
Love Island star reveals plans to return to old job weeks after leaving villa
I earn £50k in a dream job – I work around the school run & my salary DOUBLED
Another said: "This garden is my favourite thing ever! You've smashed this and it looks insane."
"I haven't seen your vids since roughly day 10 and I'm shocked. It looks completely different, it's beautiful you're doing a great job!!," said a third viewer.

Source: Read Full Article