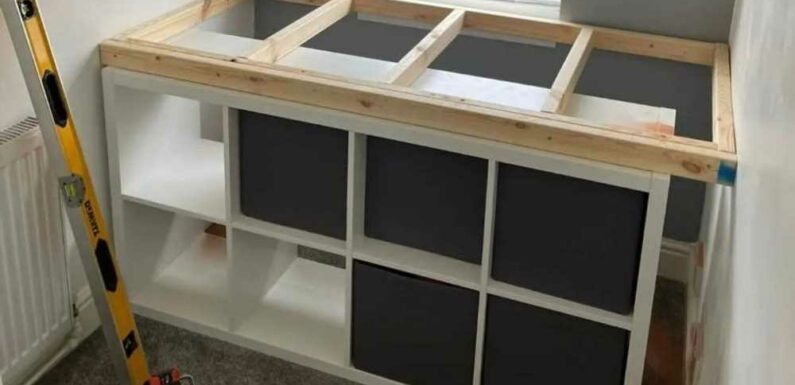 A SAVVY mum has revealed how she turned a £55 IKEA unit into a bunk bed for her daughter – and people have been left stunned at the final product. 
Simone took to Facebook, sharing pictures on the DIY On A Budget Official page, to provide some inspiration for others who may be struggling for space.  
She wrote: "IKEA Kallax bed with Argos shorty mattress."
In a range of photos, Simone revealed she transformed the rectangular unit, now just £55.25 on the IKEA website, into a raised bed with storage underneath. 
The DIY pro started by placing the white KALLAX unit, in the size 77×147 cm, on its side at the end of her daughter's room.  
She left a small gap at either end and roughly half the width of her daughter's mattress behind it. 
MORE HOME DIY IDEAS
I'm a DIY pro and transformed my halfway using bargains from Amazon and Dunelm
I turned an IKEA Kallax unit into a wardrobe for my daughter
Simone then built a wooden frame for the mattress, with three beams down the centre to hold it up. 
She also added in some square storage boxes to the shelves of the IKEA unit which would later be used to store her daughter's belongings. 
The DIY pro then covered the beams with a large wooden sheet. She confirmed that she did make some breather holes in it, which should help avoid mould growing on the base of the mattress.  
After securing all this in place, she added a white piece of wood to the front of the shelving unit to stop the mattress from sliding off the top. 
Most read in Fabulous
Prince Harry and King Charles agree on NEW titles for Archie & Lilibet
Meghan & Harry christen daughter 'Princess Lilibet Diana' at LA ceremony
Camilla suffers fresh heartache as much-loved family member dies
Dog trainer reveals three breeds he'd never advise for a first-time dog owner
The savvy mum then covered the gaps on either side of the unit, before adding her daughter's mattress, pillows and belongings. 
Finally, she decorated the space with some fairy lights, and some small white shelves to hold a lamp, books and a faux plant. 
Facebook users loved her crafty idea, with her post gaining more than 1,000 likes and 268 comments. 
Sharing their praise, one wrote: "Brilliant that."
Another tagged her friend and added: "How amazing is this?"
"Great use of the space! Superb," someone else commented.
Source: Read Full Article