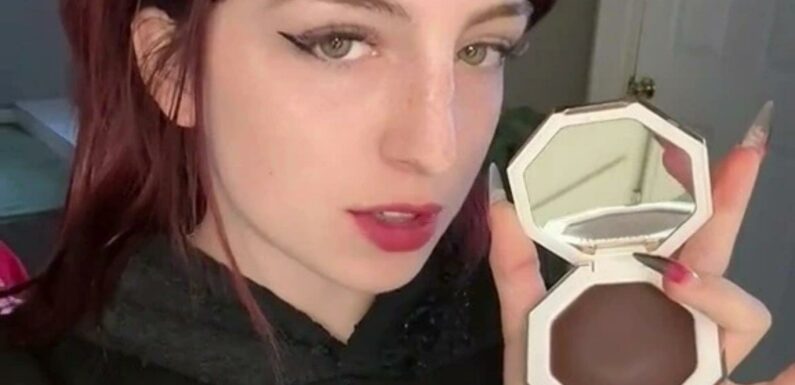 A MAKE-UP fan has caused a stir online after revealing the contour shade she uses.
Kaylee DeBerti opts for a shade that gives her cheeks a chiseled look – but others have said it is "too dark" for her.
The 19-year-old said it's a "literally perfect" match to her pale skin tone despite trolls claiming it looks "muddy".
The content creator took to Tik Tok to share that people working on make-up counters tell her to use a lighter shade and she doesn't listen.
She penned that Sephora workers say to her: "That shade is way too dark for you to use as contour.
"You are so light."
read more on make-up
My foundation looks so good people ask what it is – the truth is so embarrassing
I'm a beauty fan and these are my ultimate Primark makeup dupe must haves
Kaylee uses the Fenty Beauty Cheeks Out Freestyle Cream Bronzer in ToffeeTease.
It's the darkest cream contour shade available by singer Rihanna's make-up brand. 
She revealed that she was advised to use the Anastasia Beverly Hills cream contour stick in Fawn – a much lighter shade. 
The make-up fan uses the darker shade because it has a "cool undertone" to it – meaning it creates a shadow effect that chisels her cheeks more than a lighter shade could. 
Most read in Fabulous
Andrew complaining that he was left no money by the Queen when she died
Members of Prince Harry's family 'DID go to Princess Lilibet's christening'
Interior designer on the awful trends you need to ditch INCLUDING panelling
Primark fans are rushing to pick up 2000s nostalgic pyjama set
When told it looks muddy on her skin, Kaylee replied: "Well at least it's not orange."
She explained: "For contours, you don't match your skin shade, so nobody has a specific shade.
"They can pick pigments that they want their shadows to look like, that they want their contour to look like.
"If they want it to be more tanned and orange, they'll get bronzer if that's the type of look they're going for.
"I'm not going for that kind of look."
Kaylee added that it "sounds more like a problem for the make-up industry" than her.
However, some viewers of her videos opted to side with the Sephora workers' opinions.
One wrote: "Sephora workers are right.
"Anastasia fawn literally has perfect cool tone shades for fair skin.
"No need to use products that are meant for darker skin."
A second penned: "There's literally a cool toned contour for lighter shades in Fenty Beauty."
Other people jumped to Kaylee's defence, echoing that it is hard to find the perfect contour shade for your skin.
One supporter said: "As a make-up artist, contour should be a cool toned shade!
Read More on The Sun
I caked my face in makeup for my passport – people say customs won't let me in
Couple add £180k to the value of their home spending £6k in the process
"Sick of all these straight up orange contour shades."
Another penned: "As a pale girl, I'm so tired of orange contour."
Source: Read Full Article