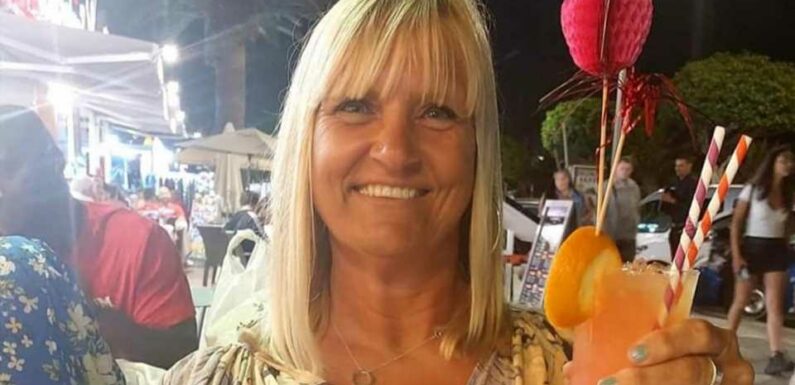 DRIVING home from her mum's after going there for help, Lisa Baker caught a glimpse of the bottle of wine on the back seat.
Unable to resist temptation, the mum-of-two reached behind her, grabbed the bottle, undid the screw top then began swigging from the bottle while driving at 50mph.
Mum-of-two Lisa, 55, from West Wittering, West Sussex, says: "What started as a few glasses of wine when my kids had gone to bed had turned into full-blown alcoholism – drinking in the mornings and blacking out every day and night.
"But it took me years to face up to my illness.
"In fact, it was only when my boys threatened to have nothing to do with their embarrassing mum that I realised I couldn't go on living this way."
Growing up, Lisa had a turbulent childhood and says addiction ran in her family – her dad was an alcoholic and her older brother, who died when Lisa was 17, had a drug problem.
Read More in Real Life
I'm a mum who takes my kids out of school for holidays – it saves me thousands
Woman called a bad mum for letting her nine-year-old daughter get a nose piercing
She started secretly necking cider in the park with friends at 13.
Then in 1987, aged 20, Lisa got married and went on to be in an "unhappy marriage", having two sons, Jack, now 34, and Joseph, now 32.
Lisa, currently a support worker, says: "My marriage turned out to be rubbish but I adored my sons and would do anything for them. 
"I used to drink when they were young, but it was never a problem.
Most read in Fabulous
Kate and Meghan had furious bust-up over 'baby brain' comment, book claims
Harry feared Camilla would be wicked stepmother as he begged dad not to wed
Harry accuses Camilla of leaks – as Charles is seen for first time since claims
Harry seen just hours before explosive claims Wills attacked him revealed
"But when I divorced my ex in 2003 when I was 35, the kids were 13 and 15, and I felt as though I had been let out of prison. My drinking really started to kick off.
"My beloved boys started to see a mum that used to be at home all the time, going out regularly on a Friday night, getting very drunk, often bringing people back from the pub or staying out to party.
"I was selfish and didn't put them first. What I didn't realise at the time was that I was in the throes of alcoholism."
Lisa admits the boozing took its toll on her relationship with her sons – and the eldest moved out in 2004 to live with his dad, which "broke her heart".
"My youngest stayed with me but as my drinking progressed our relationship got harder," Lisa admits.
"They had an alcoholic parent who was a mess but I just thought I liked a drink – I was in denial."
It took me years to face up to my illness
She then met a new man through mutual friends in 2004 and they drank alcohol together whenever they saw each other.
After six years together, Lisa gave away all of her belongings and furniture to move into his house.
Lisa said: "My relationship was volatile and toxic. 
"I gave up my home with my son Joe and was making such bad decisions. After six weeks of living together, a terrible fight broke out and we had to leave with nothing.
"I reached a real low. Everything I had worked for had all gone. My drinking was spiralling as I was renting a flat I hated, Joe didn't like it either, and my other son didn't want to live with me.
"Things were going from bad to worse. I started drinking wine in the morning – and would drink until I blacked out in the evening."
Lisa's boozing also started to overlap with her working day. 
She admits that she began to join a grieving colleague for wine at work – which at the time she thought was "brilliant".
Once a week, Lisa would have to travel to Victoria, London, for a meeting with her boss. 
On her way in she would head to the off-licence at the station to buy a mini bottle of wine, head to the toilets and neck it, before hiding the empty bottle in the sanitary bin.
"I would drink that bottle like I was doing a shot of booze, then throw it in the bin," she says.
"Jack was still living at his dad's while Joe was living with friends at this point. So I would wake up, drink wine and then run to the toilet and throw up.
They had an alcoholic parent who was a mess but I just thought I liked a drink
"Once this first drink was in my system I would have to chase the booze all day long, drinking, passing out, drinking, passing out, repeat.
"I was really worrying everyone. My mum would jump on a coach from Bognor Regis and travel to help me, but she couldn't do anything as I was hooked.
"My eldest son had to leave his job one day because I wasn't answering my phone to anybody. 
"I was out cold-drunk at 9am and he had to climb a drain pipe to get into my flat."
During her lowest moments, Lisa's best friend had to keep coming over to check if she was "dead or alive" as she was uncontactable.
She even overdosed on pills one morning as a cry for help and her friend sat with her in St Helier's hospital all day before she was discharged – but it didn't stop her drinking.
Then drunk in the local high street one morning, Lisa bumped into one of her son's friends – it was to be the catalyst she needed to face her addiction.
Lisa said: "Things were at their worst and my mum said I should go and stay with her in Bognor Regis for a while to get better.
"But the day before, I went on a massive wine bender for hours until my son's friend found me wandering the high street.
"This man used to come to my house for tea as a little boy and he was shocked and horrified to see me in this state.
"The following morning, I had the moment of clarity every alcoholic needs when my son Jack looked me straight in the eye and said, 'you have involved my friends now.' 
"'If you don't stop drinking, I'm done with you for good'.
"I never drank again after that day – 1st September 2010. My best friend acted as my bodyguard the whole day so I wouldn't go to the shop for booze when every fibre of my body was craving it.
"Driving up to Bognor the next day as a 42-year-old woman moving back to the box room at her mum's, it hit me what had happened to me.
"Mum took me to a self-help group the following day. I'd previously tried to get help in London but wasn't ready to quit.
"Now, something had changed and I wanted to save myself from the alcoholism that was killing me."
It wasn't an easy journey. But this time, Lisa stuck at it.
I went on a massive wine bender for hours until my son's friend found me wandering the high street
She did everything suggested to get sober and completed a 12 steps programme. And, in September she celebrated 12 years of sobriety.
She's since had two jobs in sobriety and now works as a support worker for women and children in the court system after going to university to study counselling.
Lisa also joined TikTok to help others going through a similar situation.
Lisa said: "The more I worked on my sobriety, the more I liked it so I made friends and moved to the coast
"During Covid, I joined TikTok and started sharing videos about how I got sober and how good my life is today. So many strangers reached out to me as they felt alone, isolated and like nobody understands them.
"I didn't realise what the real Lisa wanted, needed or liked. My drinking habits controlled me. 
"But I finally quit for me, my physical and mental health, but also for my sons.
"Now I will leave a legacy for my grandchildren who have never seen their nanny drunk and never will. Family and my sobriety are everything. 
Read More on The Sun
Warning to Brits skipping hearing tests which can prevent deadly illness
Woman left looking like a Stranger Things character after at-home haircut fail
"My sobriety is so strong and if I get uncomfortable around alcohol, I remove myself from the situation.
"One thing I have learned is the confidence that I was searching to find while drinking alcohol, I found in abundance with sobriety – and if I can do it, anyone can."

Source: Read Full Article