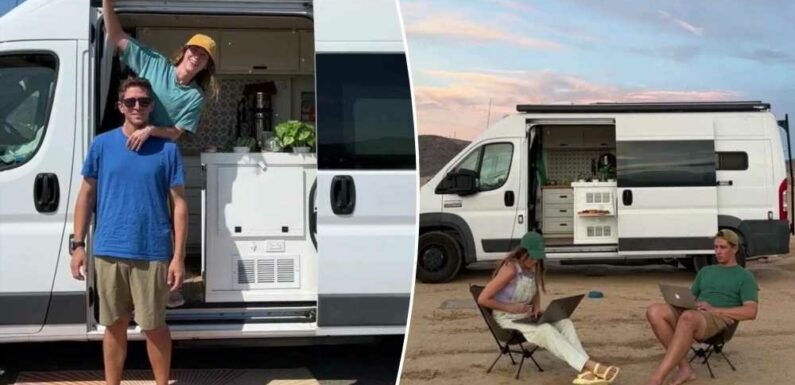 A COUPLE have revealed that they were in debt and were fed up of spending thousands of pounds every month on rent, so decided to buy and live in a van instead.
Court and her partner Nate, known on TikTok as @courtandnate, have amassed an impressive 2.3million followers and 70.7million likes on the video sharing platform, where they regularly reveal what it's like to live in a home on wheels.
The van dwellers live and work on the road and in one clip, Court revealed that she and Nate have been able to save over £65,000 on "traditional rent" thanks to their van living. 
Not only this, but as a result of the pair being able to save so much money thanks to their cheap van life, they have decided to give money to charities instead – and have donated over £8,000 in the process.
Court explained: "Since moving into our van three years ago, we've been able to save quite a bit of money on rent alone.
"We've saved $79k [£65,084] on traditional rent so far.
Read more real life stories
We live in a van because it's cheap…people are stunned when they see our kitchen
I live on a bus… I don't pay rent or electric & earn cash from a side hustle
"We acknowledge the privilege that comes with choosing to live in a vehicle so as soon as we got out of debt, we set up a plan. 
"Each month we set aside 20% of what we used to pay in rent at our apartment, to put towards a new kind of rent.
"Where we put that money really depends on where we are travelling and staying.
"We typically split this money three different ways – one is for animal rescue, one is for a native-led organisation in the area and three is for community care and mutual aid. 
Most read in Fabulous
Harry must be stripped of Duke title for 'trashing' royal family, demand MPs
Harry reveals steamy details of sex with Meg after sneaking into Soho House
We drove four hours to go to the UK's biggest B&M – it was so worth it
Mrs Hinch fans go wild for 65p kitchen staple that banishes window mould
"Just did the calculation and so far, not only have we been able to save quite a bit of money ourselves, but we've been able to donate over $10,000 [£8,241] thanks to van life." 
In another clip, Court showed off the couple's van bathroom, leaving many open-mouthed. 
She posted the clip with the caption 'bathroom of my dreams honestly' as she said: "Today I'm going to tell you all about how the bathroom in our new van works. 
"We went with the Nature's Head Composting Toilet.
"Since the toilet is fully sealed, the shower can be used with or without the toilet inside.
"Typically we leave it in but if we want a bit of extra space, it is easy to disconnect and remove.
"We have the Nautilus self cleaning shower door for privacy and to keep water from splashing around.
"We have a 40 gallon freshwater tank that allows us to take about four to five quick showers each in a seven day period before we need to fill up again.
"And we also have a 20 gallon gray water tank that needs to be emptied about every three to four days.
"Since we stay pretty stationary, we have constant access to dump and fill our tanks, so this is never really an issue for us.
"We can heat our water in the following three ways via our hydronic heating system.
"Number one is using electricity when we're hooked up to shore power.
"Number two is via our engine coolant when we drive.
"Number three – the option we use the most is via a gas powered furnace.
"This system also produces hot air and we made the last minute decision to install the floor heat package, which makes getting out of the shower extra warm and cozy."
The video has clearly impressed many, as it has quickly racked up a whopping 345.4k views. 
It has 31.6k likes, 64 comments and 179 shares.
TikTok users were left stunned at the incredible bathroom. 
One person said: "This is the van I dream of." 
Another added: "There is SO MUCH that goes into it that we don't even realise!!! Amazing."
A third commented: "I'm amazed." 

Source: Read Full Article