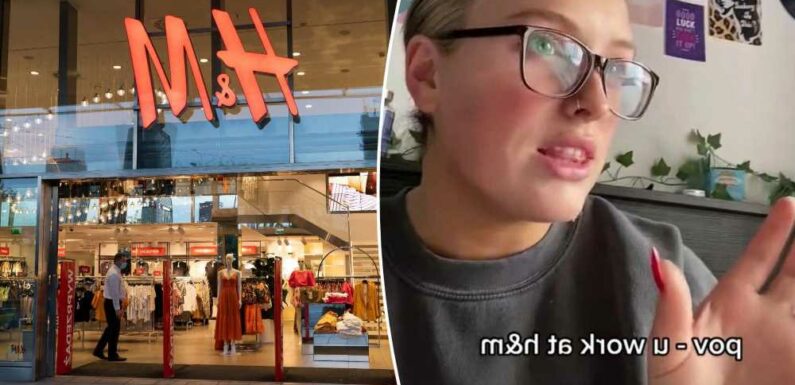 ANYONE who has worked in retail will know that it's not an easy job. 
One sales assistant has revealed some of the conversations she has had with customers and other retail workers saying they are tired of repeating themselves. 
TikTok account user tegangrayson has shared some of the annoying conversations she has with customers whilst working in H&M. 
In a video online she said: "POV – You work at H&M."
The first conversation she recounts is with a customer at the tills. 
When Tegan asks if the customer is a member they rudely reply. 
Read more real life stories
I'm a curvy estate agent -people always tell me I'm too distracting for my job
I went to the world's biggest Primark…there's five epic floors & a beauty studio
"Can you stop asking me that, yo uask me that everytime I come in here?"
At the end of the transaction Tegan asks if the customer wants a bag
They say: "No"
After handing the customer their clothes they say: "I wanted a bag."
Most read in Fabulous
Mum swears by M&S after comparing her weekly shop there to Tesco's
I left the hospital with my newborn only to find out I'm pregnant again
I have big boobs – people say I need to wear a bra because I'm 'too big not to'
I burst into tears when Harry attacked me and I think he's being influenced
Next Tegan recounts some conversations she has whilst managing the changing rooms in H&M. 
Tegan explains H&M has a six garment limit policy in changing rooms. 
She says: "So it's only six  items in the fitting room at once. But if you give me the other four you can come back and get them after."
But not all customers are pleased with the policy. 
One customer said to Tegan: "Well that's stupid can I not just take all 10 in?"
Tegan also explained how one customer wanted to bring her boyfriend in the changing room with her.
Tegan said: "Your boyfriend can't go in the fitting room with you unfortunately."
The customer said: "But I want him to see the clothes that I am trying on."
Tegan tried to offer a solution.
She said: "Yeah couples just aren't allowed in the fitting room so he will have to sit out here and wait. But you can come out and show him after you have tried them on."
The customer replied: "But I'm not comfortable doing that. I want him to come into the fitting room with me."
Tegan's video gained over 205,00 viewers. 
Other sales assistants said they had similar conversations in their jobs. 
Read More on The Sun
I'm a speed camera officer… here are three myths drivers always get wrong
You're charging your iPhone wrong – how to make it charge much faster
One commenter said: "I say we don't keep anything in the back at least 10 times a shift."
Another commenter said: "Our store had no signal, the amount of time people would stand there trying to load their membership i just stopped asking if they were a member tbh."

Source: Read Full Article