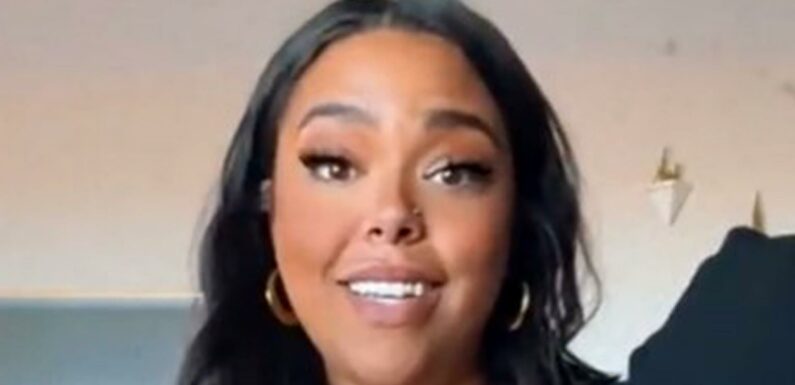 A PLUS-SIZE woman has revealed the tops which she can wear without a bra, saying that she is 'obsessed' with them.
In a clip posted to TikTok, user Nicole Simone said that the amazing shirts were "all that [she's] been wearing" recently.
She went on to explain that the garments come with padding in the chest area, providing support and the appearance of a bra without having to wear one.
Nicole said that the padding is removable, comes in a range of sizes and is thick and firm enough to support her 38DD chest comfortably.
Comparing it to her other top, she said: "There's already a huge difference in support.
"The shirts are also doubled lined…there are no bra lines.
"If I was wearing a bra right now you would be able to see the straps, it would be digging in…"
Concluding her review, the TikTok user rated the tops a nine out of 10 but said that "might change" depending on how many more products she gets from the brand.
In answer to the million dollar question, Nicole revealed that the tops are from a brand called Klassy Network.
Commenters loved the garments, with one writing: "Immediately sold with that first top."
Most read in Fashion
Ex-Bake Off host Sue Perkins reveals shock diagnosis
Harry branded 'disrespectful' towards women 'during ski trip with younger girl'
Wills 'lunged at Harry after Philip's funeral & used secret Di code'
I've had to flee Kabul because Harry's Taliban comments, say ex-Marine
Another said: "God bless you. On my way to buy right now."
Meanwhile, a third pleaded: "They need to ship to Australia."
Both the long-sleeved and cropped version from Nicole's video are available on Klassy's website.
They retail for between $42 and $50 and are called 'bramis'.
The website says: "Our inclusive range of brami (bra + cami) tops provide stylish solutions so that you can have full coverage and support, without any bra lines."
The brand also sells full length brami tops, brami dresses and 'bramisuits' (their version of bodysuits).

Source: Read Full Article