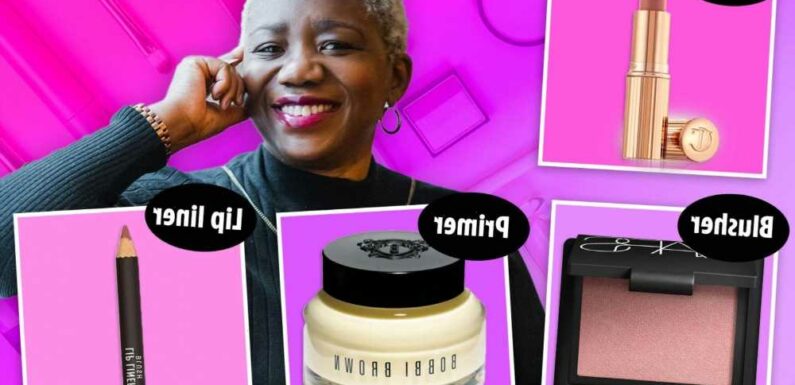 WE ALL enjoy treating ourselves now and again, whether that means getting your nails done or splurging on a pricey make-up item.
But it turns out, there are some make-up items that just aren't worth your money – and there are plenty of budget-friendly dupes that work even better than the high-end stuff.
Speaking exclusively to Fabulous, Joyce Connor, a make-up artist of 26 years revealed the secret weapons she keeps in her make-up bag, and they all cost less than a tenner.
She says: "The key to great makeup isn't the product itself – it's the way you apply them.
"You don't have to spend a fortune on makeup to look good."
That being said, Joyce, 59, who lives in Reading, Berkshire reveals the drugstore dupes she uses to save cash and ensure her clients look great.
READ MORE BEAUTY STORIES
I'm a beauty fan – these are the budget products I would sell my soul for
Primark fans are rushing to pick up Clinique lookalikes for £17.50 cheaper
Primer
The Bobby Brown Vitamin Enriched Face Base has become a staple for people online as it acts as a moisturiser and primer to help make-up glide onto the skin.
But at £16.50 for 15ml, the pricey primer really can put a dent in your pocket.
Primark and Aldi have both done dupes of the product for a fraction of the price, although people generally struggle to find them in store as they're usually sold out.
But don't fret, the make-up artist has another dupe for the product.
Most read in Fabulous
Carol Vorderman leads the way at Cheltenham in a corset & leather skirt
Family slammed after pic of trip to beauty spot goes viral – can you tell why?
Shoppers run to Superdrug to buy cream they say is like 'Botox in a bottle'
I'm a gypsy wife & swear by 8 cheap buys to get my home looking clean & fresh
Joyce says:
"The Revolution Super Base Vitamin Primer (25ml) £9.99 is a great formula and very rich feeling like the Bobbi Brown one.
"This is a great dupe to get a moisturiser and primer in one. You get nearly double the amount for a lower price."
Eyebrows
We all want our brows to stay in place during the day.
That being said, most eyebrow gels that actually hold your brows in place can be expensive, like the £24.50 Benefit 24-Hour Invisible Setter.
Fortunately, the make-up artist has a cheap alternative that actually keeps brows tame.
Joyce says:
"I literally use The Got 2 B Glued Brow Gel (£4) on everyone's brows.
"The Got 2 B Glued Brow Gel is marketed as a dual-use product and is great for sticking down hair edges as well."
Blush
If you haven't heard people rave about the Nars Orgasm Blusher then I'm afraid to say you must be living under a rock.
The cult-favourite blush is the perfect mix of pink and orange tones and has an added shimmer to bring out your cheekbones.
But nobody really wants to spend almost £30 (£27.50) on one make-up product, and luckily, you don't have to.
Joyce says: "The Sleek Blush in Rose Gold is £4.99 and has great colour payoff.
"It looks and feels similar to Nars Orgasm on the skin, It's long wearing and difficult to tell any difference between the two."
Lip liner
It can be tricky finding a cheap lip liner that performs as well as high-end ones, and many people, go back to the classic Mac Lip Liners (£18.50) thanks to their creamy texture and large colour range.
Often, cheaper lip liners can be too chalky and difficult to apply, others can be too waxy and slip and slide all over the place.
But the make-up artist reveals there's one drugstore brand you have to check out.
Joyce says:
I absolutely love the £3.49 Barry M Pencils.
"They're waterproof and once they dry they don't move.
"I have every shade in my kit because they're so durable."
Eyeshadow
Urban Decay has always been known for its eyeshadow products – from the Naked Palette craze to its 24/7 Shadow Sticks costing £19.
But £19 for one eyeshadow colour seems like a lot to invest in, that's why Joyce has found the perfect dupe for less than £10.
Joyce says: "The Kiko Crayon Long Lasting Eyeshadow is £8.99 and is an amazing dupe.
"Once it's dry it doesn't budge – just like the Urban Decay one.
"It's blendable too and one of my faves for quick makeup looks."
Lipstick
Charlotte Tilbury quickly became a go-to make-up brand for many women.
And one product, in particular, caught their eye – the matte lipstick in the shade Pillow Talk (£26).
But Joyce has found an £18 cheaper alternative.
Joyce says:
"The Maybelline Colour Sensational Smoky Rose Lipstick is £7.99.
"Although it's not identical in shade, the formula is very similar and the colour payoff is as good as the Charlotte Tilbury one."
Lip gloss
If you were brought up in the 90s then you probably thought you would never see lip gloss come back into fashion again, yet here we are.
But forget splurging on a high-end lip gloss like the Mac Clear Lipglass (£20) as there are loads of alternatives on the market.
Joyce says:
Read More on The Sun
BBC sitcom AXED after just one season
Dumped Love Islanders mobbed by fans as they land in UK after missing final
"The £5 Revolution Pout Bomb Plumping Gloss Glaze is absolutely amazing.
"It gives a mirror finish on the lips and plumps them at the same time."
Source: Read Full Article